English
English is delivered throughout the school by a large, innovative and ambitious team of specialists. We aim to nurture, promote and develop students' understanding and enjoyment of these subjects through our methodology and practice. Effective teaching and learning is our aim.
The department offers a range of opportunities both inside and outside the classroom designed to enrich students' reading and writing skills, vocabulary knowledge and oral communication. Our passionate and knowledgeable teachers are able to deliver challenging and engaging lessons, and nurture students towards success.
During our rigorous Key Stage 3 programme, students track the evolution of stories from the classical era to the modern day, developing an understanding of the way great writers create meaning in poetry, drama and prose. At Key Stage 4, we build on this foundation in preparation for GCSEs in both Language and Literature, studying fiction and non-fiction texts from a diverse range of writers. At Key Stage 5, students study a broad course that spans a number of genres, time periods and voices from different cultures.
We enrich the curriculum through organised trips and visits such as theatre visits and poetry workshops and conferences. We have a tutor group reading programme in Years 7 to 10. More details can be found here.
Key Stage 3
What are the Big Ideas in English?

How are these developed through Years 7 to 9?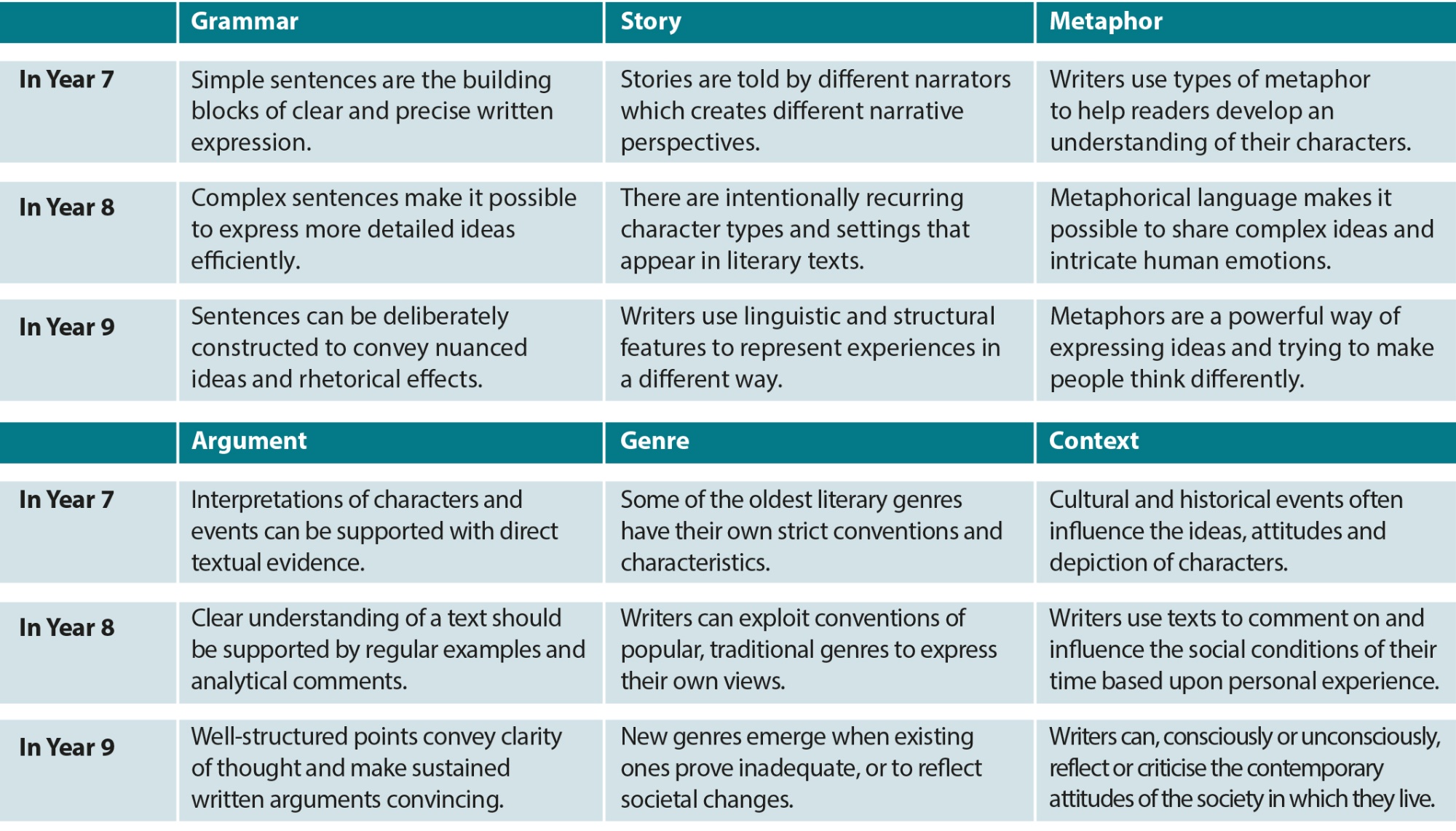 What topics are used to explore those ideas?

GCSE English
GCSE English
GCSE English Teaching Schedule

A Level English
A Level English

A Level English Teaching Schedule

Downloads to help with classwork, extended work or coursework, can be found on Frog.
Head of English is Mr S Trafford, Deputy Head of English is Mr J Richards, KS3 Coordinator is Mrs E Doherty and KS5 Coordinator is Miss K Hinks.
Other members of the team are: Miss A Bednarz, Mrs S Christy, Mr R Cooksey, Miss T Jones, Miss J Pereira, Miss E Rider, Miss G Saunders, Mr P Stock, Miss A Vairanvanathan, Miss T Uddin and Miss D White.