Local update – Friday 3rd April (12.30pm)
An update from Mr House, Headteacher.
Friday 3rd April (12.30pm)
Thank you for your support at what has been a hugely difficult time for all of us. We have needed to change what we are doing as a school on multiple occasions over the last week and a half and I want to say thank you for all of your support. It has been so heartening to hear your appreciation for the work we put together in a limited amount of time. As we are now in the second week of school closure it has also been lovely to hear accounts of how our students, your children, are making the best of the current very difficult situation.
Learning next term
The work set for the closure of school this term focused on core skills, especially with a focus on maintaining reading and writing. The time we had meant that all of our students have followed a narrower curriculum than they would have experienced in school. From the start of summer term, which will certainly begin at home, we are aiming to have learning in all, or nearly all, of each young person's timetable.
Staff have been working hard preparing resources, and we will continue to upload these onto Frog over the Easter holidays. We will have quizzes that staff will be able to see how well pupils are doing and videos that will explain content. I'll write in more detail to families in the second week of the holidays, when it's fully completed. In summary, I'm proud of the job we have done for the last fortnight of this term, but we're aiming to give greater curriculum coverage next term.
Year 11 and 13 results
One of the biggest actions of support you have taken as a parent and carer group is not to contact teachers about the system for GCSE and A Level results. That enabled us as a school to focus on the urgent actions last week. Regardless of government announcements this week the position remains that the school is unable to discuss the situation, and certainly not individual students' circumstances. In the summer term the Year 11 and Year 13 year teams will be in contact with students to check that they are okay, and specifically support with any queries about their next destinations.
Advice for Sutton residents
Sutton Council has put all of its advice and information about the current situation onto one website. These pages include information about local parks, what to do if you feel you have symptoms and other information relating to our local area, ranging from refuse collection to council tax. I found it very informative, so please take a look.
https://www.sutton.gov.uk/info/200588/health_and_wellbeing/2078/covid-19_coronavirus/2
So, as I never tire of saying, I am a parent of two school aged children myself. This fortnight has been unlike anything I've ever experienced, but that has also brought the opportunity for me to spend (a little) time with my children and see their learning. I hope this time hasn't brought too much stress for you as family units and that there have been moments of light. I will write to you in the second week of the holidays about our plans for learning next term, but until then enjoy the extended company of your young people and definitely stay safe. Wishing you all well.
Nick House, Headteacher
Friday 27th March (11.30am)
I hope you, your children and your wider family are okay.
It has quickly become a cliché during this week to say this situation is 'unprecedented'. The world has changed so fast it seems barely believable that school closures were announced only nine days ago given how quickly we have adapted. It was only Monday night that the current restrictions on working and movement were instructed but these now feel routine.
As a school we will continue to do whatever we are able to in supporting our students and families. There are a few updates below that hopefully let you know we continue to think about all of our community, even when we are not able to be together.
Explaining the world to young people
It is hard enough to be able for us to understand this current bewildering situation. To be able to support our children with this is another level of challenge. You can download a help sheet here from the Mental Health Foundation about how to explain scary news to young people. I found this really helpful when talking to my two children. I hope you do too.
Fun Friday Challenge
I know that trying to get children to engage with routine learning every day can be difficult. So each Friday we are going to release a weekly challenge. This might be creative, mathematical or physical. The aim of this is to vary the experience of each week for our children. The details can be found on our website here and also on Frog. We will text you when it goes live!
Learning
Our Heads of Year have been contacting families of students that have been having difficulties logging on to online resources. Our aim is that all students will have taken part in learning this week and next week, which is officially the end of term. We are setting up an 'IT help desk' for password re-sets and will have more details of that next week. For me the most important thing about students' learning is maintaining practice. Reading and writing just need to be kept going because it's important to practice and it also goes some way to normalising what is a totally abnormal situation.
Free School Meals
All families whose children receive free school meals when in school should have received an electronic voucher. We have worked really hard to resolve the handful of issues but if you have not received it please email fsm@greenshawlearningtrust.co.uk.
So that's it – the first week of not being in school is nearly done. Thank you for all you are doing to support our students. It's great to hear your tales of teaching your children: working on the knowledge summaries from the homework journal or worrying about why your child's maths is so much harder than when we were in school doing it. But I think the most important thing is that they and you are okay at the moment. Wishing you all well. Stay safe.
Nick House, Headteacher
Tuesday 24th March (1.30pm)
Thank you so much for your positive messages of support over the last week or so. We are all having to work our way through the current situation in ways we don't fully understand. It is really heartening to know that most families feel supported with the provision for learning we have made so far in what are very, very challenging circumstances. Please see today's updates below.
Daily schedule for learning
We will continue to release a daily schedule for each students in Years 7 to 10 and 12. While these will look very similar each day, they do change. For example, the online links change but the routine will be broadly the same. This is deliberate, as we want students to develop regular study habits.
No picking up of work
As stated last night, the government feels that this phase is only essential movement. Therefore we are reducing the school opening hours to an absolute minimum and having no one on site without prior clearance. If that means that students don't have a new exercise book for home learning then they should use spare pages in any of the exercise books they currently have for other subjects.
Free school meals
Parents whose students are entitled to free school meals should now have received electronic vouchers. These are redeemable at Tesco, and have been issued directly by the Greenshaw Learning Trust. If you have any queries about this please use the email address info@greenshaw.co.uk.
Partial opening
We remain open to a small group of students for whom it is unsafe for them to remain at home. As well as completing their learning they have also completed artwork, which you can see below. The rainbow is being used as a symbol for hope in the current crisis and the students have completed these pieces of artwork.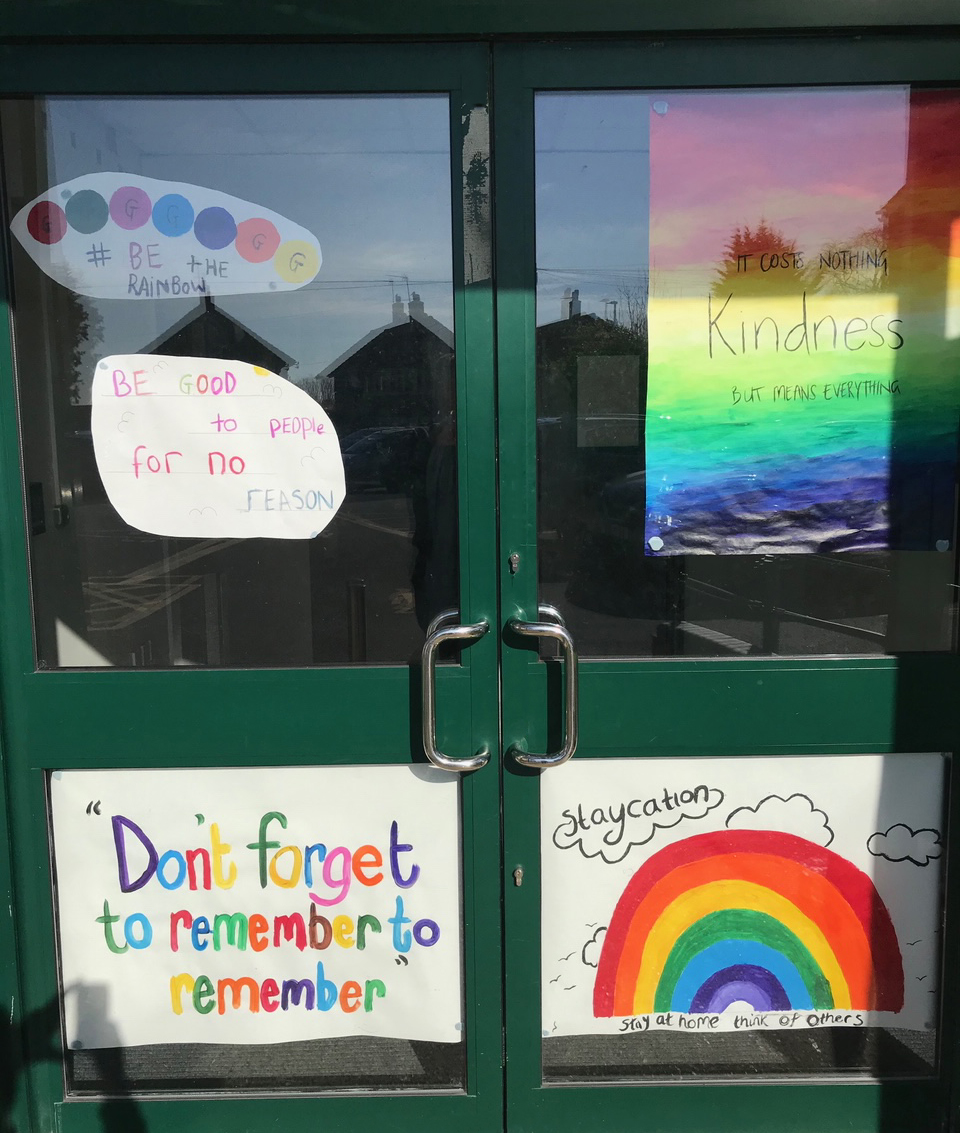 Monday 23rd MARCH (9.00pm)
I am sure you will have heard the Prime Minister's announcement earlier this evening. The instruction to only leave the home when absolutely essential, and the direction to remain in the family home are both very clear. Please now disregard my invitation earlier this evening to send students to school to pick up resources. No students should be coming to school to collect work. We do continue to remain open for the small group of students whose families are at the forefront of the battle against the Coronavirus. We will update further in the morning. Take care and stay safe.
Monday 23rd March (4.30pm)
Thank you for all of your positive messages of support over the last week. These are much appreciated and the sense of a community pulling together is something that we continue to find strength from in school. Please find today's updates below.
Picking up learning resources from school – until Friday 27th March
Some students were self-isolating over the last week but may no longer be presenting symptoms such as high temperature or a new persistent cough. We have kept the pack of physical resources (exercise books, a novel and printouts) for these students in school and they can be picked up between 11.00am and 1.00pm until the end of this week. Please ensure that your child understands the importance of maintaining a 2 metre space. Students should not come to school in groups.
Online learning
Every student in Years 7 to 10 and Year 12 has got a daily learning schedule on Frog. Students should be logging in and completing this each day. We are also logging in each day to see the students completing work, but also to see where students might be having issues with accessing the websites. Form tutors will be making contact with members of their form group, prioritising those students that seem to be having issues. Please use the reporting facility here if you are having issues logging on.
We will check students' online usage at 6.00pm each day. They are free to produce additional work after that, but this will give tutors an indicative sense of whether students have logged on successfully or not.
You can find a link to our home learning page here:
Free school meals
As a member of the Greenshaw Learning Trust, the families of all students entitled to free school meals will receive an electronic voucher. These will be dispatched directly to you at the start of this week by the Greenshaw Learning Trust.
Reporting absence
During the current closure of all schools there is no need to use the absence phone line.
Awarding of GCSE and A Level grades
Students and parents are understandably concerned about this. As a school we do not know any more than what has been communicated by the Department for Education. We have to focus on the safety of our students and staff, so I have summarised the situation here. We will not be able to discuss any student's individual situation with you.
I do not anticipate updating you on a daily basis, but please keep up to date with our website and social media channels. Stay safe.
Nick House, Headteacher
---
Thursday 19th March (5.30pm)
I have written separately to families of students in Year 11 and Ms Buchanan is currently composing a letter to families of sixth form students. However, here are the key messages I communicated to all students in assemblies over the last day or so. It might help you, as families, to know what I have said.
It's good to talk
These are difficult times, but also distressing for many of our young people. I am emphasising with each year group of students that talking through our feelings is a really important thing to keep each of us well.
Focus on what you control
It is impossible to work out how GCSE and A Level grades will be awarded because it's just not known currently. Focusing on what you can do positively is really important. Take exercise, speak with others and get off your phone.
Engage the brain
We have a daily schedule for each student in Years 7 to 10 on Frog. We have equipped each student with a novel and additional exercise books to write in. I have emphasised to students how good it is for all of us to have time away from rolling news and social media, occupying the brain with big ideas. School will return to normal at some point and our students need to be as prepared as they can be for that.
We are awaiting direction from the government on exactly what groups of employment are considered as 'key workers'. I hope to write to you later tonight or tomorrow morning to outline how we will look to support people that are in the front line of this current situation. We will also be contacting families of youngsters with an EHC Plan and those that have a social worker. I hope families appreciate that the current situation is ever changing and we are currently confirming these plans.
Finally, I am aware that many of you will have your own concerns with other family members and situations beyond Greenshaw. I wish you all the best at this difficult time.
Nick House, Headteacher
---
Wednesday 18th March (6.45pm)
You may have heard tonight's government announcement at the same time as I did. It was helpful to get clarity in some areas, but it also raised a lot of further issues. Schools are closing as of Friday evening, but provision will be put in place for children of key workers and vulnerable children – we will make sense out of this over the coming days.
My first thoughts are that all the planning we have put in place for our students' learning is well positioned. Each year group will receive support around their learning from school and we have that in place, certainly between now and the Easter break.
However, there is little clarity about how GCSE and A Level grades will be awarded and I know that students in Year 11 and Year 13 will be concerned about that. I am due to speak with students in both of those year groups tomorrow. I will reassure them that, whatever plan is decided upon, I am confident that bodies like Ofqual will ensure that students will not be actively disadvantaged.
The key movements for tomorrow are:
Year 7– in at normal time, full day.
Year 8– remain at home, continue with daily schedule available on Frog.
Year 9– come in at normal time – students should be in full uniform. Receive briefing on work arrangements, return home by 9.30am.
Year 10, 11, 12 and 13– in at normal time, full day.
Thank you for your support.
Nick House, Headteacher
---
Tuesday 17th March (5.00pm)
I am writing to update you on our response to coronavirus. Last night the Prime Minister gave a briefing in which he advised social distancing and that anyone who falls into a number of vulnerable groups should self-isolate as a precaution. You can view the latest advice on self-isolation here, and I strongly encourage you to read this if you haven't already.
At this stage, Greenshaw High School remains open. We are taking – and will continue to take – all reasonable precautions. As such, a number of staff will be self-isolating – mostly because they fall into a vulnerable group. As a result of staff shortages, we have had to close to Year 9 today. On Wednesday 18th March we will be closed to Years 8 and 9.We will keep you updated throughout the week; we hugely appreciate your patience as the situation is changing daily.
As you can imagine a number of sudents have asked me throughout the day how I make these decisions and I am always happy to talk this through with them. We have prioritised year groups that have impending examinations (Years 10, 11 and 13) as well as our youngest students. It is difficult to make decisions about particular year groups, especially when families have more than one young person in schools, but there is a clear rationale.
We are continuing to prepare for all possibilities, including a full closure. Should we close, please rest assured that we are very well prepared to ensure your children can continue to learn from home. We have ordered additional exercise books for students to complete work in at home and will use Frog (our online learning platform) to outline the daily schedule that students should follow.
Nick House, Headteacher
---
Tuesday 17th March
School closed for Year 9 students only
The school will be closed for Year 9. We have been monitoring the situation overnight, but it has continued to develop this morning. Because of teaching staff who are self-isolating we are not able to run all year groups safely. We are prioritising exam classes and our youngest students.
Students in Year 9 should not attend school today. If they have arrived in school we will safely accommodate them, but will make contact with home to establish that a parent or carer has arrangements for the student to return home.
---
Monday 16th March - 9.30pm
Many parents and carers will have seen the adjusted advice from the Prime Minister this evening. The instructions on self-isolation have changed significantly stronger from the start of today. The advice is here (https://www.nhs.uk/conditions/coronavirus-covid-19/) and this may have an implication for families and us as a school.

We were able to run normally today, but had to cover for absent staff who had self-isolated and we are monitoring the ongoing situation overnight. The school will definitely be open tomorrow, but we might need to consider a partial opening. We appreciate how tricky these situations can be for parents and carers, and we will do all we can to have the whole school open and fully functioning. Please check the school website and social media in the morning as we will aim to have communicated by 7.30am.

These are extraordinary times, and we hope parents understand how complicated it is in an ever changing situation.
Nick House, Headteacher
---
Monday 16th March - 4.00pm
In what are currently very strange circumstances, the spirit of Greenshaw High School has shone through. We await developments from central government, but current advice remains the same in terms of preventative actions (hand hygiene, catching sneezes and coughs) as well as avoiding contact with people who are unwell.
Student attendance overall today was respectable, given the circumstances, at 94.3% and we are monitoring the situation for students whose families have told us they are self-isolating. We have continued to check all toilets frequently during the day and ensured that there is sufficient soap in place. We have also conducted a routine of disinfecting door handles throughout the school.
The Public Health England advice has not changed: members of staff or students who have a high temperature or a new, continuous cough should self-isolate for seven days. It is essential that you let the school know that your child is self-isolating.
Otherwise, students attend school as normal. If a member of your immediate household is self-isolating, students should still come in to school unless they develop the symptoms above. If you are concerned about any current symptoms, go to https://111.nhs.uk/covid-19/ to complete an online assessment and follow the advice provided.
Our core responsibility is to inform and educate our young people. There appears to be low health risk to children and people of working age. Our responsibility to wash hands and not distribute germs is based on community responsibility, particularly for safeguarding the elderly and the already unwell.
Where students take information from social media and their peers I will always be concerned about the accuracy. We will responsibly inform students of the most up to date and accurate information as part of our primary role as educators.
Nick House, Headteacher
---
Thursday 12th March
Following today's announcement from the government about Covid-19, there are no current plans to close schools. We will bring you the latest information should this change.
Advice from the Chief Medical Officer and Chief Scientific advisor is that people who are showing new symptoms, (continuous cough and high temperature) should self-isolate by staying home for seven days. This will help reduce the spread of the illness.
Ordinarily, we would encourage students to be resilient and come into school wherever possible but in the current circumstances we are erring on the side of caution. If your child shows the symptoms above we ask parents and carers to keep them at home for a 7 day period, in line with national medical advice. Please contact the school to confirm this so we know the situation.
To prevent the health system from being overloaded the government have asked people with mild symptoms not to immediately call 111 unless their symptoms worsen to a level where they would normally have sought medical advice.
Much of the rest of the advice has not changed from when we wrote to you last week. The importance of hand hygiene and catching coughs or sneezes in a tissue (that is then binned) remain key actions.
We will continue to monitor the situation, are taking advice directly from the Department for Education each day and will update you accordingly. Thank you for your ongoing support.
---
Wednesday 11th March
The Year 10 parents' evening scheduled for tomorrow evening has been postponed. Please see the letter to parent and carers here.
This morning I have rung the recently set up Department for Education advice line and the overall position remains:
Generally, business as usual.
Emphasise the need for each person to manage their own hygiene, with an emphasis on rigorous hand washing.
Review school events on a case by case basis.
If any of you also have a child in Year 11, I can confirm that tonight's event will go ahead. Again, please see the letter here.
I am sure there may be some parents and carers disappointed by my decision, but in assessing each school event I need to consider the individual risks associated. Thank you for your support.
Mr House, Headteacher
---
Tuesday 10th March
Last night a patient in their seventies, with pre-existing health conditions, passed away at St Helier Hospital after contracting the Covid-19 virus. We have taken advice from the Department of Education on appropriate next steps. They agree with the school's position that there is no need to make any changes to the school operation at this time.
When a patient is diagnosed with Covid-19, the Local Healthcare Protection Team works with the patient to trace any people who they may have been in contact with, to enable them to be contacted and tested. The infected patients would be kept in isolation, so should you have been in St Helier Hospital yesterday, there is no cause for concern.
We will continue to monitor the situation and will update the school community as appropriate.
Mr House, Headteacher