Update on remote learning: Friday 22d January 2021 (4.30pm)
An update from Mr House, Headteacher.
Update on remote learning: Friday 22d January 2021 (4.30pm)
This has been a turbulent week away from school. The weather has been extreme (rain, wind and cold) and the national health news has been troubling. I hope that you are staying safe and well, while also keeping healthy with some form of exercise.
Updates to online learning
The supply of five lessons a day for Years 7 to 11 continues, alongside homework and the online learning platforms (including iXL, Vocab Express for modern foreign languages, Hegarty for maths and Tassomai for science).
As well as pre-recorded content we are increasing live teaching. For Years 7, 8 and 9 there is live reading every morning from 8:30am. So for all students in Years 7 to 11 they should be online by 8:25am, ready to start their day at 8:30am.
Students in Years 12 and 13 continue to have a lesson every day for each of their A Level subjects. Because Sixth Form students follow different timetables, based on their subject choices, they should be online for three hours of content each day. As well as this most subjects will set tasks between lessons that need completion.
Gallery of excellence
Our students continue to create work that shows their resilience and commitment. Every Friday we will showcase examples of excellence on our website. Please take a moment to visit this gallery and get a sense of the many excellent examples of extended writing, maths, science, artwork and learning in other forms.
Parents' evenings
Last night's Year 9 evening went reasonably well. The company hosting the service did suffer an interruption to their service, but it went back online again quickly. I will send a survey to a sample of families to get a sense of their experience. I know some of you had difficulties and for others it went pretty smoothly so it would be good to increasingly iron out any issues. If you do receive an e-mail on Monday asking for feedback, it would be really helpful to learn from your experience.
So, at the end of a very mixed week for the world, I will close with the words of Amanda Gorman, from the inauguration of the next American president. I know her words were intended for her domestic audience but like all great pieces of writing, the messages shine beyond the boundaries of their specific context.
Talking about the next chapter in her country's history Gorman said, "There is always light, if only we're brave enough to see it." I think this invocation to be positive and brave is important for all of us, even in the toughest of times. I
hope you all have good weekends, staying safe and well. All the best.
Mr House, Headteacher
---
Remote learning – a gallery of excellence: Friday 15th January (5.30pm)
As we finish our first full week of online learning, we are starting to receive some brilliant work from our students. We are creating a gallery of excellence to celebrate our students' resilience, as well as their talents. All of the work will have been produced while students are away from school. The example shown here, a beautiful collage created by Eloise, is visual so we will of course showcase artwork. However, we will also include written responses, so our gallery will show the full range of learning tasks undertaken over each of the coming weeks.
Supplies of materials
There is a supply of exercise books in reception at school and students are welcome to take these. In addition, some departments are leaving out particular resources for students, by arrangement. Please ensure that if your child does need to visit the site then they do so on their own, or with you as members of the family bubble rather than in any friendship group.
Fun Friday Challenge
Each Friday we run activities that are creative, engaging and aim to offer some form of diversion from the day to day routines. There is a different event each Friday, the details of which are found on our website here and will be promoted on each student's daily schedule on Frog.
Morning reading programme
From Monday of next week, all students in Years 7, 8 and 9 will have daily live reading. They will not be able to have a copy of the book, so will film the text on each student's screen so they can follow along. All students should attend, using a pass code will be visible on their daily schedule on Frog. This will also allow us to make sure that all students are online at the start of the day, as well as promoting daily reading for our learners.
Parents' evening for Year 8 last night – apologies
Sadly, last night's online parents' evening was interrupted by a failure from the company that offers the platform. As must be happening across the world in different settings, systems are responding to unprecedented levels of usage. We will reschedule the evening and share the details with our Year 8 families. The information about the outage last night is here:
"SchoolCloud provides parents' evening software to over 5,000 schools, and experienced an outage on 14th January affecting the parents and teachers accessing video calls at that time. An update to the system in December caused a web page to perform slowly and this ultimately took the system offline. This wasn't up to the high standard of service that schools expect of us, nor that we expect of ourselves. We have already made changes, and continue to take further steps to ensure that you can continue to enjoy this new format of parents' evenings."
Currently, we are planning to use the platform for the Year 9 parents' evening next Thursday, but will be seeking further assurances from the company, SchoolCloud.
Finally, I hope this letter finds you well and that you and yours are staying fit. Sadly, we have heard of families in our Greenshaw community affected by the Covid situation this week and our thoughts go out to them. Although the vaccination numbers increase, we have all to remember that the virus remains prevalent. As I am sure you are doing, please encourage your children to stay at home unless for exercise and not to meet in groups beyond the family bubble. Wishing you relaxing, and above all else, safe weekends.
Mr House, Headteacher
---
Online learning - the next steps: Tuesday 12th January, 6.00pm
Incredibly, this is only the fifth day that online learning has been up and running for our students. It feels like a lifetime ago that we were considering how to resource this but incredibly it was only last week. Generally, I send a letter on a Friday afternoon, but I thought I would drop an update in midweek as there is a lot going on. The focus of this letter is purely on learning rather than the wider range of topics I have needed to cover over the last few months.
Online learning – the plan for now, and the next steps
We have made sure that all of our learners, from Year 7 to Year 13 have structured days with plenty of content. We will continue to use the best quality resources available, sourced from the Oak National Academy and the wider schools of the Greenshaw Learning Trust that contain structured videos and quizzes. In the light of this it was interesting to see what Ofsted had to say this week.
Ofsted released guidance yesterday, titled What's working well in remote education (11th January 2021). Amongst a number of points the report emphasised the most effective features of online learning. It emphasised the importance of a short presentation or modelling of new content, then followed by exercises or retrieval practice. Reassuringly these are the principles behind nearly all of the lesson content that we are providing. We are also continuing to use online platforms like Hegarty (for maths) and Tassomai (for science) with which our students are already familiar. What was interesting to note was the a number of myths that Ofsted identified, including that it not true that the best way to deliver remote education is always through live lessons.
At present, we need a number of our teachers in school to support the children of our critical workers and those deemed vulnerable. This number of these students has risen significantly, about three times the quantity since the last lockdown and we are proud to support these families. This does reduce our ability to resource live learning for all students with all teachers. At the outset, we have prioritised learners in Year 11 and Year 13 to receive the greatest quantity of live learning. These year groups will receive qualifications in eight months' time that will be critical in their successful transition to their next phase. The mechanisms for these grades being awarded are still not known so it is essential we prioritise these students.
After just five days of remote learning I am confident that we have the best quality learning available for our different year groups of students, given the restrictions we are operating within. However, I am ambitious to take this further.
The next steps are to enhance what we can offer our learners. Although live learning is not "the gold standard of remote education", (Ofsted) I strongly believe that being connected with school maintains pupils' motivation and is good for their wellbeing. This is even more true in the current 'Stay at Home' phase we are in; connecting with others is a central pillar of wellbeing. So, as January progresses we are looking at how we can create more of a blended model, including features such as live assemblies, live tutor time reading and live lessons, in amongst the pre-recorded content.
We are also looking to see how we can enhance the feedback students get, beyond the quizzes that are already part of the online lessons. These developments are being planned as I write this letter and we will update you as the weeks progress.
Parents' evening update – Year 8, 9 and 12 in January
As mentioned last week, we are continuing with parents' evenings in January. Despite the restrictions on school opening, teachers have lots of information about the learning from last term and our first one (for Year 8) is this Thursday night. This will happen online, using Wi-Fi connectivity and camera enabled devices. I hope all families have been able to set up their appointments. If you have any questions, please contact parentsevening@greenshaw.co.uk .
We have moved the Year 9 evening forwards to Thursday 21st January. The families of this year group have been particularly impacted during both lockdowns, so we have created an earlier slot for them. The Year 12 event will go ahead as planned on Thursday 28th January. Colleagues in the school office team will contact families of each year group before the respective events.
So I hope your forgive a mid-week letter but I want to make sure that families are kept in the loop as much as possible. As always, feel free to drop me a line at nhouse@greenshaw.co.uk if there is something to celebrate or something you would want me to be aware of. Just give me a touch longer to respond than in normal times! Stay safe.
Mr House, Headteacher
---
Stay safe and stay at home: Friday 8th January 2021 (3.30pm)
Well, Monday feels like another world. On that morning, my daughter went into her primary school for the first day back after the Christmas break. Although there were reservations, primary school children returned in the expectation of a full term ahead of them. But by the end of the same week, schools have moved to remote education and GCSE and A Level exams have been scrapped. At Greenshaw, online learning has now been up and running for three days and children of critical workers in the school for four days.
Parents' evenings to continue
We will proceed with the Year 8 evening next Thursday, 14th January, as previously planned. My view is that having parents' evenings now is actually a really good idea as the students have just completed a full term in the building. This means that teachers have plenty of information about their attainment and the efforts they have made. We have piloted two online parents' evenings at the end of last term (using and online booking system and devices with cameras and microphones). This seemed to be effective, notwithstanding issues with occasional Wi-Fi dropouts that affect many of us in different locations at the moment.
In addition, I am acutely aware that families in Year 9 have been caught out by the timing of the two lockdowns, so have had less reporting and fewer parents' evenings than other years. If possible, we will work a Year 9 parents' evening in January.
Support for families – devices and free school meals
We have today received an order of Chrome books from the Department for Education. We already hold a list of families that do not have devices to allow their children to access the online work, so will be issuing these Chrome books next week. While I fear that what we have been issued with might not be sufficient for all families that need them, if you do not have a device then please let us know at info@greenshaw.co.uk. If needed, when we've issued the Chrome books we will see if we can re-purpose other school devices.
The value of free school meals will continue to be passed directly to families, as previously using the voucher scheme. If you are having any issues with this then please, again, use the e-mail address info@greenshaw.co.uk.
Exercise books – available from reception
I know that some of our students may need additional space to write their learning over the coming weeks. Some students had their books taken in over the holidays by teachers while others might be close to finishing this book and be about to move on to the next one. We all have a shared responsibility to stay at home and maintain social distancing at the moment. However, daily exercise is permitted and the importance of maintaining education is clear to the government. So students, or parents, are welcome to collect a book from the reception area of school. They do not need signing for, just take one (no stockpiling) and head home.
I would ask that you do not allow your child to come to school with a group of friends though as this would jeopardise the efforts that are being made across the community to break the chain of infection.
GCSE and A Levels – the next steps
I have already written separately to families with children in Years 11 and 13, explaining that the government have announced that schools are likely to be playing a role in decisions about grades for the second year in a row. Although the details are currently unknown, it has been promised that there will be support and training that will see grades awarded 'fairly and consistently across the country'. Please do not contact directly any members of staff to discuss possible grading as they will not be able to discuss this.
So this has been a very long week in school, and for many of our families. However, I was struck watching a feature on the BBC News at Ten last night by just how difficult life is for those people working in health. Whatever my challenges have been this week many of the staff of St Helier hospital – as well as other health and care settings around our school – have had it far tougher.
I know that we have many families at our school who work in health, so on behalf of the staff and students at Greenshaw thank you for everything you do, every single day. For the rest of us, let's make sure we respect their work and support it by staying at home with no social contact outside of the family home. Wishing you all a safe weekend.
Nick House, Headteacher
---
School closure - online learning from tomorrow (posted 5th January 2021, 2.00pm)
I write to you the morning after the announcement of what amounts to a national lockdown, with the closing of schools across the country. I am aware of the huge challenges this brings and we will do all we can as a school to make the experience of our students as productive as possible.
GCSE and A Level exams this year
The first thing I should address is the situation for our Year 11 and Year 13 learners. The news about examinations was ambiguous. While the Prime Minister stated that proceeding with exams on the previous basis would be unreasonable and unfair he did say that plans were being considered for what would replace them. In addition, Michael Gove stated on BBC radio this morning that the government were considering what part assessment would play in the awarding of grades in summer 2021.
I think that we need to be very careful with our students about suggesting 'exams are cancelled'. The reality is that the government knows that a full range of exam papers testing the full GCSE and A Level specifications is not viable, nor would it be fair for the students across the country. I agree with this entirely. However, I think that the government will be very seriously considering other options that do not lead to a repeat of all of the issues that arose last summer.
This could look like scaled back assessments that might be sat in classrooms, or schools being given a choice over what sections of a full exam course their students can opt into. I would like to stress that these are my best professional estimations and not any form of insider knowledge. However, I will be sharing this view with students in Year 11 and Year 13 and we are continuing with our plans to prepare them for summer. This is because I think there is a chance of an assessment being planned for them, short of the full exams. It is also because our learners are all preparing for the next phase of their learning, whether at college or university and they need to gain all the knowledge possible. And it is also because engaging the brain and establishing a routine is good for all of us.
So I can't tell these two year groups I have all the answers, but will explain why we are doing what we are, and when we are given specific directions we will be able to refine our plans further.
Online learning from tomorrow
We are completing the content for the remote learning this morning and all is ready to start from Wednesday 6th January as planned. I said I would write to you with details of how to access your child's learning today and this information is available on our school website here.
In summary, all of the learning for the various year groups will be accessed through 'Frog', our online learning site that all students already use for homework. All of the content has been tested yesterday and today and is currently fully functioning.
Occasionally, some issues can arise from using different web browsers (the brand and/or the version being used) from what we have used to test. On the right hand side of that web page there is a section on troubleshooting. However, if after trying these solutions your child is still having issues with accessing their online learning, then send us an e-mail to homelearning@greenshaw.co.uk. These messages will go to our online learning support team who are best placed to solve any issues.
We have been contacted by the Department for Education with details of the numbers of tablets that we can pass to families to access the online learning. We do not currently have these, but understand they are in transit to us. We will contact the families who have let us know that they need an additional device as soon as they arrive. If you do not have access to a laptop or iPad then please let us know at info@greenshaw.co.uk. We may have more requests than items that we are issued with but we will do our very best to resource as many families as possible.
I will write to you again over the next day or so, but will aim to keep information to the 'need to know' category, rather than the short book I could send you about the current situation. I hope that the little and often model of communication will help but feel free to contact me directly at nhouse@greenshaw.co.uk if you think there is anything I can help with. Stay safe and stay in touch.
Nick House, Headteacher
---
Plans for the start of term on Wednesday 6th January
(Posted Thursday 31st December, 1.00pm)
Apologies for writing to you on New Year's Eve, but I know that you would want to know what yesterday's announcement in the House of Commons means for our school.
As the London Borough of Sutton is in a Tier 4 area (described as 'stay at home' by the government) schools are to have significant reductions to the number of students in their buildings. The exception next week is for students whose families work in critical services (defined here) and students with EHCPs or a vulnerability. At the moment, the government are not making longer range decisions as they want to see what the most up to date information is about the prevalence of COVID-19 within each local area.
However, despite schools being asked not to have students in next week we are not closed. We will continue to supply learning for students in all year groups and maintain contact with families to check that the learning can be accessed. We will also be supporting our students in Year 11 and 13 as a priority, given they have GCSE and A Level exams this summer.
Please find below a summary of the first two weeks of this term.
Planning days: Monday 4th and Tuesday 5th January
Monday 4th January was already planned to be an INSET day. Staff will spend this day, and Tuesday 5th January term planning the curriculum for the next eight school days. We will also be working through the testing arrangements and undertaking staff training when the COVID-19 testing equipment arrives. The Department for Education have notified schools that these materials will start arriving from Monday 4th January.
Online learning: Wednesday 6th January onwards
Online learning for all year groups will start from Wednesday morning. There has been some talk in the press about secondary students having at least a further week of holidays but I want students to stay in touch with their learning and I firmly believe that this is better for their wellbeing. And I write this as the dad of two school aged children with me at home this morning. One has been reading and drawing since 7.00am, while the other emerged from his bed rather later, but I believe that they both have an entitlement to learning when term starts.
Instructions about how to access each child's online learning will be sent out during Tuesday 5th January. These will include the names of key staff that students in each year group should contact if there are any issues logging in or accessing the materials. Under the current plans this will be in place for students in Years 7 to 10 and Year 12 until the end of Friday 15th January.
Year 11 and Year 13 return to school from Monday 11th January
From Monday 11th January, students in Year 11 and Year 13 will be allowed to return to school and learn in person. This will allow the school to prioritise the learning of the two public exam year groups while also managing the mass testing for students and staff in the second week of term.
Free school meals continue
While students learn from home in the first fortnight we will ensure that families entitled to free school meals receive the value of the free school meal allowance. We will send a text out directly to those families affected and make arrangements for the two weeks of vouchers to be sent out in one go.
Mass COVID-19 testing for asymptomatic staff and students
The government announced that schools should start their testing in the week beginning Monday 11th January. This makes good sense, giving schools the chance to make proper arrangements. One of the things I am considering is offering the test to all staff who want it first, so we can have a run through of the process and take any learning from this.
I will write to families separately about this as next week gets underway. This will include a schedule so that families can make any childcare arrangements as soon as possible. As I wrote earlier this week, I do think the mass testing is a good idea and I certainly will be taking part. If you could complete this online form here to let us know your intention that will speed up the process significantly.
I am sure there will be further updates as next week begins, but I will try to make this the final Greenshaw letter of 2020!
In summary: online learning for all from Wednesday 6th January onwards; Year 11 and Year 13 return from Monday 11th January; and please complete the form about COVID-19 testing as soon as possible.
Thank you all for your support, especially over the last nine months. I hope we all have a smoother and more straightforward 2021. Wishing you all a very happy and safe new year.
Mr House, Headteacher
New Year image courtesy of callmetak @ www.freepik.com
---
Information for the start of term on Tuesday 5th January
(Posted Monday 28th December, 2.30pm)
I hope you have had a good time over the last week since school finished. I did say I would write to you in the middle of the holidays to confirm arrangements for next term.
The contents of this letter are correct and accurate at the time of writing but this can, of course, change with little notice. As of today, and my writing of this letter, this is the picture for the start of term.
Students in Years 11 and 13 – in school from Tuesday 5th January
We are very keen that students in these two age groups, given that they are in examination years, have as much contact with their teachers as possible. This is also the view of the Department for Education so students in these two year groups will return at the start of term, Tuesday 5th January. They should use the normal entry points (Year 13 through the SRC and Year 11 through the main entrance) at their normal start times.
Students in Years 7-10 and 12 – remote learning from Tuesday 5th January
In the middle of December, it was announced that students in Years 7-10 and 12 would start the term learning from home. This means that their learning will be hosted on Frog, the website we use for homework as well as lots of subject content. We have heard nothing to the contrary, so as it currently stands students in Years 7-10 and Year 12 will start their learning from home from Tuesday 5th January. Their first day scheduled for learning in school will be Monday 11th January 2021.
We will communicate with families and students on Monday 4th January to explain how they will find their learning and what the expectations of them are. This will mean that a day before their term starts we will send out an explanation of what students are to complete and how we will support them.
Like the previous school closures, we will be offering provision for students whose family are key workers or have significant SEND needs. Please e-mail info@greenshaw.co.uk by midday on Thursday 31st December to allow us to plan staffing for this. Please include the student's name, year group, and parental occupation.
Testing of asymptomatic students and staff in January
At the very end of last term it was announced that schools would be asked to host mass testing of asymptomatic students. Students with COVID-19 symptoms, or those that are contacts with cases, should not be in school and be using testing processes outside of school. However, estimates suggest that around one third of COVID-19 cases are entirely asymptomatic. An asymptomatic case (child or adult) would be potentially spreading the disease but be entirely unaware.
As things currently stand we are prepared and ready to host the testing activity, but schools do not have all that is required to get it up and running in the first week back. This may well change, and at little notice. Later this week we will issue a consent document that needs returning. The exact date of any testing capacity going live is uncertain, but we would like to be well prepared if something happens at short notice. There have been many questions raised in this discussion about testing for COVID-19 being hosted in schools but I think these are the two most important ones at this point.
FAQ 1: Does my child had to have had a test to return to school?
I think, on balance, that testing as many staff and students as possible is a good idea. Although statistically students of school age are at hugely reduced risk from COVID-19, positive cases can transmit the virus to others who might be at much higher risk. So knowing this would make our school, our families and the wider community safer. But a student does not have to have a test before returning to school.
FAQ 2: Can I decide that I don't want my child to have a test at school?
Yes. As I've said I think wide scale testing is a good idea that could reduce COVID-19 numbers, in turn making things safer for those individuals vulnerable to the infection. But when the consent form is sent out later this week one of the questions will be whether families wish their child to take part. This is a family decision.
So I hope this letter keeps you in the picture. It would be really helpful if you could look out for the e-mail with detail of the consent form (it will be an online form, so no need for printing off) later this week. Finally, should there be any government announcement at the end of this week I will write to you to explain what it means for our school. In the meantime, I hope that you can continue to enjoy the holiday period. Wishing you all the very best.
Mr House, Headteacher
---
End of autumn term: Thursday 17th December (3.00pm)
Well we've made it. Autumn term 2020 is finished. I am so proud of our school and its achievements in the toughest of terms I have known in the 26 years I have worked in schools. But the highlights are everywhere as I walk around the school at work in the classrooms and playgrounds of our school. And sometimes even beyond the school site.
On Wednesday morning I watched as some of our Year 7 students put cards through the letterboxes of houses along Grennell Road, wishing them – as our neighbours – a merry Christmas. The cards had been quarantined for 72 hours and the students wore plastic gloves to ensure there was no risk of infection. Even despite the strangeness of these necessary additional measures what shone through was human beings' capacity for kindness, almost regardless of the challenges.
Earlier this month over 200 of our students took the time to create Christmas cards that have since been delivered to care homes in the community around Sutton. The time taken to design and produce their own cards was another example that, in the oddest of times our students have shown that they have the capacity to bring warmth and kindness to others. In a world where sanitiser and face masks have been recent additions, the timeless human qualities of care and kindness also continue to be present.
COVID positive test updates
I really hope that it is not the case, but if your child has a confirmed case of COVID during the holiday period please let us know. Depending on the dates of the test and the onset of symptoms, even though we are on holidays, we might need to contact other students or staff. Please send an e-mail to covid19@greenshaw.co.uk and include: details of symptoms; date of symptom onset; medical advice sought; date last attended school; and date of positive test. The e-mail account will be monitored daily until the end of Wednesday 23rd December.
Support while school is closed
At Greenshaw we work closely with a variety of agencies including the London Borough of Sutton, volunteer groups and the NHS. Please be aware that our website has many signposts to support agencies in the section 'Care & Support' as needed. In addition, we have put together a leaflet with some useful information, attached here.
January start of term
School is due to open on Tuesday 5th January. We will follow the same start times as this term and each year group should enter via the same gate they have used this term. You may have heard on the news that schools are being asked to support COVID testing next term. I am fully supportive of this as it has the potential to mean that far fewer students and staff that will need to self-isolate because they have been contacts of a positive case. It will bring its own challenges and the plans for this are being considered over the Christmas break so I will share information with you when I know it.
In the unlikely case of there being a last minute government decision that affects our school start date, I will share that with you. My intention is not to communicate with families too much over the coming holiday, but if there is any change to our January plans I aim to let you know details during the second week of the holidays.
So thank you all for your backing this year. I have received a number of really supportive messages throughout the term, and particularly the last week as the end of term approached. As a parent myself I recognise the quandary of sending our children into school when the conditions are unlike anything in the past. However, our attendance has been high and our students have played their full part in keeping themselves safe. I thank them and you for that.
So all it remains for me to do is wish you all a restful, safe and happy Christmas break. See you in 2021.
Nick House, Headteacher
---
Last day of school – Thursday 17th December
Posted Friday 11th December (4.00pm)
This morning started for me on the Year 7 and Year 9 gate, seeing all of our students file in and dutifully sanisiting their hands before putting on their face masks. Thank you to families for being supportive in making sure that our students now all bring their own face covering in. Schools have had no additional budget for any of the additional purchases related to COVID-19, so to no longer need to supply spare face masks on the door each morning is a real help. Thank you.
During period 1, I visited Year 7 students listening to a violin recital, Year 8 studentspils doing their repeat bleep test in PE (to see any improvement from earlier in the term) and Year 9 practising the imperfect tense in their French lesson. Even as we move close to the end of a long term, our students are upbeat and there was a delightful moment I found in a GCSE science lesson. The class were understanding the difference between weight and mass, and the teacher was sharing a personal moment. The illustration the teacher used was that he might have put on mass from buying a chocolate bar from the newsagent after work yesterday but that he would lose weight if he was on the moon. The class certainly enjoyed his example and seemed to fully understand the principle.
Is online learning for the last week a possibility?
The Department for Education has instructed all schools not to move to online learning. Put simply, schools are not allowed to. Where local schools, in Sutton or other authorities have moved to online learning that has been because the schools have had high levels of COVID-19 prevalence. Public Health England have decided that it is more important to break the chain of infection than keep the school open.
If you think it would be a preferable decision for students to learn online from home next week then please of course express this to officials at the DfE. Unfortunately, schools in England are not allowed to make this choice, even if they think that home learning might be a sensible decision for the last week of term.
Year 10 bubble learning at home
The way we have structured the school since we returned in September has been that we have kept year groups within 'bubbles'. In real terms this has meant that students from different year groups have had no extended contact with any other year. It also means that if there are several cases in a short amount of time we can isolate students within that year group. As of today, Year 10 students only will continue their learning from home. That single year group has had more positive tests over a week or so than any other year and I am always balancing the safety of students and staff alongside keeping students in school.
So this will be my final Friday letter of 2020 – a year that many of us will be keen to see the back of. Thank you for the support and trust you have put in us as a school. This has been an unbelievably challenging time but the importance of people being kind to each other, even more so at this testing time, has been more vital than ever. I wish you all a safe weekend and look forward to the last four school days of 2020 next week.
Mr House, Headteacher
---
Change to term dates – last day of school Thursday 17th December
Posted Thursday 10th December (11.00am)
During this very unusual term I have taken to writing to families at the end of each Friday of the week. However, the government announced something during this week that families would want to know about as soon as possible.
You may well have seen already on national news that the Department for Education has suggested schools take an INSET day next Friday, 18th December. This means that term will end next week on Thursday 17th December. We will finish at the normal staggered finish times from 14:40 onwards. This means that Friday 18th December will not be a school day for students.
I apologise for the lack of notice, but this was only shared with schools this week. I do think this is a sensible decision from the DfE that recognises the pressures that schools have been under, and that the work continues even when the students are not in the building. I hope that a full week's notice of this change is enough for families to make any changes needed.
Thank you for your support with attendance, and deciding when your child should not come in.
As every week since the start of September, thank you for your support this week. Thank you for sending your child into school when they are well. Even yesterday, the attendance rate of Greenshaw students was 95.2% – when the average rate of attendance at schools in England, in normal times, is 94.5%.
Thank you as well for keeping any children at home if they – or a family member – exhibits any of the three COVID-19 symptoms: high temperature (particularly hot on the back or chest); a loss of the sense of taste or smell; or a new or continuous cough (coughing a lot for more than an hour, or three or more coughing episodes in 24 hours).
If you are in doubt, please contact us. While we cannot give medical advice, if you let us know the situation we can decide whether this should be recorded as 'self-isolation' while you get medical advice. Any student self-isolating will not have their time out of school recorded as absence, so it would not affect their personal attendance record. So, if you are at all unsure, please ring us.
Wishing you all the best for a restful weekend when it arrives.
Mr House, Headteacher
(Image: Freepik - macrovector)
---
News about GCSEs and A Levels in 2021: Friday 4th December (3.30pm)
The government has made some welcome announcements about this summer's exams. They suggested that teachers will get advance notice of the topics that will come up in the exams and that the grades awarded will be similar to those this year. This, in conjunction with the delaying of exams by three weeks next summer, should support our students to do well in 2021.
At the end of my Year 13 lesson yesterday afternoon some students asked what these changes would actually mean. At present, schools have not been given the details of these changes and certainly subject departments do not know which topics are yet to come up in the exams.
I think this is a difficult decision for the Department for Education, and exam boards, to know when the best time to release this information is. The risk with schools knowing the precise exam topics too early in Year 11 and Year 13 is that students and staff will focus only on these areas, neglecting every other area of the exam specification. I know it is difficult to remember this, but students should be studying subjects in school to develop their broader knowledge and understanding of the world around them. Albert Einstein, a pretty intelligent thinker about the wider world beyond just science, wrote that:
"Education is not the learning of facts, but the training of the mind to think."
So for me, I hope that our Year 11 and Year 13 students continue to think deeply about their subjects over the coming months, and that the detail about the topics that will come up in the summer gets released when students have finished their courses. I'm hoping that the timing of the topic information allows our students to be successful in their exams, as well as wiser about the wider world.
Thank you for the continued parental support
As we approach the end of term I would like to thank families for sending their children into school so regularly. However, I need to remind all families – even with ten days to go – that if they have any COVID-19 symptoms students should not be attending school. Please ring us and discuss the situation. If a student is self-isolating this is not marked against their attendance as long as we know this is the reason for their absence.
Wishing you all the best for restful weekends.
Mr House, Headteacher
---
An update from Mr House: Friday 27th November 2020 (4.00pm)
Another great week for attendance – on two days this week we've had over 96% attendance which is little short of astonishing. Thank you for showing such confidence in the systems we've had in place at Greenshaw this term and sending your children in so regularly. Having such consistent attendance is really supporting their learning, helping the gaps from 'lockdown' being made up for our students.
The new model for parents' evenings
Last night we experimented with our first online parents' evening. It seemed to go very smoothly for the vast majority of staff and families. We are not using Zoom or any other online software that you might have used over the last nine months. Instead, the parents' evening scheduling software has five minute slots, along with an on screen timer that shows the remaining time in the appointment.
Of the many things I have learned this term, one is that comparing what we do now with what it used to be isn't a helpful way to review what we are doing now. A different way to think about it is whether the event adds something that we wouldn't be able to do. So while an online parents' event is unlike a traditional evening, I think it definitely allows communication with a range of teachers over a couple of hours or so. We are aware of a couple of technical issues with families' technology so will give clear information each time about the minimum need for the updated web browser to support the programme.
When the parents' evening for your child's year group is coming up, our school office team will contact you to explain how to make appointments and log on that evening. The next year group is is Year 10 on Thursday 10th December.
Winter dress code for students continues
It has generally been milder this week, although this morning the cold had definitely snapped as I met Year 7 students on the gate. Earlier in the week, far fewer students have chosen to keep their coats on. Some bubbles remain very warm, such as the classroom that our Year 8 students occupy. However, I am very happy for students to keep their coats on in the classroom if they wish to, given that we continue to have windows and doors open to have maximal airflow and ventilation. I would not want our efforts to reduce COVID infection to inadvertently result in students getting other infections such as colds, especially as we run up towards the Christmas break.
On that note, the first few Christmas lights are appearing outside houses along Grennell Road, and even the odd Christmas tree can be seen in front rooms. In my family I am currently resisting quite some pressure to start Christmas decorations, even before December has begun! I wish you good luck with whatever decisions you are currently debating as a family, and hope that you have a restful weekend.
Mr House, Headteacher
---
Thank you : An update from Mr House
Friday 20th November (3.30pm)
Thank you for your ongoing support. Attendance has been strong again this week, 95.5% against the national average in non-COVID times of 94.5%. I think this is remarkable – and definitely the best thing for our students. I know I am repeating myself, but I feel I need to say this every week, however:
If a family member (parent, sibling or anybody else living in the family home) is presenting with COVID symptoms then students should stay at home while the family member has a test. Please ring us to let us know and we will mark your child as self-isolating, which will not count against their attendance.
Coats as necessary
It has been a decidedly colder week and some students have appreciated keeping their coats on. However, even with doors and windows open some of our classrooms have remained very hot, particularly in the Year 8 bubble. Other year bubbles (Sixth Form and Year 11, for example) have definitely valued keeping their outdoor coats on.
Adjustment to timings of the school day – Wednesdays
One of the things that has kept school open and running so well has been brilliant rates of student and staff attendance. Greenshaw staff have been brilliant in supporting the re-opening of schools and this has taken huge effort and increased levels of work. But don't take that from me – take it from Ofsted.
Ofsted have visited just under 400 schools across the country since September and published a report last week, available online if you Google it. It included phrases like, "Leaders stated that teachers are tired and exhausted, and workload has increased." I would say that is also the case at Greenshaw but we are blessed with a dedicated group of staff, teaching and non-teaching.
I do not take this for granted however and want to protect it over the dark last few weeks of this term, and the start of next term. From Wednesday 25th November until 10th February (the last four weeks of this term and the first half of the spring term) we will still teach the same quantity of lessons but end school after the fourth period.
Students will have the same subjects in the same order, so there will be no change in their curriculum experience. For those that have free school meals they will have their cards credited by morning break so they will still be able to take their food in school on a Wednesday. The timings are here. They will maintain the 'bubbles' with each year group leaving from a different exit at staggered times.
| | |
| --- | --- |
| 13:00 | Years 7 and 8 leave school |
| 13:10 | Years 9, 12 and 13 leave school |
| 13:20 | Years 10 and 11 leave school |
SEND message
Finally from me this week, please see the newsletter here from the Sutton Education Partnership, of which our school is a part. It contains information about SEND in the local area and contains a number of useful updates about developments in Sutton.
Thank you for all of your support this week - have great weekends.
Nick House, Headteacher
---
The end of our first week back: Friday 6th November (4.30pm)
It has been a great return this week. The chilly November mornings have been a wintry backdrop for conversations with our students and made for a very positive coming back into school. The adoption of face coverings by students has been excellent. On the very, very rare occasion I have met a student leaving a classroom without a mask they have looked horrified that they have forgotten, and immediately rectified it.
After five full days of face covering at Greenshaw, I can absolutely say that I feel proud of our community, and how our students and staff are taking their responsibility to protect others so seriously.
In classrooms, the focus has been exemplary. I walked around school today, seeing over 80 classes at work, including students: considering beach reclamation; counting electrons; critiquing Andy Warhol paintings; speaking Spanish together as a whole class; rushing to volunteer to read aloud from a play script. Of particular joy was a group of Year 13 further mathematicians absolutely loving their subject, and laughing together as they undertook undergraduate level mathematics. It has certainly been a great start to the new term.
Parents' evenings – arrangements for this year
It was always going to be a challenge getting traditional parents' evenings in place even before the restrictions that were introduced across the country yesterday. However we are determined to keep the contact between home and school as much as possible. We have purchased a piece of software that allows teachers and families to talk online in their appointment schedule. I hope this will go some way to making sure that we all stay in touch.
The schedule of dates is below and is also available on our website. We will contact families for each year group as the year goes on with the joining details.
Early closure, Wednesday 11th November
I hope that families will recall that before half term I wrote to explain that next Wednesday we will need to close school early to accommodate a small group of children who will sit the Sutton Eligibility Test. The details of the closing times for each year group are here. Thanks for your support with this one off inconvenience.

Vacancy for parent governor
We currently have a vacancy for a parent governor on our governing body. Please find attached an outline of the post, as well as an overview of what the role includes. Should you have any questions about the role, please contact Laura Marchese, clerk to the governors at lmarchese@greenshawlearningtrust.co.uk.
Wishing you all the best for a restful weekend.
Nick House, Headteacher
| | |
| --- | --- |
| Date | Year Group |
| Thursday 15th October 2020 | Year 13 Academic Review |
| Thursday 26th November 2020 | Year 11 (first evening) |
| Thursday 10th December 2020 | Year 10 |
| Thursday 14th January 2021 | Year 8 |
| Thursday 28th January 2021 | Year 12 |
| Thursday 4th February 2021 | Year 7 |
| Thursday 4th March 2021 | Year 9 |
| Thursday 25th March 2021 | Year 11 (second evening) |
| Thursday 22nd April 2021 | Year 13 |
---
Welcome back on Wednesday 4th November
Posted Tuesday 3rd November (10.00am)
I hope you and your children have had had a good break, despite what has generally been pretty wet and dismal weather. We ended last half term on a high, with great attendance and lots of positive achievements from our students. We also got all of our Year 11 and 13 students through mock exams to help us identify the next parts of their respective courses we should be focusing on.
In the context of this great half term, the weekend news about the new national restrictions may well give families a moment of reflection.
We have worked very hard over half term to ensure that all of the measures already in place have been re-established ready for our students' return on Wednesday 4th November, at their normal start times. As the government announced on Saturday, schools will remain open and the measures we have been asked to put in place (regular hand washing, year groups restricted to particular zones of the school, staggered break and lunch times, face covering in communal areas) will continue as before.
As I have said previously, I think schools are the best places for young people to be for their welfare as well as their education. I certainly can't predict the national situation going forwards so would emphasise that each week schools are able to be open is a really great opportunity for our children. We look forward to hearing about their half term breaks, seeing them back and helping them understand the world a little better through their learning each week. Thank you, as always, for your ongoing support.
Nick House, Headteacher
---
An update from Mr House: Friday 23rd October (5.00pm)
Thank you for your support since September. We have completed a full half term in a very positive way, despite the challenges and many issues that have been thrown at us. One of the things that parents have queried with me has been whether there will be any substantial changes to arrangements next half term. The way that the 'bubbles' have worked this term will be maintained and you can reassure your child/ren that there is no variation in what they have got used to this half term.
There are two important items I need you to be aware of before we close this afternoon.
Important: if your child has a confirmed COVID case over half term
I really hope that it is not the case, but if your child has a confirmed case of COVID during the holiday period please let us know. Depending on the dates of the test and the onset of symptoms, even though we are on holidays, we might need to contact other students or staff. Please send an e-mail to covid19@greenshaw.co.uk and include: details of symptoms; date of symptom onset; medical advice sought; date last attended school; date of positive test.
Face covering – please ensure your child brings their own
The students were brilliant with face covering on Wednesday. We gave a few out on the door but the vast majority were fully prepared and all wore them absolutely appropriately in corridors. On Thursday morning we had to supply more masks as the number of students without them went up. I need to let families know that schools are not receiving any additional budget for the purchase of items relating to the COVID situation. If we have to give out significant numbers of masks it will reduce our spend on other areas of the school so please support us in ensuring you organise your child.
Next half term starts on Wednesday 4th November at the normal start times for each year group and the gate they have used this half term. As ever, any celebrations or concerns you would want to share, please e-mail me at nhouse@greenshaw.co.uk. I hope that students have a restful break and recharge over the week and a half.
---
Face coverings: Tuesday 20th October (2.00pm)
You will know how delighted I have been by the huge efforts of students, families and staff to get school up and running this term. What we have achieved so far has been really impressive and, as far as I know, there are no plans for schools to be closed any time soon.
However, in light of London being placed into 'Tier 2' of national health rating there has been a change to guidance for secondary schools about face covering. The Department for Education (DfE) have released the following:
… face coverings should be worn by adults (staff and visitors) and students when moving around indoors, such as in corridors and communal areas where social distancing is difficult to maintain. [1]
The DfE suggest that there is no requirement to wear face coverings in classrooms as there are other protective factors in place. They also state that face coverings are not required outside.
So please send your child in from Wednesday 21st October with a plain dark face covering. They should also have a small sealable plastic bag to store the mask in securely.
We do have spares, so nobody should miss school because they are not able to bring in their own mask or sealable bag. However, it would really help our school budget if families were able to supply the face covering and bag for their child.
As long as it is safe, school is the best place for our young people to be. School offers social opportunities not available in the home. It also provides the escape that reading, languages, arts, sport, science and so much else offers while of course broadening the mind. And I write this as the father of two school-aged children, one of whom was negatively affected by their prolonged absence from school. I think this change from the DfE is proportionate and will enable schools to stay open and safe.
Please see the Frequently Asked Questions below, but please do e-mail me in person at nhouse@greenshaw.co.uk if you have any concerns or there is something you would wish me to know.
Frequently asked questions about face coverings
What is the science behind this DfE change?
Coronavirus (COVID-19) usually spreads by droplets from coughs, sneezes and speaking. These droplets can also be picked up from surfaces, if you touch a surface and then your face without washing your hands first. This is why social distancing, regular hand hygiene, and covering coughs and sneezes is so important in controlling the spread of the virus.[2]
The best available scientific evidence is that, when used correctly, wearing a face covering may reduce the spread of coronavirus droplets in certain circumstances, helping to protect others. Because face coverings are mainly intended to protect others, not the wearer, from coronavirus (COVID-19) they are not a replacement for social distancing and regular hand washing.
How will this be explained to my child?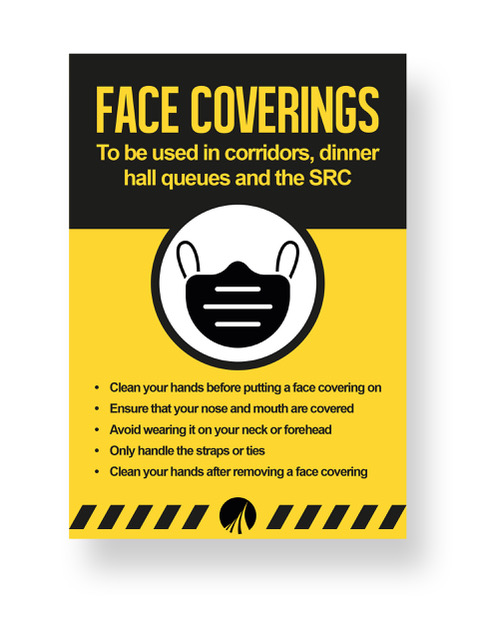 Tomorrow morning in morning tutor time, Mr House will explain the reasons over Google Meet to every classroom. He will also explain when the coverings are needed, and when students and staff can choose to remove them. This poster will be visible in each classroom and on corridors.

Why does the requirement not include classrooms?
The DfE states: "…it will not usually be necessary to wear face coverings in the classroom, where protective measures already mean the risks are lower, and they may inhibit teaching and learning."[3]
My child has always worn face coverings. Does anything change now?
No. If any student – or staff member – has worn a mask previously they should continue to do so.
Are there any medical exemptions?
If your child has a health or disability reason for not wearing a mask please let us know. We would not want any student or staff member to feel uncomfortable about this. Please e-mail the details to Sarah Richards at srichards@greenshaw.co.uk. If you would rather discuss this with a member of your Year team or SEND teacher, then please contact them directly.
Why do the masks have to be plain and dark?
We don't want the masks to be a distraction from learning. Our students have lost enough learning time over the last nine months – every minute in the classroom should be about learning.
Why do children need a plastic bag?
Face coverings need to be safely stored when they have been removed. This means placing them into a small sealable bag (like ones that sandwiches can be put into).
Where will my child need to wear the face covering?
Inside in communal areas – which means mainly corridors and lunch queues. This will include the Sixth Form Resource Centre. While students are eating they need not have their face coverings on, similar to regulations around cafes. Face coverings are not needed outdoors. For example, if students are waiting for the gates to open or at break or lunch in the playground, face coverings are not needed.
What do I do if my child can't find their face mask before they leave? Or if they leave it on the bus?
Don't worry – we will have spares at the gate for each year group. We know that life is complicated and families have many things to remember each morning. If the same student did forget their face covering several times in the same week we might ring the family to ask for their support in helping their child to organise themselves.
Nick House, Headteacher
---
Covid-19 – Frequently Asked Questions
Wednesday 16th September (5.30pm)
Over the last day or so there have been a number of questions about schools and their response to Covid-19, most specifically, about what happens if there is a positive Coronavirus case. Speaking with parents, I have created a list of 'Frequently Asked Questions'
Are schools set up differently to when Year 6 and Year 10 returned in June?
Some of the things schools were able to put in place in June and July (very small classes, maintaining 2 metre distancing within the classroom) are not possible when all students return full time. The Department for Education (DfE) required schools to return this year with all of their students and full time. I wrote to families in July about what we are doing (year groups having their lessons in limited areas of the site, staggered start times and entry points, emphasis on hand hygiene, additional cleaning). If you are a new parent to the school, or do not recall the details of the letter, it is on the school website here. Look for the letter dated Thursday 16th July.
So what does the word 'bubble' mean in secondary schools from September?
A 'bubble' describes how in most secondary schools' students in each year group are kept separate from all other year groups. They will not spend social time or learning time with other year groups. Most secondary schools have created 'zones' where lessons happen for particular year groups. The teachers are mobile, while students remain in the same classroom, or the group of rooms allocated to that year group. We have done this at Greenshaw High School, and included separate playground space and separate eating arrangements for year groups.
What happens in schools if a case is confirmed?
Schools will contact their local Health Protection Team. In the meantime, schools apply the DfE guidance to create a 'track and trace' activity in school. At Greenshaw, all staff have seating plans for each of their groups so we can see where the student has sat in the room. As a precaution, we double check with the teacher if s/he has changed the plan very recently so we can ensure that it is an accurate record of where students have sat. Schools will also speak with the student to identify their travel arrangements to school and their social contact at break and lunch.
The DfE give the following instruction[1] to schools when considering who should be sent home if there is a positive COVID-19 case reported to schools.
Schools must send home those people who have been in close contact with the person who has tested positive, advising them to self-isolate for 14 days since they were last in close contact with that person when they were infectious. Close contact means:
direct close contacts - face to face contact with an infected individual for any length of time, within 1 metre, including being coughed on, a face to face conversation, or unprotected physical contact (skin-to-skin)
proximity contacts - extended close contact (within 1 to 2 metres for more than 15 minutes) with an infected individual travelling in a small vehicle, like a car, with an infected person
Might a whole year group be sent home if there is a confirmed COVID-19 case?
This is possible, and there have been examples of this in Sutton this term, in both primary and secondary schools. There have also been instances where this has not happened. This decision will be made in conjunction with the South London Health Protection Team (SLHPT). However if there is a confirmed COVID19 case we will always apply the DfE 'close contact' definition while we wait support from SLHPT.
What do I do if my child has Covid-19 symptoms?
If your child has any of the Coronavirus symptoms (a high temperature, a continuous cough or a loss or change in sense of smell or taste) you should arrange for them to be tested for Coronavirus. Please let the school know if this is the case.
Your child should stay at home and the rest of the household should self-isolate whilst you wait the result of the test. No student with Coronavirus symptoms should attend school.
More detail about the symptoms, testing, social distancing and related issues can be found on the dedicated part of the NHS website here https://www.nhs.uk/conditions/coronavirus-covid-19/.
---
[1] https://www.gov.uk/government/publications/actions-for-schools-during-the-coronavirus-outbreak/guidance-for-full-opening-schools
---
Friday 11th September (3.30pm)
We've done it. The first full week has been completed with average student attendance at Greenshaw High School of over 97%. This is even higher than the national average attendance – in normal times – so I want to extend a massive thank you for having the confidence to send your children back to school. I thought I'd share with you some snapshots of my week from the privileged view of headteacher, going in and out of lessons.
On Tuesday I went into a Year 10 class studying science. They were in a standard classroom as part of the Year 10 bubble's zone, not in a lab as previously. Despite this, the students were entirely engaged and asking the teacher really considered and technical questions about bacteria. There was absolute fascination from the class in the teacher's explanation and you could have heard a pin drop.
Yesterday, I went around 'morning maths' (an additional maths practice session that all Year 11 students have first thing in the morning). Every student in the year was absorbed, practising maths with absolute focus. At 8:30 in the morning!
Today, I popped into a Year 7 group considering the concept of 'trust', having first read a demanding broadsheet article about this idea. The class was writing at length in their journals, explaining their own thoughts on whether 'trust' is a generally on the rise in contemporary society or not.
Each of these was a brilliant moment, and there are many more besides. What shone through was how our children appreciate being back in school and having the opportunities of a full school-based education once more. I am not complacent about the future and cannot predict what might happen. But I can assure you that this week our students have been all the better for being back in school, both academically and socially.
Two really important pieces of information now that I need you to be aware of.
1) Grennell Road will be closed off from next week
Not all families may be aware, but from Monday 14th September Grennell Road will not be a through road. There will be bollards fixed at the bottom of the hill (just after Edinburgh Road) preventing vehicles from coming up the hill, neither will it allow cars and vans to proceed towards the town centre along Grennell Road. This is part of a national scheme to make roads around schools safer and traffic free. Sutton Council is branding this as 'Safer, active, greener streets for Sutton', which I think describes its ambitions really well.
This is critical for the small group of families that drive up to the school gates and drop off their child. I have always stated that driving into Grennell Road at peak times is dangerous and deeply unhelpful for the rest of our school. If you feel you must drive to school, then please stay well away from Grennell Road and arrange a pick up spot with your child some distance away.
The vast, vast majority of our students walk to school, either from their homes or from local bus stops. Increasing numbers also choose to cycle to school. For children to be able to walk and cycle more safely into school should be a great thing for our students. Please support all of us by not driving into Grennell Road at all.
2) Covid-19 symptoms: schools have been asked to share this update from 'NHS Test and Trace'
To ensure we identify those with coronavirus while avoiding a huge increase in demand for tests from people without coronavirus symptoms, we ask that you recommend to your students and staff who feel unwell, that they get tested if:
They develop one or more of the main coronavirus symptoms: a high temperature; a new, continuous cough; or the loss or change of their sense of taste or smell; or
They are recommended to get tested by a healthcare provider (e.g. GP or nurse).
If a student or staff member develops one or more of the main coronavirus symptoms described above, only they should be tested. There is no need for their households to have a test, unless they are also symptomatic.
Unless a student or staff member has one of the three main coronavirus symptoms, they should only be tested if instructed otherwise by the local authority, health protection team or their GP. As schools and colleges across England return, students may feel unwell for example with a sore throat, stomach upset or a headache. These students don't need to book a test but may need to stay off school and seek medical advice through their GP or pharmacist as usual.
So that concludes the first full week since lockdown that has seen all of our students in. I hope you all have restful weekends and enjoy reconnecting with the children that you saw endlessly for the previous five months but who you might have missed, a little, over the last five days.
Nick House, Headteacher
---
Friday 4th September (5.00pm)
I want to write to you to say how proud I am of the staff and students of our school. For the first two days the staff have had to take on so much new information and prepare for working in a really different way to what they have been used to. Then over the following two days our students have returned in huge numbers, looking brilliantly smart and fully ready for learning. I have visited many lessons and tutor sessions and been blown away by how keen the students are to get back and their entirely positive attitude.
Wearing PE kit all (All years)
For students in Year 7 to 11, I can confirm that if they have a PE lesson that day they should arrive in school changed and ready in their full Greenshaw PE kit. Students do not need to bring their uniform (shirt, tie, jumper etc.) as they will stay in their PE kit all day for their lessons. This is to avoid using the changing rooms and means we are able to keep PE on the timetable for all years.
Reading books are needed for all students in Year 7, 8 and 9
For students in Years 7, 8 and 9 we will be running 'DEAR' sessions each day, which stands for 'Drop Everything and Read'. As I wrote to you on Tuesday, please make sure that your child has a reading book that is something they will enjoy, and is a sustained work of fiction or non-fiction that is age-appropriate in content and should be of genuine interest to the child. For students in Year 7 they should bring back in their copy of The House with Chicken Legs that we gave them as welcome gift when they joined us yesterday.
Finally, can I remind parents of what we all know, but I will re-state this repeatedly across the term. Please do not send your child to school if they are displaying any one of the three coronavirus symptoms.
The NHS website gives further detail, explaining that the coughing symptom is a new and continuous one – which they define as coughing a lot for more than an hour, or having three or more coughing episodes in 24 hours. The high temperature is explained by the NHS web page as feeling hot to touch on the chest or back and it adds that you do not need to measure your temperature. The third symptom is a loss or change to the sense of smell or taste.
It is very important that all of us are aware of the coronavirus symptoms and work hard to keep all of us safe. And I say that as a parent, not just a teacher. I sent my two children back to school this week with mixed emotions of trepidation and relief which I am sure you may recognise.
So we've made it successfully through the first few days of term. If there is anything you want to ask or share with me, then always feel free to contact me at nhouse@greenshaw.co.uk. In the meantime, I hope you have great weekends.
Nick House, Headteacher
---


Tuesday 1st September (8.00am): Return to school
Today is the first day that all staff are back in school since mid-March and we are hard at work, making sure everything is ready for later this week. This week is about all students receiving an induction and knowing more about how school will operate this term. Next week is about trying to get all students in school and for them to develop increasing confidence in the arrangements.
I have made a brief video message for students and families that is available above. Hopefully it reassures by giving some additional information.
Face coverings
As I wrote to you last week, we are very happy that if families would like their child to wear face masks then they can do so. The requirements are that the mask must be dark and plain (without any marking, logo etc.) and that the student carries a sealable plastic bag for safe storage of the mask when removed.
In addition, staff will be wearing visors in heavily occupied areas such as corridors and full classrooms. Both of these decisions will be reviewed periodically and are subject to change, depending on the local situation.
What do families need to know?
Arrival in school: One of the key parts of schools' re-opening this September is that groups of students should make less contact with other groups than in normal times. Arrival times and entry gates are listed on the school website here. I am sure you will already have looked at these, but we have made some small changes so please check over the next two days.
School uniform: Students in Years 7 to 11 should wear full uniform as usual. The requirements are listed here.
Equipment: We are not able to run the school stationery shop in the same way we have done previously so it will be really important that students bring in the full equipment for learning. That list is also available on the website here.
Reading books: In addition, all students in Years 7 to 9 will need to bring in a reading book from Monday 7th September. Students in these year groups will remain in their classrooms for a large part of their week while teachers move to them which will mean that they have five minutes several times a day that they will be reading. The books brought should be a sustained work of fiction or non-fiction, be age-appropriate in content and complexity and be of genuine interest to the child.
So, we stand on the verge of a full return to school. The purpose of this week is to get staff back in, then students, to receive an induction and a clear sense of what school will be like. The purpose of the second week is to develop students' confidence and start to re-focus on their learning. I am very confident in our planning and the quality of our staff and students but should you have any concerns then please contact me at nhouse@greenshaw.co.uk.
Nick House, Headteacher
---
Thursday 27th August (6.00pm)
Update on face coverings in school
Following the government change in advice about face coverings yesterday, I have met with school governors, senior members of the Greenshaw Learning Trust and union representatives. I have also taken into account the views of family members who have e-mailed me and risk assessments we have undertaken with individual staff members.
The London Borough of Sutton has an incredibly low rate of Covid-19 infection and transmission. As a school we have put in place a significant number of precautions to minimise risk, as outlined in previous correspondence to you and available on the website. Therefore, in line with the above government guidance, we will not be making the wearing of masks mandatory in any area of the school.
However, I absolutely recognise that some students will feel more comfortable wearing a face mask in the corridors and/or in the classroom and I am very happy for them to do so. Any student wearing a mask will need to carry a sealable plastic bag so that when removed (at lunch time, in PE lessons etc.) it will be safely stored. Please note that masks must be plain in appearance, no logos or motifs, and must be worn appropriately and sensibly. Any student intentionally misusing a mask will be required to take it off.
I will of course review this decision in light of any updated government guidance and changes in the local situation. I know that this has been an area of anxiety for some families and I hope this gives reassurance.
Nick House, Headteacher
---
Wednesday 26th August (10.00)
Government announcement on face coverings in schools
Many of you will be aware that late last night the government reviewed their guidance to secondary schools about face covering. The guidance for schools that has been in place through the summer had suggested that face covering was not necessary and even suggested some negative features of face covering. With a week or so until schools return there is clearly now some movement.
I am meeting with the Chair of Governors tomorrow morning to confirm our approach as a school and I am also working closely with senior staff at the Greenshaw Learning Trust. I will update families as soon as possible, hopefully by the end of Thursday 27th August and am confident that this will give reassurance to those of you concerned about this.
I want to reiterate the messages I sent out on Monday: we are really looking forwards to welcoming our students back next week and any changes we are advised to make, even at this late point, will be absorbed and enhance our plans.
Nick House, Headteacher
---
Monday 17th August (5.00pm)
A Level results update
This afternoon's announcement, that students will receive their Centre Assessed Grades rather than the one that was centrally awarded broadly looks like very good news. It is my understanding that, in the handful of cases, where students received a higher grade in their results on Thursday morning then they can retain that. So students should not be fearful about this decision.
What is less clear, is whether a student has missed out on a university place because of lower than expected grades, that have been improved this afternoon, whether those universities will have spaces still available for this September. It is absolutely crucial that any student whose 'Centre Assessed Grades' (the ones we shared with our students on Thursday at 10.00am) now mean they met the terms of the university they wished to study at this autumn makes contact with the admissions officers at that university. I fear that some may have filled their allocation of spaces for this year but only the admissions officers working on each course will know the absolute detail of this.
We will continue to monitor the situation and advise those students we have been working closely with since Thursday morning. Please stay in touch with the sixth form team if you have any queries.
Mr House, Headteacher
---
Thursday 13th August (14.45pm)
A Level results at Greenshaw High School
As the dust begins to settle on a very unusual A Levels results day, students and staff at Greenshaw High School are starting to get an increasingly clear sense of today's news.
Overall, the number of A Level passes at A*-A rose to 27%, as well as increasing at both A*-B and A*-C. So, despite the significant national issues, a number of our students received very pleasing results: Fardeen achieved 4 A* passes; Sophie and Tobi are heading to Oxford University and Hollie is off to Cambridge University in the autumn.
All students received the grades awarded by the exam boards at 8.00am. We also shared the 'centre assessed grades' (those grades that teachers had been asked to propose following evaluation of any coursework, classwork, mock exams and other relevant evidence) with all of our Year 13 students this morning. This allowed each student to fully understand their situation, particularly if considering university places or needing to speak with admissions officers. All of our Year 13 students also have access to their mock grades from their school reports on our managed learning environment, Frog.
The sixth form team has been talking with students to celebrate their many achievements, as well as support them with any concerns.
Miss Lisa Buchanan, Assistant Headteacher in charge of Greenshaw Sixth Form, said, "We continue to support students this afternoon, tomorrow and next week. Although the headlines are generally positive, we are determined that all of our students will receive the support they would always get, regardless of the Covid-19 situation."
So, at the end of a turbulent week for sixth form students across the country, today's grades, for many, bring closure. Not just for this week, but right back to that day in March when it was announced that A Level examinations would not be taking place this year.
We wish the very best to all of our students in the next chapter of their careers and thank all of the staff and families that have supported, encouraged and inspired the Year 13 of 2020 to navigate these uncertain times so effectively. Upwards and onwards from here.
Mr House, Headteacher
---
Wednesday 12th August (11.30am)
As all parents and Year 13 students will be absolutely aware, there have been some unsettling news stories this week about tomorrow's impending A Level results. I was as surprised as any of you to hear talk of 'mock exam grades' being floated last night, 36 hours before our hard working students can find out their results. In the light of this, I hope the outline below gives clarity on what the next steps are and reassures all involved that we have steps in place to support all of our students, for both celebration and advice.
I cannot promise that the information I will outline below might not change, but at the time of writing it is correct. I hope students and families will find this helpful and I remain firmly confident that in the vast majority of cases 'the system' will work fairly. Where we see that it has not tomorrow morning we will work on behalf of our students in all ways possible. Here is the timeline for tomorrow:
Thursday 13th August
8.00am
Students will receive their A Level, AS Level and EPQ results via Frog. These will be the actual grades that the exam boards have awarded following the process that has been outlined in the news. There is a summary here.
At the same time, UCAS will update students' university applications. There is often high levels of traffic on their website so students may need to log in more than once.
10.00am
Students will be able to see their 'centre assessed grades', the grades that subject teachers proposed to the exam boards. These will be made available on Frog in a similar way to the results two hours earlier. Students and families will be able to see if there is any variation between these and the grades they were awarded at 8:00am
The appeals process is very limited this year. For example, in the past students could appeal if they suspected a marking error but there have been no examination papers marked. They could also appeal to see if there had been a clerical error (for example incorrect adding up of each question on a paper) but again as papers have not been marked there is no appeal possible here.
Should students feel disappointed that their actual result is lower than the centre assessed grade (the one suggested by subject teachers, shared at 10:00am) they should contact the Sixth Form team at alevelqueries20@greenshaw.co.uk.
The sixth form team will be able to advise about the next steps which could include the proposed re-sit public exams season in October.
Students MUST NOT contact subject teachers to discuss their centre assessed grades if they have a concern. To do so could jeopardise any future dialogue we would have with an exam board on behalf of students to review a grade.
Throughout tomorrow we will maintain a running log of students that might have concerns, missed university offers and anything else that we can support with. I am determined that we will not allow the prospects of our Year 13 students to be inadvertently damaged by events beyond their control.
Nick House (Headteacher)
---
Thursday 16th July 2020
Greenshaw High School in September: full opening
As I wrote to you last week, we have been working through the Department for Education advice about how the new school year will look for us. I have maintained throughout that we are balancing the competing demands of keeping our students and staff safe while also ensuring education can be maintained. I also wanted to hear from parents and carers to understand your concerns. I want to extend a 'thank you' to the many of you that took the time to complete the survey I put online last Friday. We have made significant progress and can share our plans.
Before reading on, please bear in mind that the information in this letter is correct at the time it was written and in line with the DfE guidance published on 2nd July. There may be areas that we are instructed to change, either at national or local level. I also absolutely reserve the right as headteacher to alter these arrangements as the term unfolds. Put simply, if something isn't working we will change it. The first priority will always be health, with educational experience a close second.
In summary, we have made the following alterations for September. The detail follows below.
Year groups of students will be in 'bubbles' and movements adapted to secure these bubbles.
Entry and departure times, break and lunch arrangements will be staggered.
Students will be based far more in consistent classroom bases with staff being mobile.
Hand cleaning arrangements will be significantly enhanced.
How will contact be reduced between students?
The DfE guidance states: Consistent groups reduce the risk of transmission by limiting the number of students and staff in contact with each other to only those within the group. Movement around the school site [should be] kept to a minimum.
Parent voice said: "I am worried about moving groups and classrooms for subjects" and "How will the school buildings and classes be socially distanced?"
From September, we have allocated parts of the school to particular year groups. These year specific zones will significantly reduce student movement around the site and these year groups will be the 'new bubbles'. The majority of students will remain either in the same room, or move to a room within a corridor of pupils of the same year group.
How will contact be reduced between students of different ages?
The DfE guidance states: While passing briefly in the corridor or playground is low risk, schools should avoid creating busy corridors, entrances and exits.
Parent voice said: "Is there increased risk in a large and compact school?" and "Could there be different time breaks for different year groups?"
With students being in age specific 'zones' corridors and stairs will be significantly less busy than previously. In addition, we will stagger arrival and departure times, and require year groups to use different gates as they arrive on the site. In school we will also stagger break and lunch times to reduce the amount of contact pupils will have with pupils of other year groups.
How will we ensure good hygiene is maintained?
The DfE guidance states: Schools must ensure that students clean their hands regularly, including when they arrive at school, when they return from breaks, when they change rooms and before and after eating.
Parent voice said: "It's important good hygiene is kept" and "All students should sanitise their hands."
We will have portable wash basins at each entry point to the school, with soap and running water. There will be large waist high hand sanitiser dispensers at entry points to the building and in the dining halls. There will be bottles of hand sanitiser in each classroom.
Was it considered whether groups of students could remain at home for parts of the week?
The DfE guidance states: We are asking schools to prepare for all students to return full-time from the start of the autumn term. Schools should not put in place rotas.
Parent voice asked: "Could we retain distance learning?"
The DfE has been clear that students should return to school full time. It is for schools to make arrangements about arrival and departure times, and how to reduce students' movement around school, but students are expected to return full time.
However, each year group will have induction activities during the first week that clearly outline the changes. Their days will also be shortened in the first full week to enable students to reacclimatise with school.
What will learning be like?
The DfE guidance states: The curriculum remains broad and ambitious: all pupils continue to be taught a wide range of subjects, maintaining their choices for further study and employment.
Parent voice asked: "How much pressure will be placed on my kid to catch up?" and "Worries about covering the curriculum."
We are maintaining a broad and balanced curriculum: we have dropped no subjects, even though some of these will not be taught in specialist rooms at the start of the school year. For example, art will continue to be taught and we will focus on sketching and drawing skills rather than painting. PE will continue, with an emphasis on exercise and health, but reduced use of equipment that needs wiping down.
For students in Year 11 and 13 there are public exams at the end of the next school year. We will look at what they have learned over the last four months and plan what we need to cover. These will take a range of forms, including quizzes at the start of lessons so that we don't take students out of lots of lessons for testing and add to any existing sense of worry. For all of our year groups the emphasis will be on re-connecting with school and learning.
Mary Myatt, Ofsted inspector and educationalist put it really well when she wrote: "Pupils need to understand the threshold concepts1 in order to access the next stage of their learning. Not knowing all the small details won't hold them back."
1 Threshold concepts are the 'big ideas' of a subject. For example, history units on the Magna Carta and ancient Greece might both be linked by the concept of democracy. Missing one of these as an example will not necessarily inhibit the understanding of the 'big idea'.
I hope this gives parents and carers a clear sense of our plans as a school for the next phase. There will be further issues that arise, an example in the last two days is face covering. I expect there to be clear guidance for schools on this over the coming weeks just as guidance around public transport and now shops has emerged. I know that this letter can not answer every question that each family may have so feel free to contact me at nhouse@greenshaw.co.uk with anything further that I can clarify.
As we close the strangest of years I hope that all of our students and families get a restful time over the holidays. I can reassure you that we will continue to work across the school holidays to refine our plans and continue communicating with you. On the next page please see a summary of key dates and information for the start of next term. These will be published on the school website and if there are any significant alterations I will write to you during the summer.
Please reassure any worried children you might have. They will not be in trouble for any missed knowledge and we will work hard to develop their learning. Do also reassure them that feeling a mild level of anxiety about returning to school is absolutely normal and recognising and discussing that feeling is positive and healthy.
In the meantime, I really hope that you have a restful break and that you and your child/ren do not spend much of the next month thinking about school.
Wishing you all the very best.
Nick House, Headteacher
ARRANGEMENTS AND KEY DATES FOR NEXT TERM
Tuesday 1st and Wednesday 2nd September – INSET days 1 and 2
Thursday 3rd September:

Friday 4th September

Monday 7th September onwards – Mondays, Tuesdays, Thursdays, Fridays

Monday 7th September onwards – Wednesdays only

Friday 2nd October - INSET Day 3
Monday 26th October to Tuesday 3rd November inclusive - Half term
Friday 18th December - End of term (half day)
---
Friday 10th July (10.30am)
We are nearly at the final week. Thank you for all of your support and feedback over the last fourteen school weeks. It has been a challenge at times, but the levels of student engagement have remained high. This is despite the difficulties of parents being asked questions that we don't always have the answers for! For all of next week all aspects of the learning will be set, Year 10 and Year 12 students that have attended school since June should continue to do so as previously and the provision for children of key workers will continue until the normal finish time next Friday.
Plans for next term
You will be aware that the Department for Education published plans this time last week about how schools should operate next school year. The document explains that schools can now re-admit all students from September, as opposed to the 25% of students in Year 10 and 12 that were permitted from June. We are currently planning the details of what school will look like in September but the principle is that all year groups will be back in school full time next term. There will need to be some adaptations to the school day to keep year groups from ongoing mixing and we will need some year groups to arrive later than others. I hope to share more specific details with you before the end of term but it is likely that we will need to communicate through the summer holidays.
A curriculum for re-connecting
We will aim to establish a sense of normality and regularity in September. Having stated that as our aim, we are planning to help students make the transition back to school smoothly. We are starting to plan these sessions and would welcome views from parents about what you feel needs to be covered in these sessions. We have set up a brief survey here: please complete this if you have a few moments. The more feedback we get, the closer our programme can be aligned to what you know the children need.
School uniform
A number of parents have written to me to ask whether the 'new uniform' (white shirts, ties and jumpers) rather than polo shirts and sweatshirts will be expected for all students in September. I had previously stated that for the vast majority of students the old polo shirts and sweatshirts have been worn out or grown out of! However, I fully understand that part of the Covid-19 effect has been a reduction on incomes for some households. If it is a matter of stress to purchase the newer items when the previous ones can still stretch to another term, then I will extend the deadline for new uniform until January 2021. Please bear in mind that the supplier no longer makes the sweatshirts so any purchase of replacement uniform would have to be the tie and V-neck jumper.
Wishing you all the best for a restful weekend and if you could complete the above survey that would be really appreciated.
Nick House, Headteacher
---
Thursday 2nd July 2020 (11.00am)
Adjustment to school term dates
I am aware that a number of you have been enquiring over recent days about any potential changes to term dates in the light of school closures. There have been two main questions, the first being would families be okay to take holidays from Monday 20th July. The second is whether a full two week half term break in the autumn term will go ahead as planned. I am communicating to you my decision on both of these below. Adjustments to term dates need agreement from governors, so I am writing to you at the first opportunity following the scheduled governors' meeting last night.
Summer term to end on Friday 17th July
The term was due to end with a half day on Tuesday 21st July. This allowed us to make up a day's classroom learning for events like sports day that have not happened this term. Families also contacted me to enquire that if they were able to get bookings for UK holidays, like camp sites, in the week beginning Monday 20th July how would that sit with school.
Put simply, the last four months have been very demanding for all of us and the vast majority of our students have committed brilliantly to their online learning. I wouldn't want to deny any student or family the chance to relax together. I also think that the loss of a day and a half at the end of this term could be significantly offset by an alteration to next term.
Autumn half term to be reduced – Monday 26th October to Tuesday 3rd November inclusive
When we consulted about introducing a two week half term a few years ago, I received supportive responses from parents about the strain of a fifteen week term at the coldest and darkest point of the year. While this remains true, I also think we need to give our students the best opportunity to learn following the extended lockdown we have all been through.
I have always been clear that as a school we should focus on two things and neither should compromise the other. We seek excellent results for our students, enabling them to access the best pathways going forwards and also seek high student wellbeing that sees them happy and us able to support them at times of stress and challenge. By adding in three additional school days to the autumn half term I think we stay true to both ambitions.
Please note: we have made the full week off the same dates as the London Borough of Sutton term dates. While academies do not need to follow these dates, I hope that this may give some support to families with children in other Sutton schools.
There may be some families, and staff, that have pre-existing holiday bookings for the second week of half term. While nothing is clear about the possibilities for holidaying, we would like to know this. Please contact your child's Head of Year if the additional three school days in November does raise an issue.
The recovery curriculum from September
The Education Secretary is due to announce plans later today, but it seems likely that all students are expected to return to school at the start of the next year. There will be adaptations required and we will work those through at school. We have also started to plan how we will seek to reestablish the routines for students unused to the school day and will be consulting families on any specific areas of concern they may have for their child.
For families of students going into Year 11 and Year 13 in September (the GCSE and A Level years) there are information events this term that will run online. The respective Heads of Year have been in contact with families with details of these and we will explain what additional activities we have planned for next school year to mitigate the effects of the extended school closure.
Thank you for your ongoing support and efforts at the most difficult of times. I hope this information is helpful and welcome and as always I welcome your direct feedback at nhouse@greenshaw.co.uk.
Wishing you all the very best.
Nick House, Headteacher
---
Friday 19th June 2020 (9.00am)
It was brilliant to welcome around half of our Year 10 students in to school this week, in separate groups of 25% of the year in line with Department for Education guidance. We will be working with small groups of Year 12 students next week, and increasingly giving 'face to face' online live teaching for this year group. In other year groups we are inviting small numbers of students in to school, particularly focusing on those that have struggled with their online learning.
I am really sorry that despite some partial opening this week we are not in a place to offer more face to face support for greater amounts of our students. For every student in school there are a dozen or so not in the building. The government have asked schools to focus their energies on the two year groups closest to final examinations, those in Year 10 and Year 12.
Keeping students and staff safe, in line with the current guidelines means we have to do things very differently. As an example, when we had 65 students arriving on Monday we entered through the playground gates to ensure that social distancing could be maintained, rather than coming in through reception as normal. Like many shops that opened this week, we had markers for 2 metre distances, across the playground. This spacing saw over half of the playground occupied while we were welcoming only a quarter of one year group. So the current requirements, absolutely in place to keep people safe, mean that even if the government were to increase the year groups in school we would very quickly be unable to make this work.
I want to reassure parents of all year groups that while we are committed to increasing our support Year 10 and 12 we will still maintain our support of all years. We are keeping online learning going for Years 7, 8 and 9, and this will be unaltered. Form tutors will continue to make regular contact with their students. And we are maintaining the provision for vulnerable students and the children of key workers going over the last three months.
It is my expectation that we will hear more over the coming days about possible plans for the wider opening of schools in September. We do not have access to any information about such announcements so I could not predict what these might contain, but on a number of occasions phrases around, "All schools will open at the start of the next academic year" have been used. We are really looking forward to all of our students having some contact with their teachers as soon as possible.
I have written separately to Year 10 and Year 12 parents this week with more detailed provision for their children so what you are reading here is not a letter of huge announcements. However, even in times of little change it is essential that we maintain contact with all of our parents and carers. Indeed, it might just be possible that by the time you read this letter further news has been released about the wider opening of schools. So please stay in touch, email your child's tutor with examples of great work or simple updates about their learning. Wishing you all the best, stay safe and well.
Nick House, Headteacher
Please click here for the letter sent to Year 10 parents/carers.
Please click here for the letter sent to Year 12 parents/carers.
---
Friday 12th June 2020 (8.30am)
We have written to parents many times over the last few months. Particularly, we have tried to keep them updated about changes to schools during the current Coronavirus pandemic. These letters have sought to inform on government decisions about GCSE and A Level grades, or how our school is planning to structure online learning. But we write here about something utterly different.
If we had been open as normal, we would be supporting our students to make sense of the shocking events in the United States over the last three weeks. The appalling death of George Floyd has brought to the consciousness of millions the deliberate actions of institutional and engrained forms of discrimination that are the result of systemic racism in our societies.
This has rapidly grown into a shared conversation around the world, from Australians considering the significant over representation of indigenous deaths in custody to anti-racist protests in European cities from Amsterdam to Zagreb.
In Britain marches ranged across the country, some that you may have attended, have also raised important questions about our nation, our towns. And yes, even our schools.
If we were in school in normal times we would be addressing this directly – through assemblies, through tutor time and through guiding and advising staff how to support students with their feelings. Most importantly we would be considering how we urgently move this forwards as a school, and even more broadly across Sutton.
But because we're not in school we have not spoken to our students enough about this. Some form tutors have done and our Heads of Year have acknowledged these global events in their weekly assemblies. We have altered some of our online curriculum to ensure that we directly address racism in our English lessons in Year 10, and will do so next week with students in Year 9.
What has become absolutely clear over the last few days is that being silent is not an option. And we fear that some of our families might worry that our limited response so far could reflect a lack of interest or responsibility; it certainly does not and we apologise for what we have lacked in speed of response and make a commitment to make up for this in terms of longevity of response.
Earlier this year, some of our students directly affected by systemic racism set up our Cultural Appreciation Society. The students delivered assemblies to the whole school about what it means to be black and British and were engaged in reviewing parts of our curriculum. We want our learning experience to be one that allows students affected by systemic racism to be seen, heard and supported in such matters, in a way that educates all students to make greater decisions and sense of the world around them. We will continue to engage with students and staff to ensure that we understand the aspects about how we operate as a school that need improving. We will be engaging with the rich and plentiful literature that is there to make sure we make informed and educated decisions. And we will be grateful for those families who offer ideas of their lived experience and how we can improve our support for your children.
We stand united with our staff, students and families in actively opposing systemic racism, prejudice and injustice.
Nick House, Headteacher, and Sue Wood, Chair of Governors
---
Friday 5th May (11.00am)
I hope that you all had some form of break over half term, and that you were able to take advantage of the sunny weather. You may have seen guidance about the opening of secondary schools in England last week, and that other parts of the UK have also announced their plans this week. Many of you, as I have, may also have younger children in primary schools so have noted those changes since half term. I hope this letter gives you a clear sense of the what Greenshaw will look like in this period of change.
Years 7, 8 and 9
For students in these year groups the learning will continue to be set online. I know that this has been very successful for many students, but also will not suit all. We will continue to do whatever else we can alongside the online learning. This will include regular contact from form tutors, virtual assemblies with the year teams and recognition awards for great commitment from learners.
Year 10
There is some capacity for face to face contact in this year group, but only with one quarter of students. I have written details of this separately to families with children in Year 10. Because not all of the students can ever be in at the same time even for this year group their learning will continue to be predominantly online.
Year 12
The vast majority of students in Year 12 have engaged really well with their A Level studies despite the challenges of the current situation. From this week we will also be delivering advice and guidance around university applications, apprenticeships and other pathways after Year 13. Miss Buchanan (Director of Sixth Form) has written separately to families with details of how we will facilitate face to face support for some students in Year 12.
As this letter shows, there is inconsistent provision for students depending on their year group. As a parent with children in Years 8 and 3, my son and daughter will complete the year with little prospect of returning to their classes and schools. Both of my children have their high moments, but also their lows and I think this is entirely normal and understandable. If you have any concerns about your child please do discuss this with the form tutor, Head of Year or any other member of school staff. In addition, we have access to Education Wellbeing Practitioners who can be accessed as needed.
I hope you stay safe and well, and know that you can always reach out to school, whenever needed. Wishing you and all in your family the very best.
Nick House, Headteacher
Year 10 – partial re-opening of schools
We are still in a changing situation, but at the time of writing there is much greater clarity over what schools are expected and allowed to do in the next phase.
The government announced over half term that 'remote learning would remain the predominant mode of learning', but that there would be the opportunity for 'face to face learning' for up to a quarter of these two year groups at any given time.
So, from Monday 15th June we will be offering the chance for students in Year 10, where families would want this to happen, to return to school. Many of our plans remain as they were before half term. I've put them at the end of this letter as a reminder.
The biggest alteration, following feedback from some families, is that while we still have to split the year group we will divide them differently. I had suggested 'Week 1' and 'Week 2' but some families felt that being in every week, even if for a few days, would create a better sense of routine.
So while all students in Year 10 will complete their assessments from home on Fridays, as at present, we aim to have Year 10 students in for each Monday and Tuesday of the next five weeks of term, or the Wednesday and Thursday of each week. Please note that this is our current plan, based on likely student numbers, but we reserve the right to alter this if student numbers change.
The start time of the school day will be around 9.00am, and the finish about 12.15pm. When we know the exact numbers, we will communicate this to families so that we can stagger their arrival at school.
For what I hope is the last time this term, it would really help if you could complete this brief survey. If you had previously stated that your child would, or would not, attend school can I ask to repeat this. I know from the circle of families that I am friends with that views are changing, both ways, so I would not assume that what you said before half term would remain the case. Please complete the survey by 5.00pm on Tuesday 9th June.
I hope the details below will answer most of your questions. However, should there be other areas that I can clarify, then please do email me directly at nhouse@greenshaw.co.uk.
Nick House, Headteacher
Outline of Year 10 on site provision from 15th June
What measures will be in place to keep students and staff safe?
The most important area to focus on is safety. We will need to maintain social distancing at all times for all people - staff and students - on our site. We will also need frequent hand washing and to observe other elements of Public Health England advice.
Each classroom will be cleaned down using anti-bacterial/viral solution at the end of each day. We have ordered a large quantity of this and our cleaning teams will be deployed at full strength, despite the fact that we will have a reduced number of students in school. Cleaning staff will be in the school during the day and wiping down 'touch points' such as door handles.
Through the Greenshaw Learning Trust we have placed an order for hand sanitiser in each classroom.
Because of the need to maintain social distancing, students cannot arrive in groups. If they do, we would not be able to admit them to school.
We will start the day in the playground, with areas marked out for a 'line up' for each class. Within each zone there will be markers on the ground to ensure distancing is maintained.
Students will not be able to mix with other students that are not in their lesson. These 'pods' of students are intended to reduce the possibilities of cross contamination.
Class sizes will be small. We are planning for 8 students per group, which allows a clear 2 metre area around each student desk and also for the teacher.
We are unable to guarantee social distancing in queues for the dinner hall or the school playground so these will be not be open. Students should bring in a water bottle and a snack for break time that can be eaten in the classroom.
Full uniform will be required, although that should not include ties. DfE advice for primary schools suggests uniform should be washed each day after school and the school tie does not wash well. PE kit can be used on alternate days to allow families enough time to wash and dry school clothes.
Each of the 'pods' (classroom groups of 8) will have their own toilet cubicles and hand washing facilities allocated.
We ask that children do not wear masks or gloves because it is not recommended with the precautions we are putting in place.
What will learning look like?
Year 10 students may not be with their usual teacher. With students in groups of 8 we will need more staff than previously. In addition, some of our teachers are not able to be in work if they have pre-existing health conditions or are shielding vulnerable family members.
Given this low students to teacher ratio, we are planning to separate the year group into sections, so students will attend school on Mon/Tuesday or Wednesday/Thursday. They will continue learning from home on the other days they are not in school.
They will stay in the same group of 8 students for English, maths and science learning. This will be based on the same content that is used online for all students in Year 10.
In addition, we will coach the students in some of the best aspects of note taking and establishing positive study habits that will set them up for their Year 11 studies.
We will ask students to bring in their full pencil case on the first day and leave this in the classroom to prevent cross contamination. Clearly, if students want to ensure they have sufficient pens and pencils for home learning they should take out some of their normal stationery and leave these at home.
The school day is provisionally planned to run from 9:00am to 12:00pm. Students will not be able to arrive more than ten minutes before the start time and we will open the playground gates to ensure they do not start to gather on the pavements outside school. We will also consider staggering arrival times, but this will be communicated to families when we know the actual numbers.
As you will be aware, Fridays are 'assessment day' with our online learning. This requires students to have access to a laptop or tablet each, so we are intending that this continues from home. So the in-school week will run Monday to Thursday, with Fridays being an assessment day completed at home. This also allows students to submit their work electronically and receive feedback from their class teacher.
So what are the benefits?
I think the process of 'normalising' by returning to school, even in a different way, will have benefits to the wellbeing of the majority of our students.
There will be some lessons where teachers will elaborate on items from the videos and discuss these with their group.
In some lessons, teachers will model the principles of good note taking. This will be transferrable from the classroom to the continued remote learning, and also good preparation for the GCSE exams in Year 11.
Nick House, Headteacher
---
Friday 29th May (10.00am)
Department for Education update – Monday 25th May
Parents and carers may have seen that the Department for Education (DfE) published guidance for secondary schools this week about partial opening of secondary schools. As anticipated, they have prioritised Years 10 and 12 as both have important examinations at the end of the next school year.
The guidance states: "Remote education will continue to be the predominant form of education delivery for these year groups" and that schools should have "flexibility to implement face-to-face support for Year 10 and Year 12 pupils in the way that best suits their circumstances ". They also state that this should not begin before Monday 15th June at the earliest.
What the guidance makes clear is that any form of 'return to normal' is not part of government plans yet, particularly with the requirement that no more than one quarter of students should be in school at any given time.
I have some thoughts about how we can facilitate "face to face support" but want to discuss these with colleagues in the Greenshaw Learning Trust and fellow Sutton secondaries to see if other schools have models that we can learn from. I hope to give families of students in Years 10 and 12 more detail towards the end of the first week of term. In the meantime, we will continue with the online learning that staff and students have committed to so well over the previous half term.
I hope all students and families have stayed safe and well over this school holiday week, and where possible that you have enjoyed the great weather. Wishing you all the very best.
Mr House, Headteacher
---
Friday 22nd May (5.00pm)
I am writing to you to update you with a decision made by the Greenshaw Learning Trust (GLT) around the possible wider opening of secondary schools. We have not received advice from the Department for Education around the plans for secondary schools to safely manage any gradual increase of the numbers of children on site. Therefore, it is the view of the GLT that there is not adequate time for its secondary schools to effectively plan and risk assess for a safe opening for more students from specific year groups from 1st June. Any planning for increasing our provision would be only from 8th June at the earliest. This does not affect the existing provision for children of critical workers and children from vulnerable groups.
I would like to be able to give families of students in Year 10 greater certainty than this, but we are reliant on national documents being published. We have the planning in place for a partial opening at such time as we can manage safely and I will keep families and parents updated throughout. I hope you all have restful weekends and a positive half term.
Nick House, Headteacher
The latest issue of our newsletter can be downloaded here.
(Image: Excellent photography work from Daniel, one of our Year 10 students.)
---
Monday 18th May (11.00am)
I hope you are keeping safe and well, and managing to make sense out of the slowly changing situation of the next phase of the Coronavirus situation. There continue to be announcements relating to education, in both primary and secondary sectors and here is a brief summary.
Year 7, 8 and 9
The government has highlighted 'priority year groups'. For example, in primary schools these are classes in Reception, Years 1 and 6. In secondary, Years 7, 8 and 9 are not in a similar group so they will continue remote learning for much of the summer term. I know, as a parent with two children home learning myself, what challenges this brings. However, it seems that for most of the summer term the government advice will be that students in Years 7, 8 and 9 are not likely to return to school. We will continue to set the learning tasks, and the ongoing contact with students and families in these year groups. Thank you all for your support and care with this challenging activity.
Year 10
In secondary schools, students in Year 10 have been identified as a 'priority year'. I will write to parents in this year group separately with our plans for the next phase.
Year 12
This year group has also been identified as a 'priority year' and I am considering how we get some face to face contact for these students with their staff. The current rate of students' engagement with their subjects is very high, and they will start next half term by continuing their home learning.
I know that having different provision for each year group is complex, and particularly for those of you that have siblings in different years, or even at more than one school. Thank you for all of your support in these very challenging times. Please do not hesitate to get in touch with us with any queries, particularly through your child's form tutor or Head or Deputy Head of Year.
Nick House, Headteacher
---
Friday 15th May (3.00pm)
Wishing all our families a restful break over the weekend. Enjoy the sunshine!
(Photograph: Some of our key worker and vulnerable students were enjoying arts and crafts in school this week.)
---
Tuesday 12th May (9.00am)
You will have heard the Prime Minister's statement on Sunday night, as indeed I did for the first time, outlining some possible steps to move the country forward from 'lockdown'. Yesterday the Department for Education was working on guidance about what this might look like. When we receive that guidance we can begin to make plans in accordance with what it lays out. We will work very closely with both the Greenshaw Learning Trust and the London Borough of Sutton to plan our provision. Above all else, we will always ensure that the safety of students and staff is our prime focus.
Currently, our status is as it has been since 23rd March – our school is only open for those children of critical workers who need to be cared for while their parent(s) are at work and for those children deemed 'vulnerable'. We continue to provide learning, the majority of which is online, and maintain contact with students and families.
As soon as we have had the relevant guidance and our new plans in place I will be making contact to share the relevant information with you. In the meantime, I hope you all stay safe and please do not hesitate to get in touch at any time, particularly through your child's form tutor. Wishing you well,
Nick House, Headteacher
---
Friday 7th May (2.00pm)
We are drawing to the close of a four day working week. There will not be formal learning tomorrow on Frog, but access to the online platforms (Tassomai, Hegarty, IXL, Unifrog and others) will be maintained as usual if students wish to use them. It is a shorter week for a very important reason and we want to share this with our students, as outlined below.
VE Day – Friday 8th May
Tomorrow is the 75th anniversary of a turning point in the Second World War, dubbed as 'Victory in Europe' and the day most European countries mark as the end of the Second World War. As each year passes, memories of the most recent global conflict runs the risk of losing its importance. In turn, this can make the severity of world war less real for future generations, and if we were in school this week we would absolutely remind all of our students of the tragedy, loss of life and destruction that World War II wrought. Mrs Pearse of the history department has prepared resources for tomorrow that can be found here: https://frog.greenshaw.co.uk/2ad13cc063f87555188be20256daa786 and we would urge all students to click on the link and understand why the country is recognising this event of the past, and its importance to our present and future.
Government announcement – Sunday 10th May
On Sunday afternoon, it is anticipated that the government will make some form of announcement about the current restrictions on movement. Contrary to some opinions, headteachers are not privy to any advance information so I will also be sat watching my TV screen and seeing what, if any, changes are planned for the coming weeks. Regardless of what is announced, please be assured that we will continue to make the safety of students and staff our absolute concern. If there is anything substantial announced we will explain how we will apply these changes.
Making a difference to others
In these tough times I know that many of our students and families are making the effort to reach out to others, especially the elderly and vulnerable. Well done to all of you that sent thank you letters and posters to the staff and residents of a local care home, Orchard House. The manager wrote to the school extending her thanks:
"Thank you for thinking of us at this time and for showing us, so thoughtfully, that we are appreciated. We have fantastic staff who are dedicated to caring for our residents at all times, and especially in this crisis. We have had our fair share of challenges and some very sad moments during this time, as I expect many care homes are experiencing. We are encouraged and touched to know that you are all with us whilst we try to manage this pandemic and the effects on staff, residents, families and communities. Please give our love and hugs (if that's allowed) to all your students and staff – thank you."
I couldn't express this better, especially the last sentence. Stay safe, keep well and I hope you can enjoy some rest this weekend. Wishing you all the best.
Nick House, Headteacher
---
Friday 1st May (4.00pm)
As we draw to the close of the week, I hope you are all safe and well. I know the last five days might have presented challenges, but I know there will have been some great achievements as well. Please keep us informed of any of your children's achievements. Whether it's care and effort presenting work in exercise books, or work in other forms (like the painting above by Konrad in Year 10) we'd love to see these.
Form tutors are working really hard to stay in touch, so please send them messages and photographs of the learning happening in your home.
Exercise books
I know that some students are beginning to run out of space in their books. Some families have popped into school to collect spare books from reception as part of their daily exercise. We are running low, so have ordered another 2,500 books this morning. We will continue to put piles of them in reception every day so please help yourselves, always, of course, observing social distancing expectations. I will text families when the new books come in and you are welcome to collect a couple from reception. Please don't take more than one or two – we saw where stockpiling from the supermarkets got us all to a few months ago!
Fun Friday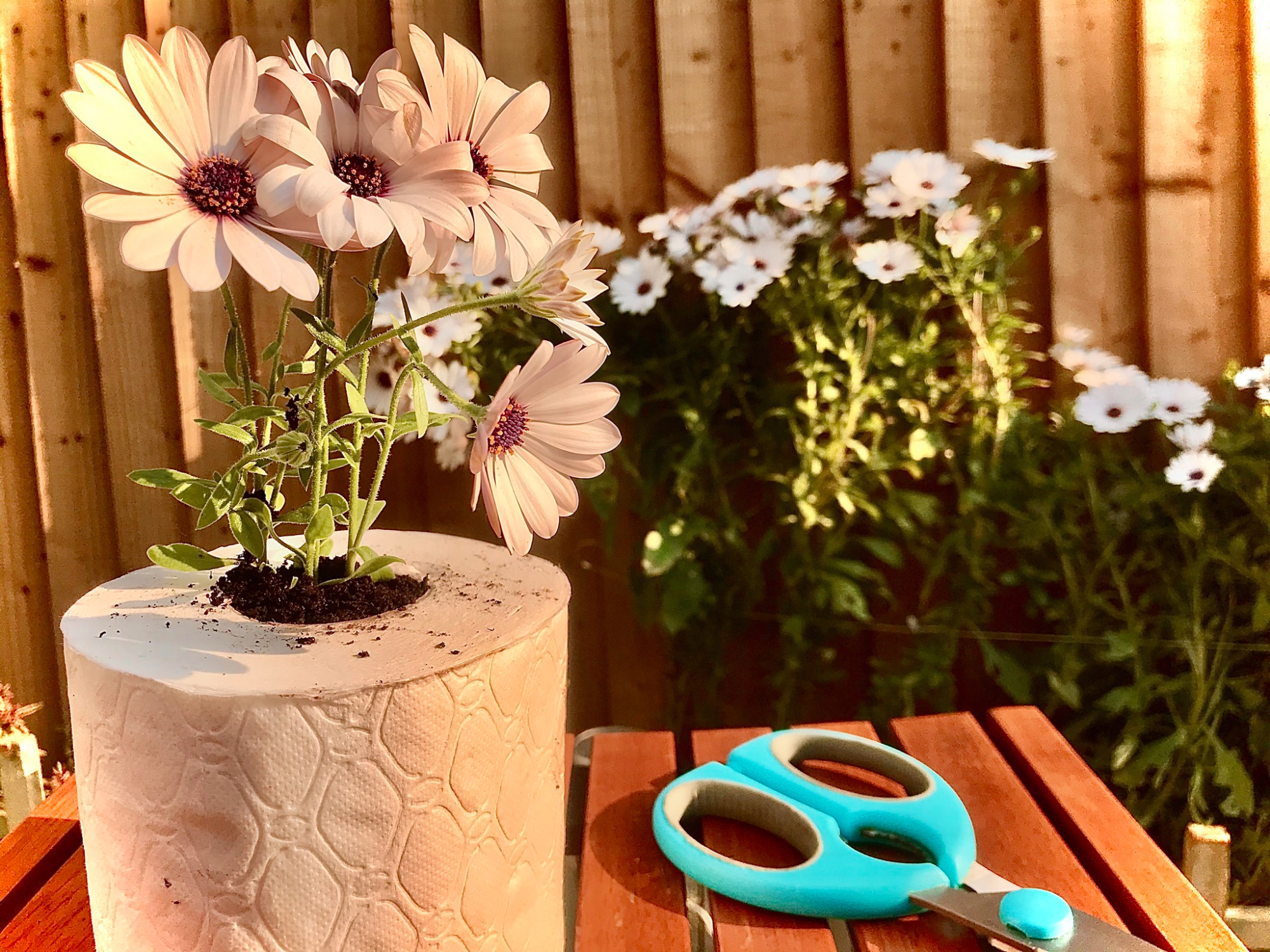 Alongside the other schools in the Greenshaw Learning Trust, we have introduced a light hearted challenge at the end of each week. The one set today is to find the funniest joke – the deadline is Thursday 7th May at 10.00am.
Last week's challenge (do something unusual with a toilet roll) was artistically interpreted in this image and also in a number of sporting videos. Click here for more details of this week's competition and how to enter.
VE Day – Friday 8th May
A week today there will be, unusually, a 'Bank Holiday Friday'. This is to recognise the 75th anniversary of a significant turning point in the Second World War. We will be sending information about why this event is important and teaching students about the history associated. We will not be setting the full work normally scheduled for a week day. If students want to keep up with any of the online programmes we use (IXL, Tassomai, Hegarty etc.) they are available, but we will not be monitoring their usage.
Wishing you all a restful weekend. I hope you get a meaningful break and we look forward to resuming learning with all of our students on Monday. Stay safe.
Nick House, Headteacher
---
Friday 24th April (3.00pm)
WELL DONE ALL!
We've earned our weekends. Wishing all our families a restful break over the next couple of days.
(Photograph from a local park.)
---
Monday 20th April (9.00am)
From Monday 20th April, all year groups will follow a new remote learning curriculum. All work (Year 10 and 12) and daily schedules (Year 7 -to 9) will continue to be accessible through the 'My School Work' button on Frog. For more details, please click here.
---
Friday 3rd April (12.30pm)
Thank you for your support at what has been a hugely difficult time for all of us. We have needed to change what we are doing as a school on multiple occasions over the last week and a half and I want to say thank you for all of your support. It has been so heartening to hear your appreciation for the work we put together in a limited amount of time. As we are now in the second week of school closure it has also been lovely to hear accounts of how our students, your children, are making the best of the current very difficult situation.
Learning next term
The work set for the closure of school this term focused on core skills, especially with a focus on maintaining reading and writing. The time we had meant that all of our students have followed a narrower curriculum than they would have experienced in school. From the start of summer term, which will certainly begin at home, we are aiming to have learning in all, or nearly all, of each young person's timetable.
Staff have been working hard preparing resources, and we will continue to upload these onto Frog over the Easter holidays. We will have quizzes that staff will be able to see how well pupils are doing and videos that will explain content. I'll write in more detail to families in the second week of the holidays, when it's fully completed. In summary, I'm proud of the job we have done for the last fortnight of this term, but we're aiming to give greater curriculum coverage next term.
Year 11 and 13 results
One of the biggest actions of support you have taken as a parent and carer group is not to contact teachers about the system for GCSE and A Level results. That enabled us as a school to focus on the urgent actions last week. Regardless of government announcements this week the position remains that the school is unable to discuss the situation, and certainly not individual students' circumstances. In the summer term the Year 11 and Year 13 year teams will be in contact with students to check that they are okay, and specifically support with any queries about their next destinations.
Advice for Sutton residents
Sutton Council has put all of its advice and information about the current situation onto one website. These pages include information about local parks, what to do if you feel you have symptoms and other information relating to our local area, ranging from refuse collection to council tax. I found it very informative, so please take a look.
https://www.sutton.gov.uk/info/200588/health_and_wellbeing/2078/covid-19_coronavirus/2
So, as I never tire of saying, I am a parent of two school aged children myself. This fortnight has been unlike anything I've ever experienced, but that has also brought the opportunity for me to spend (a little) time with my children and see their learning. I hope this time hasn't brought too much stress for you as family units and that there have been moments of light. I will write to you in the second week of the holidays about our plans for learning next term, but until then enjoy the extended company of your young people and definitely stay safe. Wishing you all well.
Nick House, Headteacher
If you need information about free school meals, please click here.
There are two useful guidance sheets for parents here.
---
Friday 27th March (11.30am)
I hope you, your children and your wider family are okay.
It has quickly become a cliché during this week to say this situation is 'unprecedented'. The world has changed so fast it seems barely believable that school closures were announced only nine days ago given how quickly we have adapted. It was only Monday night that the current restrictions on working and movement were instructed but these now feel routine.
As a school we will continue to do whatever we are able to in supporting our students and families. There are a few updates below that hopefully let you know we continue to think about all of our community, even when we are not able to be together.
Explaining the world to young people
It is hard enough to be able for us to understand this current bewildering situation. To be able to support our children with this is another level of challenge. You can download a help sheet here from the Mental Health Foundation about how to explain scary news to young people. I found this really helpful when talking to my two children. I hope you do too.
Fun Friday Challenge
I know that trying to get children to engage with routine learning every day can be difficult. So each Friday we are going to release a weekly challenge. This might be creative, mathematical or physical. The aim of this is to vary the experience of each week for our children. The details can be found on our website here and also on Frog. We will text you when it goes live!
Learning
Our Heads of Year have been contacting families of students that have been having difficulties logging on to online resources. Our aim is that all students will have taken part in learning this week and next week, which is officially the end of term. We are setting up an 'IT help desk' for password re-sets and will have more details of that next week. For me the most important thing about students' learning is maintaining practice. Reading and writing just need to be kept going because it's important to practice and it also goes some way to normalising what is a totally abnormal situation.
Free School Meals
All families whose children receive free school meals when in school should have received an electronic voucher. We have worked really hard to resolve the handful of issues but if you have not received it please email fsm@greenshawlearningtrust.co.uk.
So that's it – the first week of not being in school is nearly done. Thank you for all you are doing to support our students. It's great to hear your tales of teaching your children: working on the knowledge summaries from the homework journal or worrying about why your child's maths is so much harder than when we were in school doing it. But I think the most important thing is that they and you are okay at the moment. Wishing you all well. Stay safe.
Nick House, Headteacher
---
Tuesday 24th March (1.30pm)
Thank you so much for your positive messages of support over the last week or so. We are all having to work our way through the current situation in ways we don't fully understand. It is really heartening to know that most families feel supported with the provision for learning we have made so far in what are very, very challenging circumstances. Please see today's updates below.
Daily schedule for learning
We will continue to release a daily schedule for each students in Years 7 to 10 and 12. While these will look very similar each day, they do change. For example, the online links change but the routine will be broadly the same. This is deliberate, as we want students to develop regular study habits.
No picking up of work
As stated last night, the government feels that this phase is only essential movement. Therefore we are reducing the school opening hours to an absolute minimum and having no one on site without prior clearance. If that means that students don't have a new exercise book for home learning then they should use spare pages in any of the exercise books they currently have for other subjects.
Free school meals
Parents whose students are entitled to free school meals should now have received electronic vouchers. These are redeemable at Tesco, and have been issued directly by the Greenshaw Learning Trust. If you have any queries about this please use the email address info@greenshaw.co.uk.
Partial opening
We remain open to a small group of students for whom it is unsafe for them to remain at home. As well as completing their learning they have also completed artwork, which you can see below. The rainbow is being used as a symbol for hope in the current crisis and the students have completed these pieces of artwork.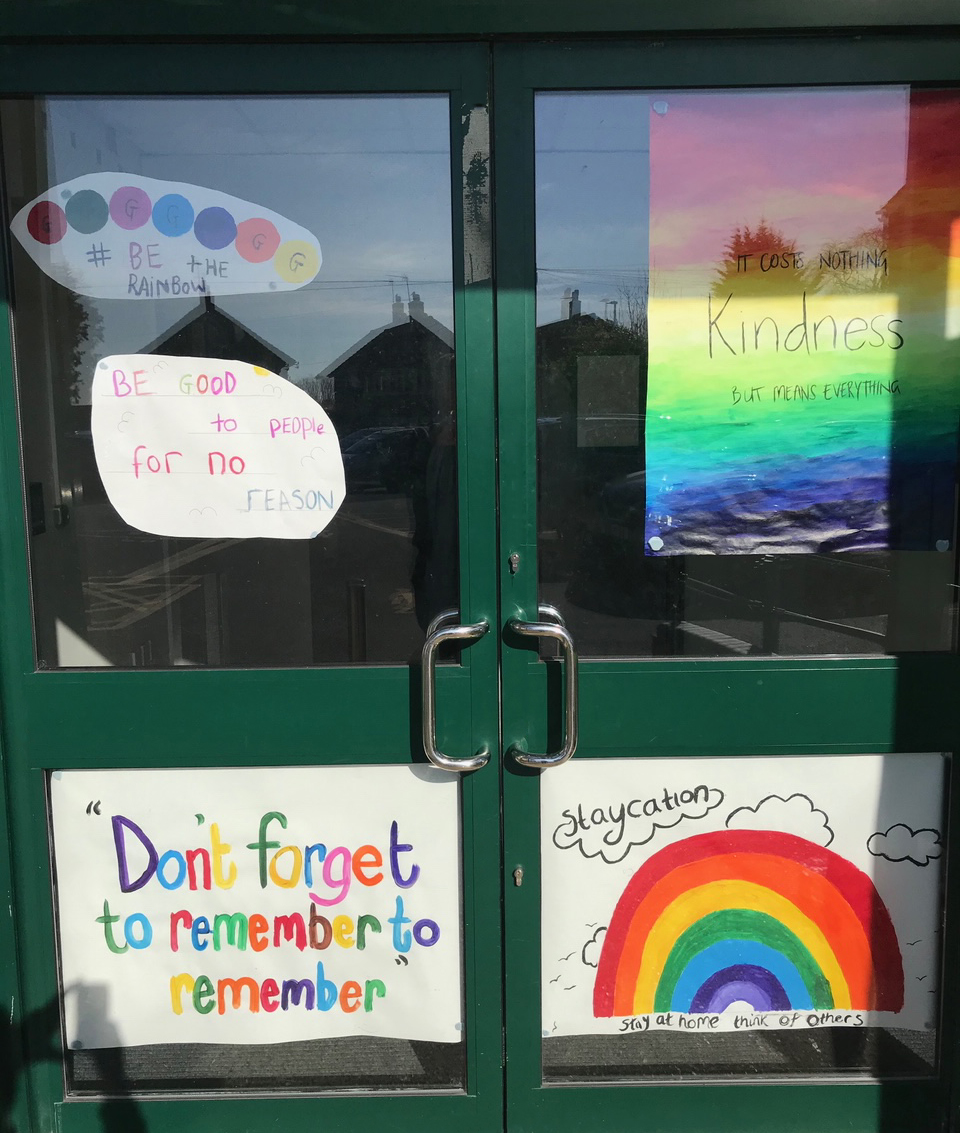 Monday 23rd MARCH (9.00pm)
I am sure you will have heard the Prime Minister's announcement earlier this evening. The instruction to only leave the home when absolutely essential, and the direction to remain in the family home are both very clear. Please now disregard my invitation earlier this evening to send students to school to pick up resources. No students should be coming to school to collect work. We do continue to remain open for the small group of students whose families are at the forefront of the battle against the Coronavirus. We will update further in the morning. Take care and stay safe.
---
Monday 23rd March (4.30pm)
Thank you for all of your positive messages of support over the last week. These are much appreciated and the sense of a community pulling together is something that we continue to find strength from in school. Please find today's updates below.
Picking up learning resources from school – until Friday 27th March
Some students were self-isolating over the last week but may no longer be presenting symptoms such as high temperature or a new persistent cough. We have kept the pack of physical resources (exercise books, a novel and printouts) for these students in school and they can be picked up between 11.00am and 1.00pm until the end of this week. Please ensure that your child understands the importance of maintaining a 2 metre space. Students should not come to school in groups.
Online learning
Every student in Years 7 to 10 and Year 12 has got a daily learning schedule on Frog. Students should be logging in and completing this each day. We are also logging in each day to see the students completing work, but also to see where students might be having issues with accessing the websites. Form tutors will be making contact with members of their form group, prioritising those students that seem to be having issues. Please use the reporting facility here if you are having issues logging on.
We will check students' online usage at 6.00pm each day. They are free to produce additional work after that, but this will give tutors an indicative sense of whether students have logged on successfully or not.
You can find a link to our home learning page here:
Free school meals
As a member of the Greenshaw Learning Trust, the families of all students entitled to free school meals will receive an electronic voucher. These will be dispatched directly to you at the start of this week by the Greenshaw Learning Trust.
Reporting absence
During the current closure of all schools there is no need to use the absence phone line.
Awarding of GCSE and A Level grades
Students and parents are understandably concerned about this. As a school we do not know any more than what has been communicated by the Department for Education. We have to focus on the safety of our students and staff, so I have summarised the situation here. We will not be able to discuss any student's individual situation with you.
I do not anticipate updating you on a daily basis, but please keep up to date with our website and social media channels. Stay safe.
Nick House, Headteacher
---
Thursday 19th March (5.30pm)
I have written separately to families of students in Year 11 and Ms Buchanan is currently composing a letter to families of sixth form students. However, here are the key messages I communicated to all students in assemblies over the last day or so. It might help you, as families, to know what I have said.
It's good to talk
These are difficult times, but also distressing for many of our young people. I am emphasising with each year group of students that talking through our feelings is a really important thing to keep each of us well.
Focus on what you control
It is impossible to work out how GCSE and A Level grades will be awarded because it's just not known currently. Focusing on what you can do positively is really important. Take exercise, speak with others and get off your phone.
Engage the brain
We have a daily schedule for each student in Years 7 to 10 on Frog. We have equipped each student with a novel and additional exercise books to write in. I have emphasised to students how good it is for all of us to have time away from rolling news and social media, occupying the brain with big ideas. School will return to normal at some point and our students need to be as prepared as they can be for that.
We are awaiting direction from the government on exactly what groups of employment are considered as 'key workers'. I hope to write to you later tonight or tomorrow morning to outline how we will look to support people that are in the front line of this current situation. We will also be contacting families of youngsters with an EHC Plan and those that have a social worker. I hope families appreciate that the current situation is ever changing and we are currently confirming these plans.
Finally, I am aware that many of you will have your own concerns with other family members and situations beyond Greenshaw. I wish you all the best at this difficult time.
Nick House, Headteacher
---
Wednesday 18th March (6.45pm)
You may have heard tonight's government announcement at the same time as I did. It was helpful to get clarity in some areas, but it also raised a lot of further issues. Schools are closing as of Friday evening, but provision will be put in place for children of key workers and vulnerable children – we will make sense out of this over the coming days.
My first thoughts are that all the planning we have put in place for our students' learning is well positioned. Each year group will receive support around their learning from school and we have that in place, certainly between now and the Easter break.
However, there is little clarity about how GCSE and A Level grades will be awarded and I know that students in Year 11 and Year 13 will be concerned about that. I am due to speak with students in both of those year groups tomorrow. I will reassure them that, whatever plan is decided upon, I am confident that bodies like Ofqual will ensure that students will not be actively disadvantaged.
The key movements for tomorrow are:
Year 7– in at normal time, full day.
Year 8– remain at home, continue with daily schedule available on Frog.
Year 9– come in at normal time – students should be in full uniform. Receive briefing on work arrangements, return home by 9.30am.
Year 10, 11, 12 and 13– in at normal time, full day.
Thank you for your support.
Nick House, Headteacher
---
Tuesday 17th March (5.00pm)
I am writing to update you on our response to coronavirus. Last night the Prime Minister gave a briefing in which he advised social distancing and that anyone who falls into a number of vulnerable groups should self-isolate as a precaution. You can view the latest advice on self-isolation here, and I strongly encourage you to read this if you haven't already.
At this stage, Greenshaw High School remains open. We are taking – and will continue to take – all reasonable precautions. As such, a number of staff will be self-isolating – mostly because they fall into a vulnerable group. As a result of staff shortages, we have had to close to Year 9 today. On Wednesday 18th March we will be closed to Years 8 and 9.We will keep you updated throughout the week; we hugely appreciate your patience as the situation is changing daily.
As you can imagine a number of sudents have asked me throughout the day how I make these decisions and I am always happy to talk this through with them. We have prioritised year groups that have impending examinations (Years 10, 11 and 13) as well as our youngest students. It is difficult to make decisions about particular year groups, especially when families have more than one young person in schools, but there is a clear rationale.
We are continuing to prepare for all possibilities, including a full closure. Should we close, please rest assured that we are very well prepared to ensure your children can continue to learn from home. We have ordered additional exercise books for students to complete work in at home and will use Frog (our online learning platform) to outline the daily schedule that students should follow.
Nick House, Headteacher
---
Tuesday 17th March
School closed for Year 9 students only
The school will be closed for Year 9. We have been monitoring the situation overnight, but it has continued to develop this morning. Because of teaching staff who are self-isolating we are not able to run all year groups safely. We are prioritising exam classes and our youngest students.
Students in Year 9 should not attend school today. If they have arrived in school we will safely accommodate them, but will make contact with home to establish that a parent or carer has arrangements for the student to return home.
---
Monday 16th March - 9.30pm
Many parents and carers will have seen the adjusted advice from the Prime Minister this evening. The instructions on self-isolation have changed significantly stronger from the start of today. The advice is here (https://www.nhs.uk/conditions/coronavirus-covid-19/) and this may have an implication for families and us as a school.

We were able to run normally today, but had to cover for absent staff who had self-isolated and we are monitoring the ongoing situation overnight. The school will definitely be open tomorrow, but we might need to consider a partial opening. We appreciate how tricky these situations can be for parents and carers, and we will do all we can to have the whole school open and fully functioning. Please check the school website and social media in the morning as we will aim to have communicated by 7.30am.

These are extraordinary times, and we hope parents understand how complicated it is in an ever changing situation.
Nick House, Headteacher
---
Monday 16th March - 4.00pm
In what are currently very strange circumstances, the spirit of Greenshaw High School has shone through. We await developments from central government, but current advice remains the same in terms of preventative actions (hand hygiene, catching sneezes and coughs) as well as avoiding contact with people who are unwell.
Student attendance overall today was respectable, given the circumstances, at 94.3% and we are monitoring the situation for students whose families have told us they are self-isolating. We have continued to check all toilets frequently during the day and ensured that there is sufficient soap in place. We have also conducted a routine of disinfecting door handles throughout the school.
The Public Health England advice has not changed: members of staff or students who have a high temperature or a new, continuous cough should self-isolate for seven days. It is essential that you let the school know that your child is self-isolating.
Otherwise, students attend school as normal. If a member of your immediate household is self-isolating, students should still come in to school unless they develop the symptoms above. If you are concerned about any current symptoms, go to https://111.nhs.uk/covid-19/ to complete an online assessment and follow the advice provided.
Our core responsibility is to inform and educate our young people. There appears to be low health risk to children and people of working age. Our responsibility to wash hands and not distribute germs is based on community responsibility, particularly for safeguarding the elderly and the already unwell.
Where students take information from social media and their peers I will always be concerned about the accuracy. We will responsibly inform students of the most up to date and accurate information as part of our primary role as educators.
Nick House, Headteacher
---
Thursday 12th March
Following today's announcement from the government about Covid-19, there are no current plans to close schools. We will bring you the latest information should this change.
Advice from the Chief Medical Officer and Chief Scientific advisor is that people who are showing new symptoms, (continuous cough and high temperature) should self-isolate by staying home for seven days. This will help reduce the spread of the illness.
Ordinarily, we would encourage students to be resilient and come into school wherever possible but in the current circumstances we are erring on the side of caution. If your child shows the symptoms above we ask parents and carers to keep them at home for a 7 day period, in line with national medical advice. Please contact the school to confirm this so we know the situation.
To prevent the health system from being overloaded the government have asked people with mild symptoms not to immediately call 111 unless their symptoms worsen to a level where they would normally have sought medical advice.
Much of the rest of the advice has not changed from when we wrote to you last week. The importance of hand hygiene and catching coughs or sneezes in a tissue (that is then binned) remain key actions.
We will continue to monitor the situation, are taking advice directly from the Department for Education each day and will update you accordingly. Thank you for your ongoing support.
---
Wednesday 11th March
The Year 10 parents' evening scheduled for tomorrow evening has been postponed. Please see the letter to parent and carers here.
This morning I have rung the recently set up Department for Education advice line and the overall position remains:
Generally, business as usual.
Emphasise the need for each person to manage their own hygiene, with an emphasis on rigorous hand washing.
Review school events on a case by case basis.
If any of you also have a child in Year 11, I can confirm that tonight's event will go ahead. Again, please see the letter here.
I am sure there may be some parents and carers disappointed by my decision, but in assessing each school event I need to consider the individual risks associated. Thank you for your support.
Mr House, Headteacher
---
Tuesday 10th March
Last night a patient in their seventies, with pre-existing health conditions, passed away at St Helier Hospital after contracting the Covid-19 virus. We have taken advice from the Department of Education on appropriate next steps. They agree with the school's position that there is no need to make any changes to the school operation at this time.
When a patient is diagnosed with Covid-19, the Local Healthcare Protection Team works with the patient to trace any people who they may have been in contact with, to enable them to be contacted and tested. The infected patients would be kept in isolation, so should you have been in St Helier Hospital yesterday, there is no cause for concern.
We will continue to monitor the situation and will update the school community as appropriate.
Mr House, Headteacher