The Postcard project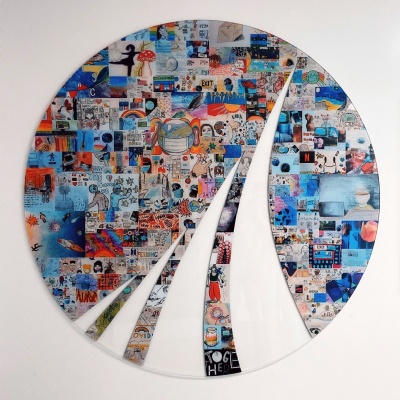 The school's pandemic postcard project on display.
When the Coronavirus pandemic hit in 2020, people in this country and worldwide were faced with enormous challenges. Daily life as we knew it changed beyond all recognition and lockdown meant 'normality' suddenly looked very different. Many of us were unable to see friends and family, schools and shops closed and our freedoms were temporarily restricted, all in order to play our part in controlling the virus. As people adjusted to this new way of living we worked from home, learned online and communicated digitally instead of face to face. For some, the grief of losing loved ones during this time will continue to be deeply painful and we want to acknowledge all those who lost their lives due to Covid.
As a school community at Greenshaw, our staff and students demonstrated remarkable resilience and strength in the face of these challenges. Teachers worked to ensure that learning could continue, and our students quickly adapted to online education and virtual lessons. Support staff were in school to provide supervision for the children of key workers and others adapted to new roles. The cleaning and site teams ensured this could all happen safely while many staff worked around the clock, planning and responding to new government information and safety guidelines. Exams were cancelled and the corridors remained empty.
When we returned in September our school felt very different. Year groups were in 'bubbles' and face masks were compulsory. Despite this, it was a great relief to be back in the building and seeing each other restored some sense of normality. But with numbers rising once again, the UK saw a second lockdown in November 2020 and a third in January 2021. It felt as if there was no light at the end of the tunnel.
Finally though, as spring approached, things began to look more hopeful. The success of the vaccine programme meant that the country started to open back up and Greenshaw opened its doors once more. Familiar now with the need to be adaptable, students and staff followed new procedures and routines to ensure the safety of everybody. Almost exactly a year since schools closed, it felt at last that we could look towards a more positive future.
Greenshaw's community has exhibited exceptional resilience in extraordinary circumstances, and as a school we should be hugely proud of all we have overcome. To mark this, we asked our students and staff to convey their experiences on a postcard. Here you will see an authentic reflection of the impact of the pandemic and how it affected us as individuals and as a school. It serves as a creative outpouring of our cumulative experience and a whole school response to what has undoubtedly been one of the most uniquely challenging times in our history as a school.