Applying to the Sixth Form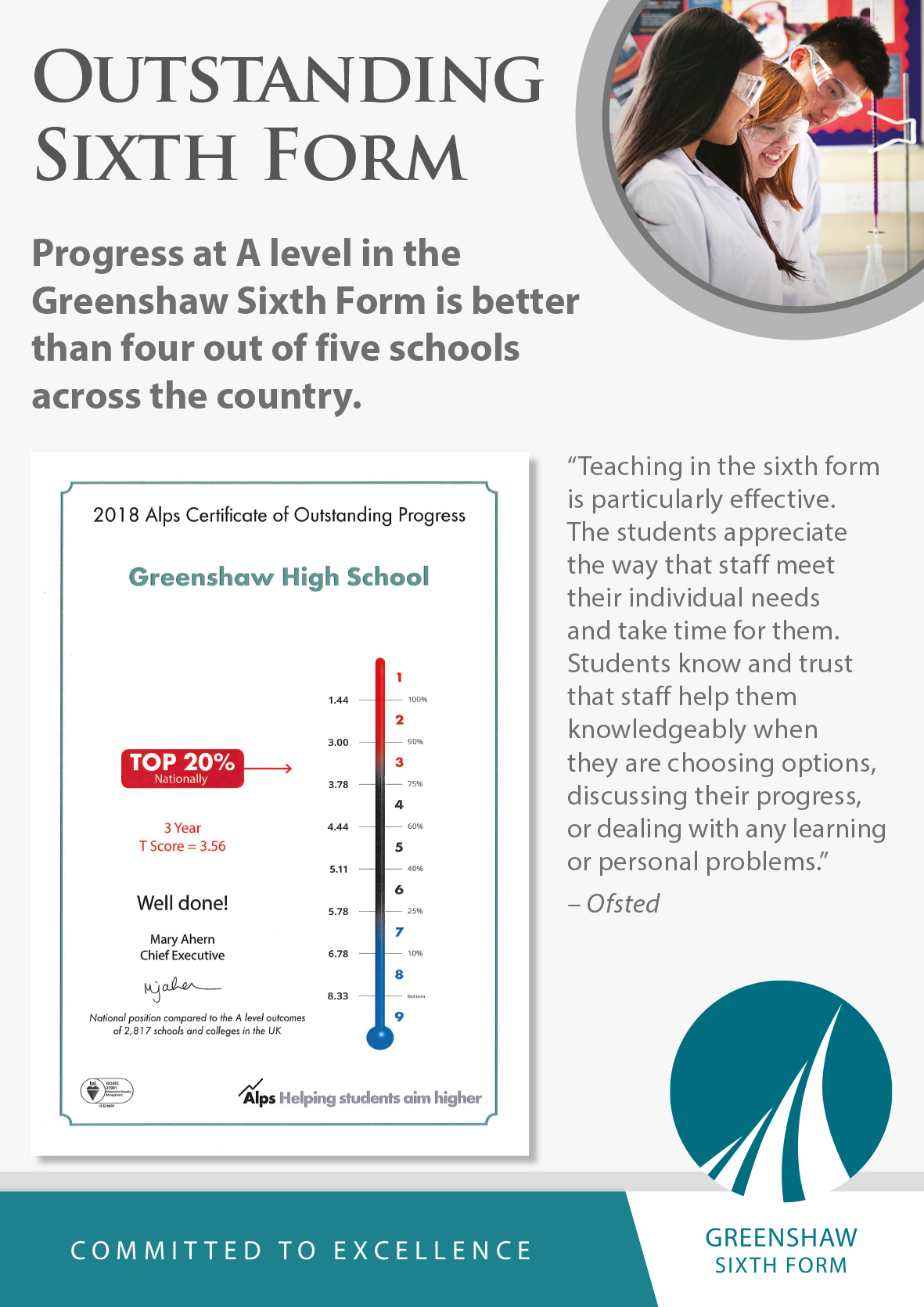 Year
12 students in the Greenshaw Sixth Form study three A level courses. The entry requirement is a minimum of five full GCSEs at grade 6 (or grade B) or above. The grade profile must also contain grade 5 or better in both mathematics and English language. Individual subjects may have specific requirements, e.g. to start a geography course, a GCSE in geography at grade 6 or above is required. Please read our course booklet for the full details of our available courses and the entry requirements.
Subjects on offer for 2019-20 are as follows:
3D Design Technology, Art, Biology, Chemistry, Classics, Dance, Drama & Theatre, Economics, English, Fashion Textiles, Food and Nutrition, French, Geography, Government and Politics, Graphic Design, History, Mathematics, Further Maths, Media Studies, Photography, Physical Education, Physics,, Psychology, Religious Studies, Sociology and Spanish.
Sixth Form Open Evening
The Greenshaw Sixth Form open evening took place on 22nd November 2018. There was a presentation by Mr House, Headteacher, and Ms Buchanan, Director of Post-16, as well as an Informed Choices presentation (which can be downloaded here). Subject teams will be available in the subject fair in the main hall to discuss in depth the courses on offer. Mrs Ayres was also on hand to discuss the exciting enrichment programme.
How to apply
If you wish to join the Greenshaw Sixth Form, please download the interactive application form below. Please open and save the form in Adobe Acrobat and email your completed form to sixthform@greenshaw.co.uk.
Sixth Form enrolment takes place at Greenshaw High School on Thursday 22nd August and Friday 23rd August
Thursday 22nd August: Greenshaw students can enrol from 9.00am until 11.00am,
External students should enrol from 12:30pm until 2.00pm.
Friday 23rd August: Anyone who has not previously applied to Greenshaw Sixth Form can enrol from 9.00am until 12.00pm.
Placements at our sixth form will be confirmed in summer 2019, based on entry requirements and availability. If you have any queries regarding the application process, please contact the sixth form team by email sixthform@greenshaw.co.uk or telephone on 0208 715 1001.
In some cases, we may be able to support a student's move from studying Year 12 in one school, to taking Year 13 at Greenshaw. This will be dependent on the exam boards that the student has followed, a record of excellent attendance and excellent progress in the student's subjects.
The course booklet and interactive application form can be downloaded below.
Please note that the form must be completed and saved in Adobe Acrobat.
The Greenshaw Sixth Form prospectus is available here.
A copy of our admissions arrangements can be downloaded here.
To keep up to date with all the latest sixth form news, follow our twitter feed @GHSSixthForm