Well Done Year 13!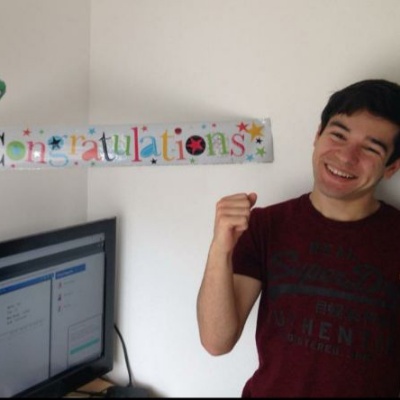 Sixth Form students at Greenshaw High School opened their results this morning feeling huge pride, accompanied by the relief of knowing they had securely navigated their A Level courses in a time of global crisis.
With these results many of our students will be moving on to university in a broad range of courses. These include some of the most competitive ones, like Ryden who has secured his place at Oxford to read Classical Archaeology and Ancient History, Amy reading History at Durham, Rojen reading Physics at Imperial and Yothik reading Optometry. Congratulations to Tia who, through hard work and resilience, has gained her place at Royal Veterinary College and to Irhaan who has gained a highly competitive place at UCL to read Economics.
The breadth of course being studied by our students next year includes Geography, History, Psychology, Primary Education, Biomedicine, Economics, Social and Political sciences, Business Management, Architecture, Aeronautical Engineering and many more beside. In addition, a number of students are progressing to Art Foundation courses at places like the prestigious University for Creative Arts, Epsom.
As well as those headed to university, we also want to recognise our students that have secured impressive apprenticeship opportunities. This includes Dylan and Finley who have begun their new roles at MediaCom in what we are sure will be hugely successful careers in this industry. We are very proud of each and every student and wish them all the best for their bright futures ahead.
One of our two Head Students Claudia, reflecting on the last year said, "This year has been mentally challenging, it was a real test of everyone's perseverance and ambition. In the end I think every one of our Year 13 students deserves the utmost praise for being able to handle studying during a pandemic and also preparing and applying for university. It was really hard and I'm honestly so honoured to have been able to study at a school where there was an amazing support system. I am so proud of us."
Our other Head Student Irhaan agreed. He said, "My time at Greenshaw High School was challenged by the pandemic and was a huge test of my qualities as a student and as a person. Establishing a good routine, staying disciplined and supporting one another is what got me and my classmates to the end of the line. When it had been announced that A-level exams would not go ahead as normal it was hard not knowing what we would be assessed on and the format of our assessments especially given the fact that ten months of our learning over two years was done remotely. Honestly, it was quite scary and stressful for a lot of us as the next chapter of our lives were dependent on our results on August 10th. It was tough but the constant support and reassurance from the staff at Greenshaw was second to none. I also feel like the pandemic helped us as students to get more in touch with each other regarding our learning. Everyone made a conscious effort to help out one another if any of us were struggling with the work."
Headteacher Mr House said, "We are so proud of the hard work and effort our students put in throughout their courses, particularly when schools started to re-open in March. With the disruption to their learning in each of the last two years, I would understand students whose motivation waned but that simply did not happen. Our Year 13 students worked tirelessly for assessments on the parts of their A Level courses they had been able to cover. They can know that their grades absolutely reflect their preparation and efforts.
I would also like to pay huge credit to our teachers who stepped in to perform the role of exam boards and examiners. They took on this additional responsibility with professionalism and dedication. At the end of what has been a very tough two years we all look on with pride that our students of 2021 have been enabled to progress to the next stage of their learning."
Enrolment for the Sixth Form from September 2021 starts on Thursday 12th August. Please see the details on our website here if you would like to be part of the next generation of successful Sixth Formers.