Students win prize in local Traveller competition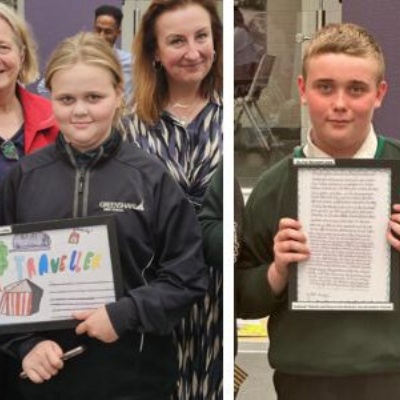 Students took part in a competition to celebrate Gypsy, Roma and Traveller Month.
Some of our students took part in a competition recently to celebrate Gypsy, Roma and Traveller History Month. The competition was run by Cognus' Traveller Education Service in collaboration with schools in Sutton and Merton for the children and young people they support.
Students had to design a poster or text about Traveller history and what being a Traveller means to them.
There was a presentation event at Sutton Central Library last week with displays about Traveller History Month and all the entries to the competition. The winners were announced at the event and given a prize.
We are delighted that Ella from Year 7 won the KS3 prize for her lovely poster. Alfie from Year 8 won a special award for his entry, as the judges were so moved by his powerful words. The judges said: "It was a hugely powerful description of what life feels like for you and some of the terrible discrimination people have experienced in the past and still today – we couldn't agree more that intelligence is more than just a score in a test."
Congratulations to Ella and Alfie.
You can find out more about Gypsy, Roma and Traveller Month here.