Students support Family Fun Day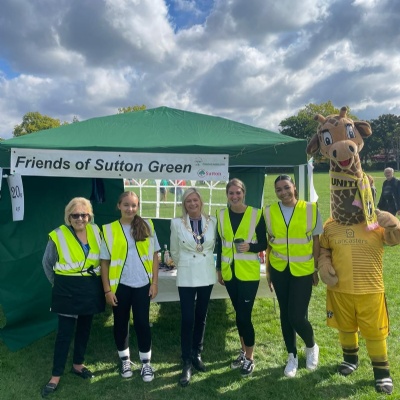 A group of students helped out at the local event.
We are very proud of the way our students support their local community. A group of Greenshaw students volunteered at the Family Fun day, supporting Friends of Rose Hill Parks, last weekend.
Ten of our students supported on the day, including some of our most vulnerable students from Year 10. They were there from 10.00am until 4.00pm, so it was a long day, but they were all amazing! They were engaged with many activities, such as setting the event up, running the tombola and hook-a-duck stalls, helping with the bouncy castle, and running the egg and spoon races.
It was so lovely to see many Greenshaw families attend, as well as previous staff members – one lady had taught at Greenshaw for 30 years. It was such a lovely community event and was so nice for our students to be a part of it.
The Mayor of Sutton spent a lot of time with our students, especially with Chloe and Rhianna. The Mayor spoke about how school is challenging and how she struggled academically. She kept saying how proud she was for them volunteering. It was great praise for the students, some of whom struggle at times.
Miss Thompson, Head of Year 10