Students explore the world of work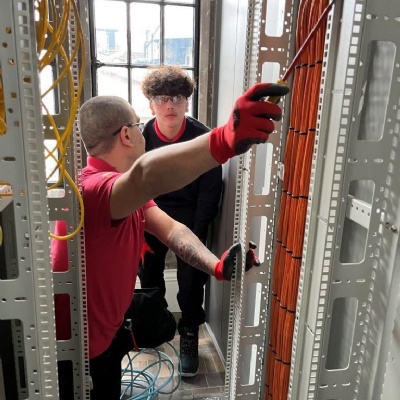 Year 10 students enjoyed a week's work experience before Easter.
In March, our Year 10 students experienced the world of work with placements at a huge range of sectors such as engineering, hair and beauty, accountancy and finance, charity, dentistry, gardening, digital installations and many more.
Our students not only experienced a diverse range of careers which will help them in their future decision making, but additionally were able to develop their employability skills which will assist them to secure their dream job in the future.
We were very proud to receive employer feedback praising our students' work ethic:
Mrs Goodman, Sherwood Park School wrote: "I would like to take this opportunity to say that we have many students from different high schools and colleges completing their work experience with Sherwood Park and Ethan is the only student who has phoned me the week before to ensure that all is OK with the placement and to discuss the dress code etc. He is certainly a credit to your school."
"Kaylie did an amazing job, she was a natural by the end of the week we felt we didn't have to check over her bathing as all dogs where clean and had no bubbles in sight (this is very rare with work experience students)."

"Kajan has been a great member of the department this week. He took on many technician roles easily, such as prepping materials for lessons, organising classrooms and storage spaces as well as supporting teachers and students during KS3 lessons."

"Your student has been great. On Monday they joined Wilson (an architect) and I received great feedback. Really enthusiastic and engaged."

"Mia has been very willing to support the children, has actively helped with settings and has always been willing to support."

"Harrison has been polite, engaging and punctual and hopefully we've given him a good feel for what it's like to work in London."

"Ethan is working with a wheelchair bound student and shown great consideration to their needs. Tracey is blown away at how good he is."

"Praveen has been a star this week. He has demonstrated great work ethics, has arrived early and chose to stay later than expected. He has taken a lot of pressure off me, and has done everything asked of him, plus more. He has been a wonderful asset and I'm sad that he could not stay for longer.
Headteacher, Mr House, said: "Massive congratulations go to Mrs Sone and Miss Thompson for pulling the work experience together so effectively. I am sure that the exposure to the world of work will be motivational for our students, as well as developing their maturity. We would also very much like to thank the many companies that supported us in this venture. It would not have been possible without their generous support."
Here are just some of the hundreds of companies that have supported us:
Installation Technology
Jelly Beans Nursery
Local primary schools
SES Water
Sky
Smith and Byford
So Sound Studio
Subsea 7
SW9 Community Housing
The Grange Day Nursery
Top to Tail Groomers
ZHY