Our latest Jack petchey winners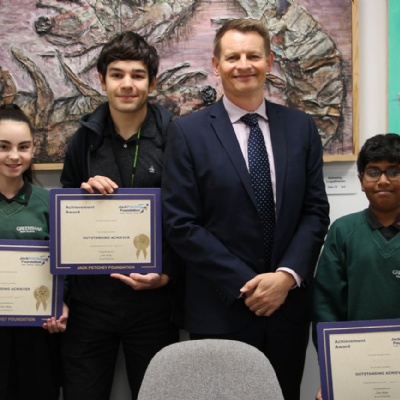 Huge congratulations to our November winners...
Ashvithan, Year 8
Ashvithan has consistently demonstrated excellent levels of effort since the beginning of Year 7 and has been awarded a range of effort rewards in his planner for many subjects. In addition to the hard work Ashvithan puts into his school work, he also represents his tutor group as an ambassador, regularly attending meetings and helping at events such as open evening. He has represented the school in both the National Science Competition (coming second) and as part of the Mathletics club. Ashvithan has been involved in charity work, collecting shoe boxes at Christmas and running 5k for the 'Race for Life' charity event. He demonstrates excellent self-motivation and a willingness to help others.
Amelia, Year 9
Amelia juggles her GCSE studies alongside many sporting commitments; she attends dance three times a week, often performing in shows competitively and also takes part in school netball and football. Amelia is keen to get involved in school concerts, such as the gym and dance display, as well as the drama/dance showcase (2019). She assisted at open evening in the art department, where she worked in her sketchbook to showcase her talent and spoke maturely and confidently with parents about Greenshaw. Amelia is a gifted artist in the top band of her art class in terms of skill and technique and is always keen to show her teacher's the sketches she completes at home. Amelia's art work has recently featured in the Year 9 newsletter and she also helped her tutor to make 'clouds' to decorate a dementia care home. Amelia's school work is thorough, well presented and she takes pride in everything she does. Amelia has a 100% excellence record for homework from Year 8 and Year 9.
Ryden, Year 12
Ryden recently prepared for, and took part in, a significant fundraising challenge for the Cancer Research charity, organising and setting up a fundraising page to enable friends, family and other supportive parties to make donations. The event required Ryden to complete a 26 mile walking marathon, for which he had to walk from 7.00pm in the evening to 3.00am in the morning under challenging temperatures. Ryden's involvement in the challenge itself raised £1400 for the charity. Ryden also volunteers every week as a young leader at First Cheam Scouts and is a pleasure to have in the tutor group.