Fabulous A Level results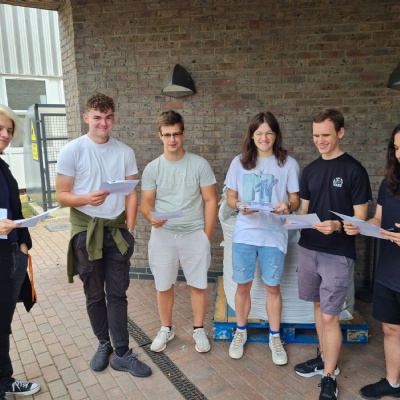 Our class of 22 have achieved some of our best ever results on record.
We are absolutely thrilled with the outstanding achievements of Greenshaw's Sixth Form students, the class of 2022. Following an unprecedented two years of disruption to their education, our Year 13 students sat their first ever public exams after their GCSE papers were cancelled two summers ago. In the face of the huge challenges of the interruptions to both their GCSE and A Level courses they have exceeded all expectations, achieving some of our best ever results on record.
This year group was always highly committed. They attended additional study sessions, completed practice papers beyond the simple expectations of any mock exams and showed a high level of dedication. This makes their excellent achievements all the more pleasing, proving that the effort put in was absolutely worthwhile. With these excellent grades our students are able to progress to a wide range of prestigious Russell Group universities, foundation art courses, apprenticeships and employment.
We have to say particular congratulations to the ten students who achieved the magnificent feat of three or more A* grades. Congratulations to Chloe Bennett, Katie Greenwood, Ben Egerton, Sona Lee, Jonah Moore, Arun Nakularus, Emre Pasaogullari, Liberty Stirrat, Alvin Tharumalingham and Max Whelton. In addition, congratulations to Emre on his progression to Oxford. We are so very proud of all members of this year group, across the full range of subjects and grades our students have done brilliantly.
We wish each student every success with the next exciting stages of their education or employment. The Greenshaw Year 13 group of 2022 have achieved something quite extraordinary in turning their disrupted experience of the last two years into outstanding final achievements.