Brilliant GCSE results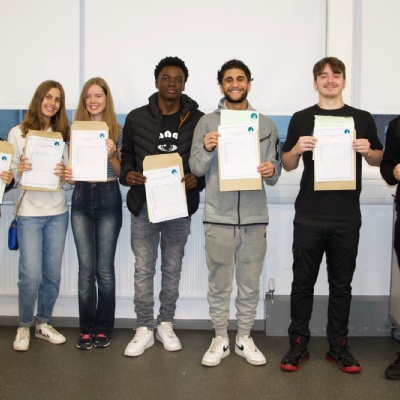 The Year 11 students have achieved superb grades, across a wide range of subjects.
For the second week in a row we are celebrating fantastic achievements at Greenshaw High School. The Year 11 class of 2022 have achieved some superb grades, across a wide range of subjects, showing just how impressively they committed to their GCSEs this summer.
With two years of interruption before their final exams, this year group had so much that challenged them. Learning at home when schools were closed, having time away from school through periods of isolation when schools were open, and missing teachers who also self-isolated, presented levels of challenge not experienced by any previous group of students.
Amongst all of this difficulty, our Year 11 students pulled together superbly. They committed to their learning, in school and at home, in a way that was truly impressive. As a year group they never expressed excuses about why they might not be successful but strived to do as well as they possibly could. And today saw what this level of endeavour can achieve.
In Maths, 44% of all students achieved a grade 7 or higher, the equivalent of an A grade in the previous system. In English, 89% of all students achieved a grade 4 or higher, the equivalent of a C grade previously. Individual students achieved extraordinary results: Suzan and Zuhair achieved grade 9s in every subject they sat, with ten and nine top grades respectively.
Most importantly, these strong results will enable our students to move on to a wide range of destinations, continuing their education and training into adulthood.
Many of our students will continue on to A Levels at Greenshaw. Whether you are currently a student here, or studying elsewhere, find more about joining our excellent Sixth Form by clicking here.