Refreshed and ready for the new school year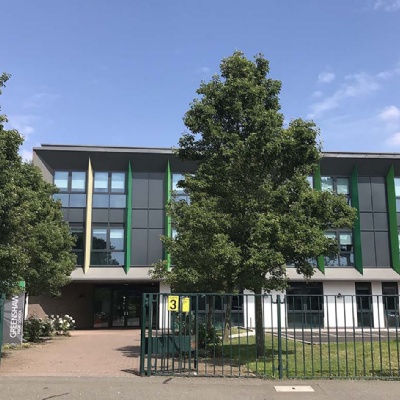 I hope you enjoyed the summer holiday and have found some time to relax. Amongst the school holidays we have had two weeks of exam results and this summer has seen some superb results at A Level and GCSE with many happy students progressing onto their universities, sixth forms and colleges of their first choice. We have also spent the summer holidays decorating many parts of the school, to ensure that the school is as smart and welcoming as possible
So we return next week with many tales of student success and feeling refreshed for the new school year. Below are the timings for the start of term, as a reminder of the arrangements for our first week back.
WEDNESDAY 6TH SEPTEMBER

Year Group

Gate

Timings

Arrive

Dismiss

7

6

8.20am

12.30pm

12

2

9.15am

12.00pm
THURSDAY 7TH SEPTEMBER

Year Group

Gate

Timings

Arrive

Dismiss

7

6

8.20am

12:30pm

8

2

8.45am

10.30am

9

5

9.00am

12.00pm

10

4

9.30am

11.05am

11

3

10.00am

13.10pm

12

2

11.15am

13.15pm

13

2

11.30am

12.35pm
From Friday 8th September entrances will be opened every day at 8:20am for students in Years 7 to 11. All students should be on site by 8:28am, in order to not be marked late. Students will then be expected in their tutor rooms at 8:30am. Sixth Form students have access to the Sixth Form Resource Centre every morning from 8:00am, via their ID badges.
School Photograph Day
School photograph day will be held on Thursday 7th September for students in Years 7, 9, 11 and 12.
Please ensure that your child arrives to school in full school uniform with no jewellery, other than the permitted ear studs and no makeup.
The company taking the photographs, Pret-a-portrait, will send sitting ID cards of the photos to the school to be distributed to you via your child. Orders are then made directly via the Pret-a-portrait website and not the school. All contact details will be provided.
We really look forward to seeing all our students on their first day back next week, whether returning to school for their seventh and final year or those joining us for the very first time.
Wishing you all the best.
Mr N House, Headteacher
---
Warm weather update: Wednesday 6th September
Thursday 7th September: pupils should wear uniform
Tomorrow will be a short day for pupils, with Year 7 being on site longest until 12:30. Pupils in Years 7, 9 & 11 will also be having their school pictures taken. So we ask that pupils wear full uniform tomorrow, but with no expectation that they wear their jumpers, other than during the taking of their photographs for those in Years 7, 9 & 11.
Friday 8th September & Monday 11th September: pupils may wear PE kit
All pupils are in for a full day from Friday and I think the weather is too warm for pupils to be required to wear long trousers and a jumper. Pupils may choose to wear their school PE kit throughout the day, if they wish, on Friday and next Monday.
Should pupils feel more comfortable in their uniform then they may continue wearing that, entirely at their choice. There would be no requirement for pupils choosing uniform to wear their jumper, again unless they wished to.
Please note: I love how well our pupils present themselves and are proud of their school identity. This temporary change to uniform should not mean anything other than either Greenshaw High School PE kit (not other forms of sports kit) or full Greenshaw uniform (for example, not trainers) should be worn.
Water bottles and caps/headwear
Please also ensure that your child is equipped with a water bottle and considers having a cap to walk to and from school and for breaks. There are several water coolers in each of the three dining halls, and in the sports hall, so drinking water is readily available around our site.