Jack Petchey Awards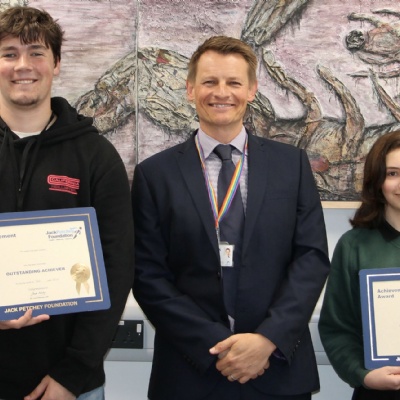 Our latest Jack Petchey Award winners were presented with their certificates.
The recipients of our latest Jack Petchey Award winners were Emily (in Year 8), Khalila (in Year 9) and Aidan (In Year 12).
Emily, Year 8
Emily was excellent in helping a fellow student through a time when they were being marginalised by their friends. Emily is also a black belt in Aikido and is preparing for her second Dan. She also teaches Aikido to younger children at her old primary school. Emily is a Scout outside of school, and takes part in voluntary work and charity work through the Scouts organisation. She has also always maintained a very high standard in her school work. This year, between the autumn and spring terms she made improvements on her already high standard.
Khalila, Year 9
Khalila volunteers at Stanley Park Primary School on Wednesday afternoons, supporting an art club and sharing her creative ideas. She is a wonderful student with zero behaviour points and a high attendance rate. She has an excellent attitude to learning, receiving 7 'A's on her previous report. Khalila is donating her £250 award to the art department to be used to purchase extra art materials.
Aidan, Year 12
Aidan helps with maths tutoring both inside and outside of school. Aidan is also very involved with sport and helps coach both a cricket team and a rugby team outside of school. Aidan has requested that his award money of £250 is contributed to the PE department to be used in the purchase of new PE equipment.
Congratulations to all our winners.