Student mentors support children at Green Wrythe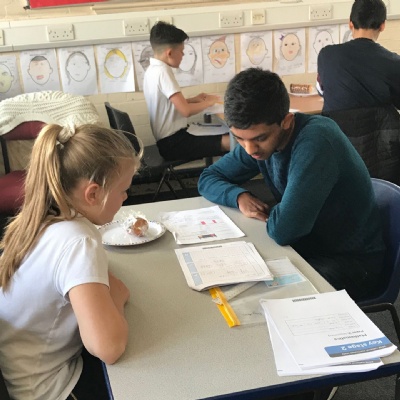 Our Year 12 student mentors support Year 6 children at Green Wrythe Primary School.
A wonderful group of our Year 12 maths students have been gifting their time to support one of our local partner Greenshaw Learning Trust primary schools over the past few months. In preparation for Year 6 SATs, this strong team of Year 12s has mentored and coached younger students from Green Wrythe Primary School, to help them develop a greater understanding of mathematical concepts, and instil in them the confidence to tackle more complex calculations and processes as they approach the end of Key Stage 2.
The Year 6 teacher who initially requested this support for the children commented, "I just wanted to say a huge thank you to your staff and the Year 12 mentors for being so helpful over the last few months. It has had a massive impact on the children's progress in maths; especially in their confidence with reasoning. It has been great to see the Year 12's confidence in interacting with our children grow from session to session."
We are desperately proud of our young people, who choose to opt in to volunteer programmes such as this in order to develop the skills of others – and for the pure intrinsic reward of doing something good. Talks are already taking place about how we can further develop links across our trust primaries in Sutton over the coming academic year. Watch this space!