Celebrating student achievement at Awards Evening 2019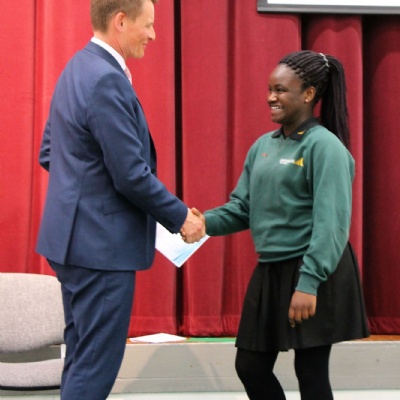 Families, students and staff enjoyed an evening of celebration.
On Thursday 9th May, over one hundred students from all year groups gathered in the school hall to celebrate their academic and community achievements at the annual Greenshaw Awards Evening.
Headteacher, Mr House, welcomed students, families and staff, highlighting the superb qualities for which students were being recognised. Our Head Boy and Head Girl, Salman and Molly, hosted the evening. Heads of Year presented students in Years 7 to 11 with their diplomas and subject awards. Diplomas of Achievement were awarded to students in Years 7, 9, 10 and 13 for their excellent attitude to learning in all subjects during this academic year. Subject awards were awarded to individual students in Year 8, 11 and 13 for their outstanding commitment to learning in individual subjects and these students were nominated by Heads of Department.
The programme also included a slideshow presentation, as well as an amazing performance of Adele's Turning Tables by Sophia in Year 11.
Head of Year 11, Mr Higgins, presented special award to George and Vimbainashe in Year 11 for their outstanding work ethic and commitment to the community, both inside and outside of school.
Two other special awards were presented at the end of the ceremony to Abbey and Alison for some truly inspiring achievements. The Community Cup was awarded to Abbey by Mr House for her amazing accomplishments, which include her dedication to raising money and giving her time to many charities and her work both inside and outside of school. Alison received the Headteacher's Award from Mr House, who said she combines academic excellence with humility and generosity, and is an extraordinary young person of whom the school is extremely proud.
Mr House concluded the event with congratulations to all students and thanks to parents, carers and staff who made such significant contributions to support students.