Ski trip 2019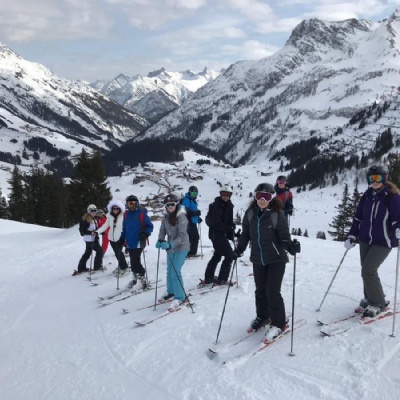 Students and staff had a fantastic week's skiing in Austria at half term.
During February half term, 50 students from Years 8 to 12 travelled to Warth, Austria for a fantastic week of skiing.
After a challenging 20 hour coach journey, the group arrived at the Pension Birkenhoff on Saturday morning and we were immediately impressed by the landscape and climate in which our home for the week was set.
After a restful night's sleep, students took to the slopes on Sunday morning. Beginning on the nursery slopes, they were starting to find their way on their skis and after the first day, they were able to make their way up the mountain to explore the slopes of Warth. By the end of the week, beginners were skiing down from the top of the mountain, with some taking on the mighty red and, in some cases, black run.
The evenings were equally busy, with students enjoying a series of activities including bowling, swimming and a fiercely competitive quiz night. In between activities, they were able to enjoy the hotel's facilities during some well-deserved down time; playing pool and table tennis or supervised trips to the local village to purchase some well-needed snacks.
I would like to thank the glorious sunshine which greeted us each day on the slopes, the enthusiastic ski instructors, our committed Greenshaw staff, and finally, the high standards of behaviour from all students which together made it a very successful trip.
Mr Carter, Assistant Head
(Pictures from the trip can be viewed on our Twitter feed: @GreenshawHigh.)