I Love You Mum, I Promise I Won't Die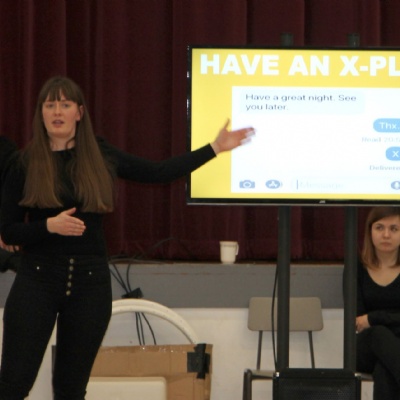 Students learn about understanding the risks associated with drugs and alcohol.
Greenshaw has been working with drug and alcohol education charity, the Daniel Spargo-Mabbs Foundation. Following the successful drug information evening for parents in January, our Year 10 cohort observed the play I Love You Mum, I Promise I Won't Die recently. The play, written by award-winning playwright, Mark Wheeller, was commissioned by the charity. It tells the story of Dan's happy life and tragic death at 16 from ecstasy. The performance was an incredibly powerful way to communicate the important messages of the risks, potential consequences and impact of experimenting with drugs.
Alongside the play, Year 10 attended an assembly delivered by Fiona Spargo Mabbs, Daniel's mum. Her delivery to students was that drugs are an everyday part of young people's social environment, their misuse has become normalised across all social demographics, and in all communities. She focused on ensuring young people are equipped with information and understanding of the risks and effects of drugs, and navigated them into making safe choices.
For further details about the work of the Daniel Spargo Mabb's foundation, please visit www.dsmfoundation.org.uk