Super chemists!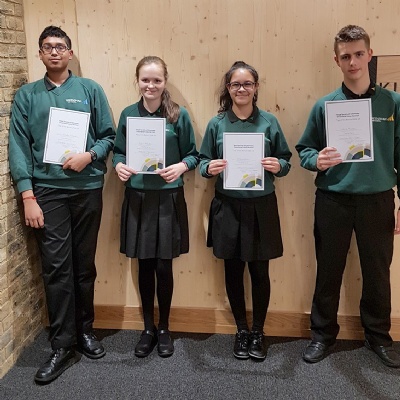 Brilliant result in the Top of the Bench competition.
Four keen chemists from Greenshaw High School competed in the Royal Society of Chemistry Top of the Bench Competition at Charterhouse School last week.
They competed against seven schools – most of which were independent, boarding or selective. Each competitor had to complete a practical experiment: Vishnu (Year 11) was conducting a titration, Valentin (Year 10) was measuring rate of reaction and Ksenia and Ananya (Year 9) had to determine reactivity trends of metals. Each student then sat a 30 minute test and their scores were collated. They scored over 100 points out of 125, putting them in third place. This was a superb result, especially when they were up against such extremely tough competition.
Congratulations to the team – they should be very proud of their amazing achievement.
Mr Trussell, Science Teacher