Celebrating best ever GCSE results at Greenshaw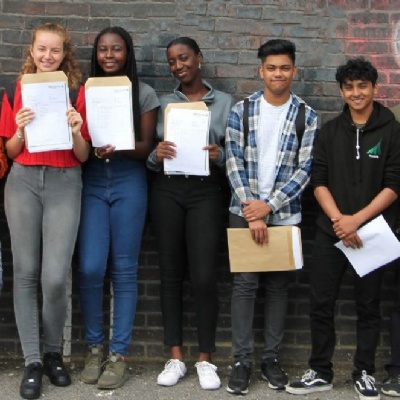 Greenshaw's students put in a record breaking stint of revision, practice and exam performance.
The students of Greenshaw High School are celebrating the best ever GCSE results achieved by students of the school. Despite the huge changes to GCSE specifications, designed to make each more difficult, and the significant reduction in coursework, Greenshaw's students put in a record breaking stint of revision, practice and exam performance. If the previous indicator of success for schools was applied to these results, then 77% of students would have achieved five GCSE passes, including English and maths.
The core subjects of English and maths saw excellent results. One in three students achieved at least a grade 7 (an A grade in the previous system) in maths, and an even higher proportion in English. A range of other subjects including the sciences, geography and history also performed superbly. For example, nearly half of all students in biology, chemistry and physics achieved a 7 or higher.
Head of Year 11, Ms Linda Radwan, said: "I feel so emotional this morning. Leading this group of wonderful young people through the last few years of GCSE has been a privilege for me, and I'm so proud of what they have achieved."
Headteacher, Nick House, added: "The challenge of the last two years should not be underestimated. In most subjects sat this summer there were no past papers for pupils, and despite their best efforts teachers were unsure of precisely what to expect. In this context these are brilliant results that set our pupils securely on the next stage of their journey."
The vast majority of the pupils will enrol for Greenshaw High School's Sixth Form. Students that have not attended Greenshaw for their GCSEs are welcome to enrol as well, further details are available here. Students should come into school between 1.00pm and 3.00pm on Thursday 23rd August, or contact Director of Sixth Form, Miss L.Buchanan, at lbuchanan@greenshaw.co.uk.