Excellent A level results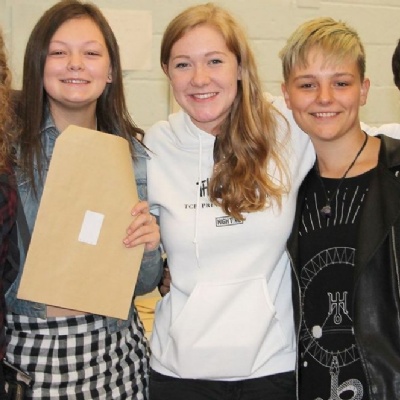 Greenshaw sixth formers celebrate a set of outstanding results.
Sixth form students at Greenshaw High School have produced another excellent set of A level results this year. Once again, these results show the consistently high performance of the sixth form students at Greenshaw, with 20% of grades at A*/A, 49% of the grades A*/B and 75% A*- C.
This year's top achiever was Indip Niroula, who studied four A levels (mathematics, further mathematics, physics and chemistry) and achieved A* grades in each of these subjects. He has accepted his offer to study Computing (Artificial Intelligence) at Imperial College London.
Emily Yelf, who gained two A*s and one A grade, will be taking up her place at Trinity College, at the University of Cambridge, to study English.
Further to this, two students achieved straight A* grades across all their subjects and also an A* in the Extended Project Qualification (EPQ). Teigan Collins achieved her A* grades in geography, mathematics, chemistry and will study geology at Imperial College London and Joseph St John achieved A* grades in mathematics, biology and chemistry and will be studying medicine at the University of Birmingham.
Again, healthcare remained a popular choice with Greenshaw students. Rhyana Varghese (University of Birmingham) and Kaijanee Kugavarathan (Keele University) will be joining Joseph to study medicine and Nirvan Hakiminejad (Kings College London) and Midushanth Loganathan (University of Birmingham) will be studying dentistry.
Particular mention should be made of the students below who achieved at least 3 A*/A grades:
Ebunoluwa Adebanjo AAA French with Arabic University of Birmingham
Aagash Aravinthan A*AA Mechanical Engineering University College London
Phoebe Barry AAA
Lauren Case A*AA
Faisal Chagai El Alaoui AAA Journalism Cardiff University
Natasha Gausden A*A*A Zoology University of Southampton
John Gladdy A*AA Mathematics University of Surrey
Wasim Uddin A*AA Engineering University College London
Miss Lisa Buchanan, Head of Sixth Form, commented, "We could not be more proud of our students. We have continued to support our students, the majority being the first generation to go to higher education, to gain places at some of the most prestigious universities in the country."
Mr Nick House, Headteacher, added, "We are absolutely thrilled with another set of outstanding results. They reflect the motivation and commitment of our staff, students, and parents."