Greenshaw Athletics Championships 2018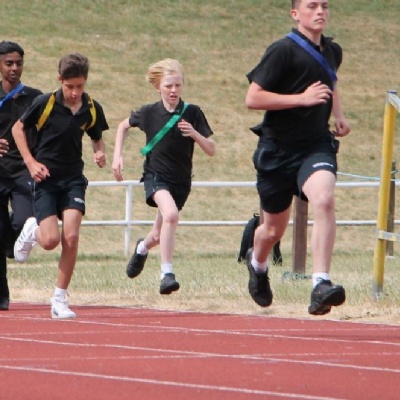 This year was the first Greenshaw championships for Year 7 and Year 8 students.
The Greenshaw High School Athletic Championships, hosted at the David Weir Centre, were the perfect ending to not only a remarkable year of athletics, but to all inter-house activities across the school year. This was the first year that the day was split into half, with different year groups attending either in the morning or afternoon. It gave the ideal opportunity for students to watch all the events for their specific year groups and cheer on their peers.
The day started with perfect weather conditions and the Year 7 and 8 competition. It was the first Greenshaw championships for both year groups and they stepped up to the mark competing for their houses. There was a variety of field events: high jump, triple jump, long jump, shot put, javelin and discus. The field events were 100m, 200, 300m 800m and 1500m races, as well as the 8x50m and 4x100m relays.
In the Year 7 competition, the overall winners were Green House, with Red House winning for the Year 8s. Therefore, that meant the overall standings for the lower school were first place – Red House, second place – Green House, third place – Blue House and fourth place – Yellow House.
The second half of the day saw the Year 9 and 10 students being escorted down to the track, ready for their competition. The bar was set very high from the very first race, with Charlotte (Year 10) beating her own record from the borough athletics competition a couple of weeks previously in the 1500m by a further five seconds. Another record went to Precious (Year 10) later on in the afternoon, when she beat the 100m record.
The Year 9 winners were Blue House, with Green House winning the Year 10 competition. The final results for the upper school championship were: First place – Blue House, second place – Green House, third place – Red House and fourth place – Yellow House.
I would like to congratulate all those who took part - either as a competitor or as a supporter.
Miss Graham, Head of Physical Education