Celebrating student achievement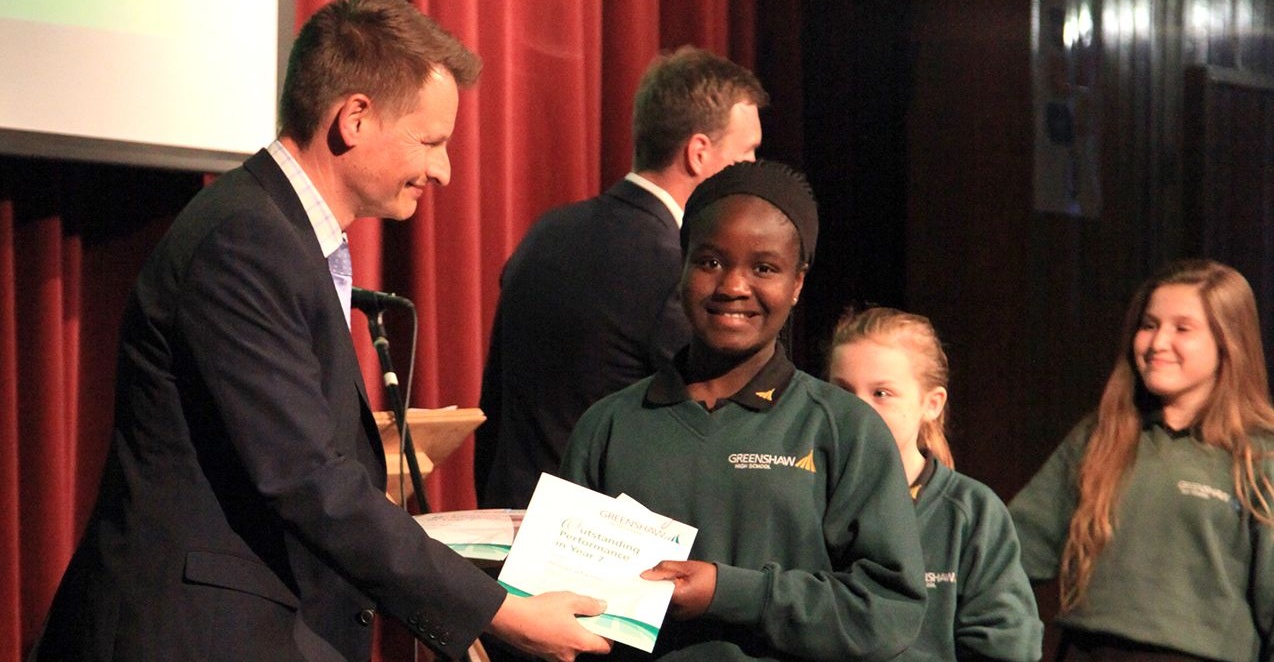 Greenshaw celebrated with its students last week at the annual Awards Evening.
On Thursday 28th April, over one hundred students from all year groups gathered in the school hall to celebrate their academic and community achievements.
Headteacher, Mr House, welcomed students, families and staff, highlighting the superb qualities for which students were being recognised. Two Year 13 students, Abishayan and Sophie, hosted the evening. Our Raising Standards Leaders presented students in Years 7 to 10 with their awards and Year 12 deputy head students announced the Year 11 subject awards.
The programme included an engaging and energetic performance of Runnin' (Lose it All) by the Greenshaw Choir, which was arranged and conducted by Mr Doherty.
Heads of House each presented their respective house awards to the individual students who had been nominated for their outstanding work ethic and commitment to the community, both inside and outside of school.
The special awards were presented at the end of the ceremony to Jadie, Ciara and Billy for some truly inspiring achievements. The community cup was awarded to Jadie for her commitment to sport including swimming, netball, biathlons, aquathlons, athletics and much more. She has represented Greenshaw, Surrey, the Southern Region and Great Britain and has qualified for the British Modern Triathlon Championships later this year. Ciara received the John Fuller Achievement Award for her outstanding attainment of straight A* grades at GCSE with Billy receiving the Headteacher's Award for his exemplary academic achievements, coupled with his determination and ability to rise to any challenge.
Mr House concluded the event with congratulations to all students and thanks to parents, carers and staff who made such significant contributions to support students.