Geography students explore the River Wandle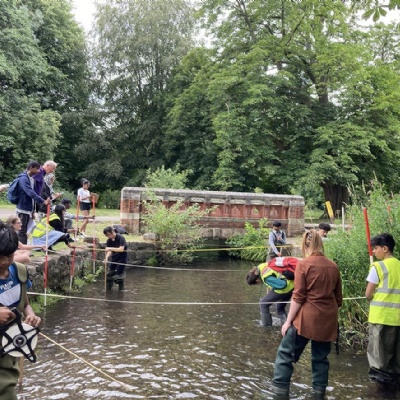 Year 10 geography students completed a series of successful field trips this term.
This term, Year 10 geography completed their compulsory river studies fieldwork as part of their GCSE course.
Students and staff met at Beddington Park last week, dressed in their best clothes (they had been reminded that they would be getting muddy!). Students walked from Beddington Park to the source of the River Wandle near Waddon Ponds, where they changed into their waders and entered the river channel. Once they were in the water, they worked in groups to measure the width and depth of the river.
Mr Barnes, Geography Teacher, said: "This was completed superbly by all our Year 10 students. They displayed excellent team work skills, with many offering assistance to students outside their groups."
Walking back along the River Wandle, students entered the river a total of five times, with the river getting excessively wider and deeper at each stage. They also practiced the long-established art of field sketching in geography. Field sketching comes from a time before photography, when geographers would sketch the area they were studying in order to identify and annotate the features being observed.
Mr Barnes added: "Overall, it was a highly successful field trip. Our Year 10 students will be able to explain some of the physical processes taking place along the Wandle the next time they visit Beddington Park."