Congratulations, Year 11!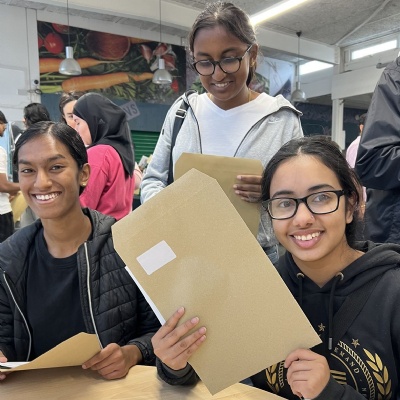 Year 11 students are celebrating excellent GCSE results.
For the second Thursday in a row we have celebrated the achievements of a Greenshaw High School group of students. This week was the turn of our Year 11 students to feel proud of their achievements, which will open up the next stages of their journey.
Although this year's group of students did not benefit from the significantly reduced grade boundaries of last summer, they still did exceptionally well. The proportion of students achieving grades at 9-7 (equivalent to A* or A) and 9-4 grades (the old A*-C scores) were the highest in the history of the school, other than in the pandemic years. And the current cohort of sixteen-year-olds was certainly affected by school closures and Covid absences, so their efforts in this context are all the more remarkable.
The attitude of the Year 11 of 2023 was superb – their commitment to high quality revision and attending additional study sessions, alongside first rate teaching – has brought home a super set of results. Huge congratulations to all Greenshaw Year 11 students, especially from your leaders Ms Radwan, Mr Johnson and Miss Wiffill. We wish you all the very best with the phase of your studies.
Nick House, Headteacher