Black History Month 2022: Proud to be!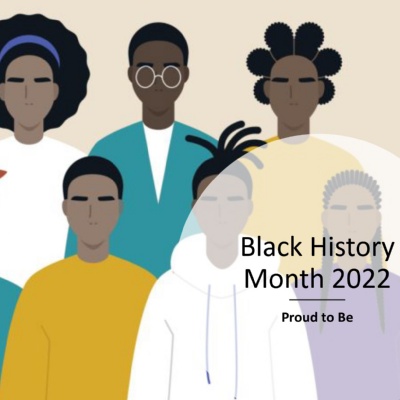 We are celebrating Black History Month at Greenshaw...
"History has shown us that courage can be contagious and hope can take on a life of its own"

- Michelle Obama
October is Black History Month in the UK, when Black successes are celebrated. This month, the theme at Greenshaw High School is Proud to Be! Students across the school enjoyed an assembly this week, introducing them to Black History Month at Greenshaw: Being Black looks different, we have diverse skin tones, languages and cultures. During Black History Month we will be celebrating our differences and similarities.
Above is a quote by Michelle Obama, former First Lady of the United States of America. She says, "History has shown us that courage can be contagious, and hope can take on a life of its own." The courage of one person gives others courage and hope to go on and do great things. Throughout history, communities of Black people have shown great courage and have overcome great adversities because they were inspired by those around them. They saw what was possible, and they went for it.
Sometimes, when we think of famous or influential black people, we think of people like Serena Williams, 23 times Grand Slam winner, who some think is the best athlete to ever live. Stormzy, award winning rapper, or John Boyega, Star Wars actor. These are amazing and successful people, but we can be tempted to think that these are the only paths for Black people, sports, music or acting. These stereotypes can limit our view, so we introduced our students to some other people, who can also be role models.
The first is Margaret Busby, Britain's youngest and first black female book publisher. In the 1960s she was unique, and her courage has inspired many black writers in the UK and internationally. The other person is David Olusoga, a historian. Some students might remember reading his book Black and British during tutor reading last year. He has brought history alive for many seeing his duty to bring up from the past the richness and full complexity of our humanity. History is complex and he has provided insight into all aspects of British history.
Other notable individuals are Olaudah Equiano and Ignatius Sancho, born into slavery but they became free men and fought for the abolition of slavery but Olaudah was also an author and Ignatius a composer.
Mary Seacole, who supported the sick and recovering soldiers during the Crimean War and Pablo Fanque, a circus owner in Victorian Britain, he was renowned for his feats of horsemanship and performed for the Queen and Royal Family.
Some more recent examples of people who can inspire us are Jacky Wright, Chief Digital Officer and Corporate Vice-President at Microsoft US, she is a passionate advocate for women and people from minority ethnic backgrounds, and has worked both in the US and UK.
Prof Kevin Fenton, London Regional Director for Public Health England, has worked tirelessly in investigating the impact of Covid on black, Asian and minority ethnic communities. This disease has touched us all and has shown the difference in our health and healthcare.
Richard Iferenta, Partner and Vice Chair at KPMG one of the country's largest accounting organisations, he sponsors groups that support young people in the black, Asian and minority ethnic communities to develop leadership skills.
And finally Steven Bartlett, the youngest ever Dragon on BBC's Dragon's Den, he's the co-founder and Chief Executive of the social media marketing agency Social Chain. He says he'll never wear a suit on Dragon's Den because although he is not against suits he is against leaving talent off the field because they don't feel included. And so by being a black man in a snapback, he will appeal to other black men, and women… or anybody that comes from an under-represented background, and he will let them know that they can sit at the table. Steven Barlett's inclusive attitude leads to our last inspiration.
This final inspiration is a bit controversial. The trailer for the new Disney live action film The Little Mermaid was released and some people complained about there being a black mermaid, but I want you to look at the reaction of these children to seeing a black Disney princess. .
The joy on these children's faces is clear, they see themselves and it gives them hope, they are included in this magical world. These children have been given courage; they have seen what is possible.
During this Black History Month, staff will share stories of Black excellence and success. Our students will use this time to get questions answered, learn how the Black community has contributed and continue to contribute to building Britain.
The Anti-Racism group at Greenshaw is looking for new members from Year 10 and Year 11. If you are interested in helping develop the school's anti-racism culture, please let your Tutor or Year Team know and they will pass your name to the team. These groups are open to all students – we want all students to have a voice and for the groups to represent the great racial and cultural diversity in Greenshaw.