A Level results success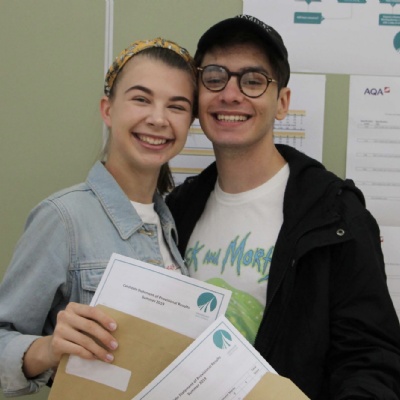 2019 sees a bumper crop of exam results at Greenshaw Sixth Form.
2019 has seen another bumper crop of results for the students at Greenshaw High School. Over one in five of every grade was at A or A*, with 73% of students achieving a pass at A*-C. Headteacher, Nick House, said: "These results demonstrate the hard work and dedication of both youngsters and their staff. At a time when these new exams have harder content it is brilliant to see that inspired learners continue to thrive."
Some individual students attained extraordinary results. The following students achieved three A Level passes, all at A or A* grades: Amy Ashby, James Broom, William Byrne, Reon Carroll-Ito, Oliver Cheeseman, Ryan Collins, Joshua Fortune, James Genelazo, Aisah Illiyas, Suzanne Kenny, Larissa Marin, Mayurapiriyan Ramasamy, Emily Reardon and Adnan Zaqui.
And even beyond this, Marcus Lam, Aditya Srivastava and Vithushan Vasudevan achieved the quite extraordinary feat of 3 A* passes each.
Our A Level students are going to on a wide range of destinations, with up to 40 of our Year 13s progressing to undergraduate courses (including several for medicine and law) at prestigious Russell Group universities. We are equally proud that our strong work in the creative arts continues to enable large groups of students to move on to foundation art courses, and directly into world leading institutions such as London College of Fashion.
Enrolment to be part of the next group of success stories starts on Thursday 23rd August. We are enrolling external applicants from midday, see the section of our website here for more information.