Un update on our building project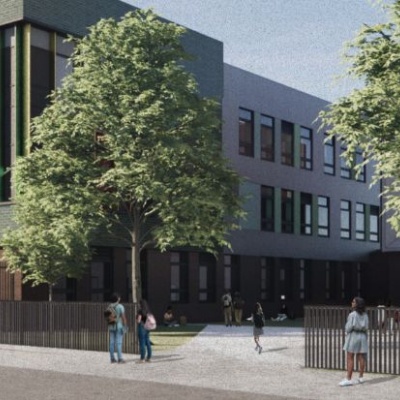 An update on the building project so far...
Well, what a beautiful sunny day to finish our week with! It was fantastic to be with Year 11 students this morning, pausing from their mock exams for a day, playing basketball and netball on the courts. It was also great to come back indoors and see Year 9 students thinking deeply about the concepts in the novel Animal Farm and Year 7 students in history considering the changes to architecture, especially the Norman influences on religious buildings in England. Moving from subject to subject, there was a palpable sense of focus and interest which made for a really pleasing hour wandering around the school. There are a number of updates in this letter, but I am always delighted to start by celebrating our students of the Week.
Students of the week
Congratulations to our stars of the last five days who have demonstrated something special in their attitude to their peers, the community or their learning. Well done to each and every one of them.
| | | | | | |
| --- | --- | --- | --- | --- | --- |
| Year 7 | Year 8 | Year 9 | Year 10 | Year 11 | Sixth Form |
| Lanre | Valerie | Veronica | Aalia | Lily-Ann | Tahjae / Robyn |
Our building project
Most of you will be aware that we have been incredibly fortunate at Greenshaw to receive direct funding from the Department for Education for a rebuild of a large part of our site. This was based on a conditions survey several years ago that assessed the fabric of our buildings and the energy efficiency, amongst other factors.
They also took into consideration the difficulties in our large number of students moving around a site that was designed for so many fewer pupils sixty years ago.
When we returned in September there were significant signs of preparations made for the 'big building work over the summer break'. The unhelpful brick circles across the centre of the playground had been removed (that often led to trips to the First Aid room) as had the site manager's bungalow. However, over the months since there has been little physical change to the outside spaces and students could be forgiven for wondering what is actually going on.
There has been a lot of work between the school and the contractors. This work, along with negotiations with UK Power Network and London Borough of Sutton regarding the installation of a new substation to power the new buildings, have taken a lot of the focus for school and DfE staff. But I can reassure you that all is still proceeding.
Works are planned to begin on site at the start of February 2024. The temporary buildings order has been placed, so that these can begin to be made off site whilst the contractual works are ongoing and protect the project timeline.
Demolition works should then begin during the autumn term, with students planned to be using the larger of the two new blocks by June 2026. So, although there has been little construction work over the last three months there has definitely been a lot of progress and we look forward to the next steps in the new year.
Together for Sutton Information Network Event – Monday 4 December 1.00-4.00pm
HMPS High Down Conference Centre, Highdown Lane, Sutton SM2 5PJ
Together for Sutton Information Network are holding an event which will focus on the current state of housing and key issues residents face at present. They will also explore the real threat of homelessness, what this means to an individual and its impact on society. To register for this event, please visit EventBrite here: https://www.eventbrite.com/e/751586073177?aff=oddtdtcreator
Safer Sutton For All – building community safety and cohesion in Sutton
Safer Sutton For All invites Sutton's community and residents, organisations, businesses and faith groups to work together in building strong partnerships for community cohesion and violence prevention. To join the visioning and mapping session on 30th November, and to learn more about this project and how to get involved, please see the attached flyer.
Nick House, Headteacher