An action-packed first week back!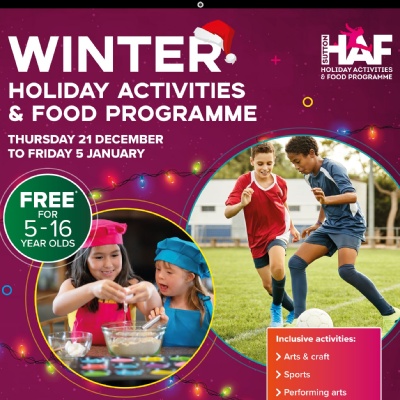 Next week is Sixth Form Open Evening.
We have welcomed our students back in very healthy numbers this half term – thank you for the high levels of attendance that we have had. I hope the two week half term allowed any lingering cold or flu bugs to be seen off and that attendance remains this high. We returned to full action immediately and have had an action-packed first week, but please note the early closure next Thursday 16th November (details below) to allow us to set up for our Sixth Form Open Evening.
Students of the week
Congratulations to our stars of the week who have demonstrated something special in their attitude to their peers, the community or their learning in our first week back. Well done to each and every one of them.
| | | | | | |
| --- | --- | --- | --- | --- | --- |
| Year 7 | Year 8 | Year 9 | Year 10 | Year 11 | Sixth Form |
| Inaya | Zoe | Bryan | Frieda | tbc | Enis / Ebba |
Holiday activities and Food Programme (HAF Sutton)
I know it is many weeks away, but during the coming Christmas holiday break any young person entitled to free school meals can attend a range of activities locally without any charge. These are 'paid for' by vouchers that the school will issue from next week, beginning Monday 13th November. If you know your child is entitled to free school meals, please look out for these vouchers. I attach the poster below for your information which has a QR code at the bottom linking to further information.
Early closure, Thursday 16th November from 1:20pm
From 4:30pm next Thursday we will be running our annual Sixth Form Open Evening. This is an event for Year 11 students in Sutton and beyond, that informs them about the subjects we offer and what life in our Sixth Form is like. To prepare for this, we will need to set up a large range of subject classrooms and get the site ready so we will teach the first four lessons as normal, then complete afternoon registration and students should leave the site.
It would be very helpful for us if as many students as possible have their lunch at home that day so we are able to prepare for our Open Evening. Students who are entitled to free school meals will be able to access these at morning break, or after pm registration so no young person should not receive their meal entitlement on that day. Apologies for any inconvenience, but this will allow us to give a really good impression on a day that is important for our recruitment of our next group of Sixth Form students.
Online safety update
It has been brought to our attention that a lot of young people in Sutton belong to some very large WhatsApp groups, some of which have over 1000 participants. Some parents have reported that there are sometimes inappropriate messages being circulated, so it is advisable that you talk to your child about being careful about joining large WhatsApp groups. Safer Internet Centre has lots of helpful advice for parents, including this article from last year about WhatsApp:
https://saferinternet.org.uk/blog/helping-your-child-with-whatsapp
Lynda Wallace, Designated Safeguarding Lead
Wishing you all the very best.
Mr N House, Headteacher