Not Alone in Sutton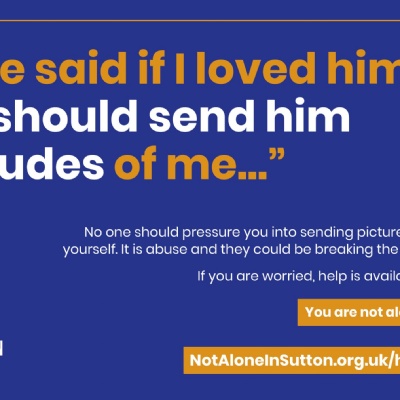 Sutton Council launches campaign to help victims of domestic abuse
Sutton Council has today launched a domestic abuse campaign. 'Not Alone in Sutton' aims to raise awareness of the help available to victims of domestic abuse via a new website: http://notaloneinsutton.org.uk.
In Sutton, domestic violence accounted for 38 per cent of all incidents of violence with injury
(467 out of 1,242) in 2017. Despite the enormity of these figures, the number of people experiencing domestic abuse is thought to be much higher as it is often a hidden crime that goes unreported.
Council leader Ruth Dombey said: "We are launching this campaign today because tackling
domestic abuse in all its forms is a priority, to ensure Sutton is a safer place for everyone. Together with our partner organisations, we aim to significantly reduce levels of domestic
abuse in Sutton in the long term.
"I very much hope this campaign encourages a wider discussion on how we all need to
tackle domestic abuse, as it's an issue which is both widespread and devastating."
Domestic abuse affects all sections of society and all age groups. Before launching its domestic abuse campaign, Sutton Council surveyed 270 Sutton residents, which revealed that more than half would not know where to go if they needed help. A similar number would be reluctant to reach out through fear of making things worse.
Sutton Council's lead councillor for domestic abuse and former Mayor, Councillor Jean Crossby is a survivor of abuse. She said: "Domestic abuse today is affecting everyone. It can be you, a parent, your best friend, your siblings, your children or your grandchildren.
"It's all age groups. The youngest victim I have known of is 16. The oldest victim was 85. Can you imagine how long that victim was abused? I urge anyone who is affected by this to get help. We've got men, women and young people dying of domestic abuse and we all need to do more."
Headteacher, Nick House, said: "We want to add our absolute support in Greenshaw to this cross-Sutton campaign. Domestic abuse can change people's lives forever, and being aware of this issue across our community is so important."
More information is available at a dedicated website notaloneinsutton.org.uk, for women,
men, children and young people, older people, people with disabilities, LGBT+ and also
perpetrators.
If you are experiencing domestic abuse, or know someone who is, help is available. You can
use the contacts below. Local domestic abuse contacts in Sutton and south London are
in bold :
Victim Support (London Victim Assessment and Referral Service).
Call 0808 168 9291 free (Mon–Fri 8am–8pm, Sat 9am–5pm).
Sutton Domestic Violence One Stop Shop
Wednesdays, 9.30am–11.30am, Sutton Baptist Church, 21 Cheam Road, Sutton, SM1 1SN.
Drop in or make an appointment through Victim Support on 020 7801 1777.
Police
Call 999 if you are in immediate danger, 101 at all other times.