Introducing our Year 7s to The Big Idea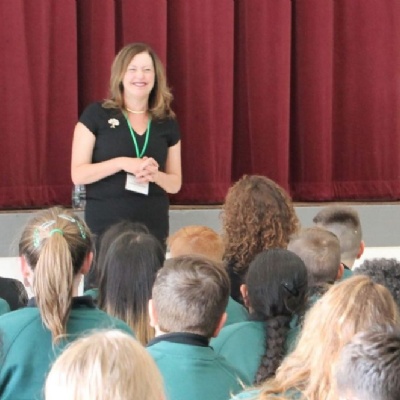 Our new cohort of Year 7s enjoyed a special assembly yesterday.
Year 7s had an exciting start to their first year at Greenshaw yesterday, when Professor Edith Hall (Classics – King's College London) addressed them in a special assembly.
Edith is a world leader in the study of ethnicity, class and gender in ancient sources, of ancient theatre, and of the continuing instrumentality of ancient ideas in world culture since the Renaissance. She has written over 20 books and is a regular contributor to radio and television.
The assembly introduced our Year 7s to The Big Ideas That Shape Our World – a programme that aims to broaden our students' knowledge of the world and its history. It was created by Greenshaw staff to teach our students about some incredibly important and influential ideas and concepts. It also aims to develop the range of vocabulary they have at their disposal and introduce them to people, works of art and cultural artefacts that they might not otherwise encounter. It is a very exciting project which we hope will make a real difference to their sense of the world and their ability to engage with it.