launch of table tennis academy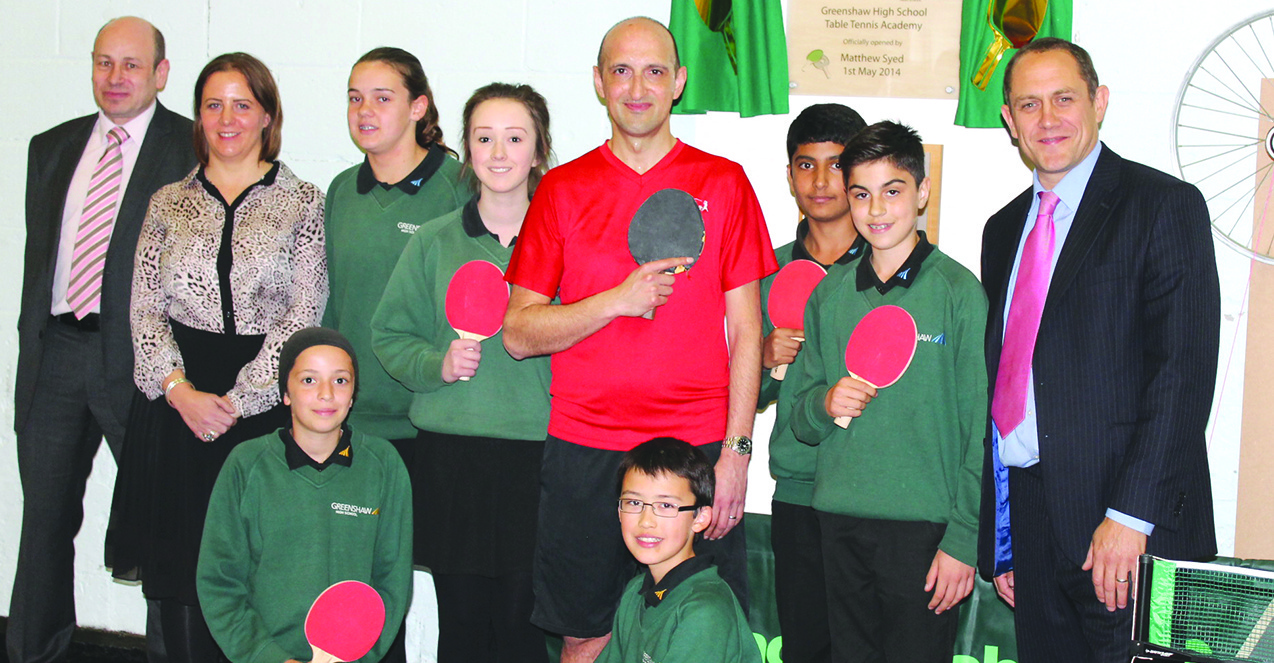 Greenshaw welcomes GB table tennis player to launch table tennis academy.
Greenshaw High School launched its table tennis academy on Thursday 1st May. GB and England table tennis champion, Matthew Syed, officially opened the academy by hitting a target with a table tennis ball first time – which in turn opened the curtains hiding the official plaque.
To start proceedings, Matthew played an exhibition match against Steve Beerling, a former under 18 England player who is currently ranked at number 20 in England, in front of an excited audience of Year 7 students and staff.
Matthew also challenged staff to take a turn at the table and Chris Higgins, PE Teacher and Head of Green House at Greenshaw, was cheered on by the audience as he endeavored to return the fast serves from Matthew. Needless to say, Matthew won.
The table tennis academy was launched at Greenshaw with the support of the Jack Petchey Foundation's Table Tennis Donation Scheme. Jack is a keen table tennis fan and has been working with the English Table Tennis Association to encourage the sport in schools. The foundation granted Greenshaw the funds to buy the tables and equipment, which are now in use during lessons, at lunchtimes and after school. Coaches from Rosehill Table Tennis Club, local to Greenshaw High School, were involved during the day, coaching students as they tried their hand at the new tables. It is the start of a collaboration between Greenshaw and the club, which will be of huge benefit to both the school and table tennis club.
The day also involved inter-house competitions, student-teacher matches and Sports Council coaching for students.
Matthew gave an inspirational talk to the students, adding: "Sport in school is not just about students becoming better players, it's also about developing their character. It helps them to understand how they can improve, the importance of hard work, punctuality, respect for the rules and, perhaps above all else, how to deal with failure and adversity."
Mr Smith, Headteacher, said: "We are thrilled to have our table tennis academy funded and supported by the Jack Petchey Foundation in partnership with the English Table Tennis Association. This partnership will bring ongoing opportunities for students from Greenshaw as well as our wider community. During the official opening, the ex-international player and author Matthew Syed inspired students, staff and governors with his skills and words of wisdom."