Tour de Sal!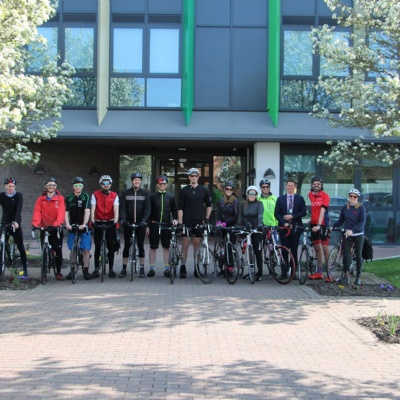 A charity bike ride set off from Greenshaw this morning.
'Tour de Sal' set off from Greenshaw High School this morning – a cycle ride from London to Cardiff in tribute to former Greenshaw student, Sally Brett-Young.
Sally, who is also the daughter of former mayor of Sutton Tony Brett-Young, passed away aged 36 years old in July 2018 after she was diagnosed with pancreatic cancer.

Sally worked for many charities, giving up much of her spare time for different volunteering groups. One of the events she took part in was a cycle ride from London to Cardiff, which raised £4500 for Myeloma research. Sally's inspiration for this was her Mum, Cynthia, who had been treated successfully for this type of cancer. It was at the end of this event that Sally started to feel unwell. Despite being given only months to live, she led a healthy life for around three years, determined to travel and make new friends.
Following her funeral, a group of friends decided to challenge themselves to repeat the cycle from London to the Millennium Stadium in Cardiff in her honour. They set off early this morning from Greenshaw – on the day of Sally's birthday.
Joe Borner, one of Sally's close friends, said: "Sally was the third Brett-Young to attend Greenshaw, and as I did had a great time and made many lifelong friendships. Sally was not only beautiful on the outside but she was truly gorgeous on the inside."
They are hoping to raise as much money as possible for the three charities that Sally has chosen: Cancer Research UK – whose pioneering work into the prevention, diagnosis and treatment of cancer has helped save millions of lives; Gilgal – an organisation that provides safe houses and short term accommodation for women escaping domestic violence; Birmingham St Marys Hospice– who made it possible for Sally to spend her last days with her family at home.
If you wish to support their fundraising, please click here.