Youth Art Exhibition 2019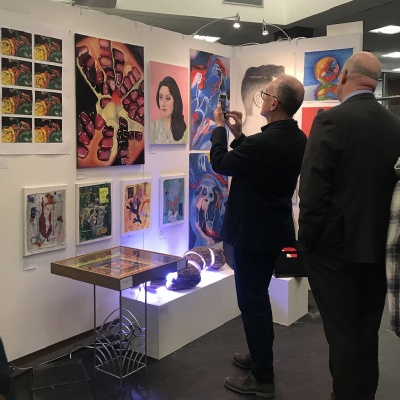 Organised by Arts Network Sutton, the exhibition celebrated the artistic talent from local schools.
The Youth Art Exhibition 2019 private view at Sutton Central Library's Europa Gallery was a great success this year, seeing record numbers in attendance to celebrate the artistic talents of Sutton's schools.
Greenshaw High School's stand looked particularly diverse and exciting, showing off 2D and 3D work from our Key Stage 5 art and design students, including James' beautiful nature-inspired lamp (which was a big hit!) and Daniyah's impressive realist painting of her auntie.
There were numerous positive comments about the artwork on display, and all the borough schools involved provided inspiring and impressive contributions. Mocktails were served at the private view, and the Mayor and councillors were there to award prizes. Overall, it was a wonderful celebration of talent and hard work from students and staff in Sutton, many congratulations to all involved.