Jack petchey celebration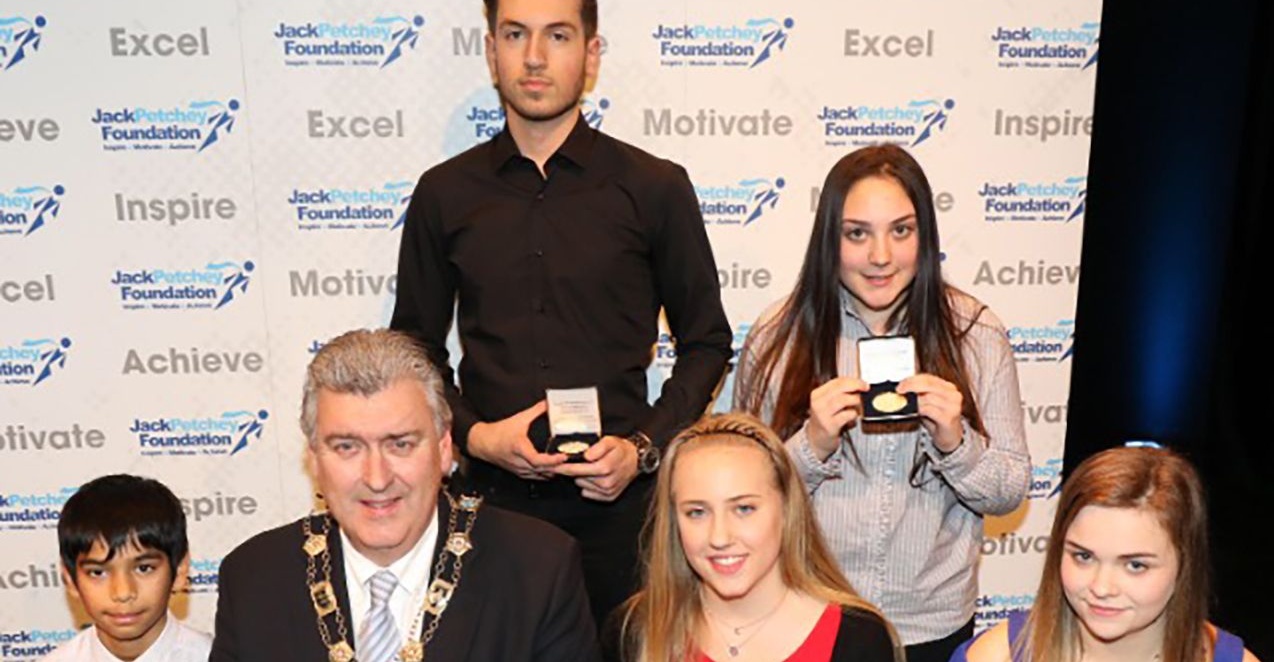 Greenshaw students celebrated their achievements at an awards ceremony earlier this week.
The Jack Petchey Award Scheme is a reward and recognition initiative which enables schools and youth organisations to celebrate the achievements of their young people as well as receive additional funding.
"We do it because we want to help young people raise their aspirations, believe in themselves and make a contribution to their society," said Sir Jack Petchey CBE.
Mrs Wallace, Deputy Headteacher, observed: "We are very proud that the students were nominated by their classmates and were selected by our Student Council to receive the awards. They also received £200 each to spend on school equipment of their choice."
Their achievements were celebrated at the Jack Petchey Awards ceremony for the borough of Sutton, which was held at Epsom Playhouse on Monday 20th February. VIP guest Muhammad Sadiq, the Mayor of Sutton, presented each student with a gold medallion in front of a packed audience. Highlights of the evening also included a performance by the Stanley Park High School jazz band and a brilliant rendition of Be Our Guest, from Disney's Beauty and The Beast, by the Carshalton High School for Girls' theatre group.
Our congratulations go to all the students.
Akam, aged 16
Akam has given up his own time to travel to Kurdistan where he has helped in refugee camps. He has spent time talking to refugees who have fled war-torn countries and playing with children in the refugee camps, in order to keep their spirits up and provide a sense of normality for them.
Tarlee, aged 13
Tarlee is a national and European gymnastics champion. She is now European champion on the bar, floor and trampette and silver medallist on the beam and vault. This demands a huge amount of commitment and dedication, and she achieves this whilst maintaining an exemplary record of attendance, academic achievement, attitude to learning and homework.
Ellora, aged 13
During her half term holiday, Ellora travelled to Romania with a family friend, where she spent the week working with disabled people. She sacrificed her whole week for the benefit of others and is keen to do the same again.
Jensen, aged 12
Jensen has won many trophies and medals and travels some distance to tournaments. He has good social skills and always works hard. He has been collecting coins and giving them to people living on the streets.
Chloe, aged 13
Chloe has helped in a soup kitchen and completed a 5K run. She has participated in a National Trust competition and has raised money for many charities. Chloe has achieved highly in both school and sporting activities.
Ellie, aged 16
Ellie spoke in all of the house assemblies to raise awareness and money for NKH sufferers at Woodlands. She raised £1120.