Sports day scorcher!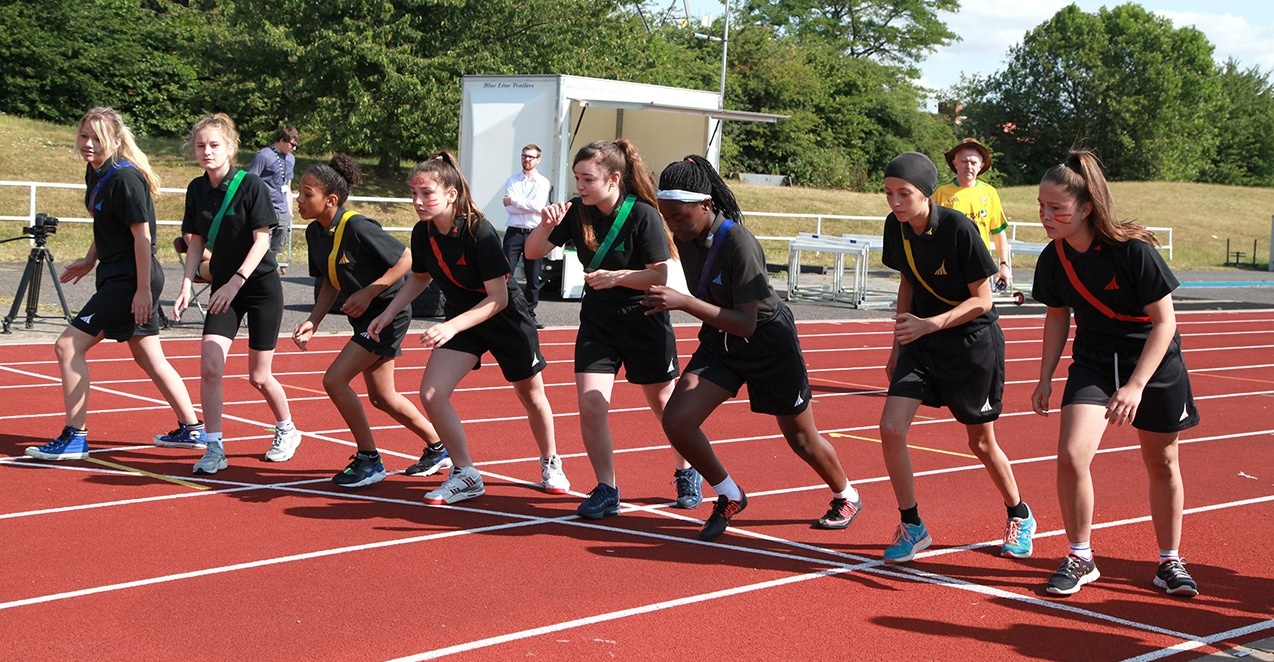 Blue House take the House trophy.
The 2015 school Athletics Championship, hosted at the David Weir Arena, was the perfect ending to a remarkable year of athletics for Greenshaw. Many of the students competing were aiming to emulate the recent successes shown at the Sutton District Athletics championship two weeks beforehand, which saw our highest number of school records beaten.
The conditions were perfect for athletes and we were set for another record breaking year, allowing competitors to perform to their maximum capabilities. As the medals were placed round the necks of the gold medallists, records began to fall. Special congratulations go to:
Mahindi for breaking the Year 7 boys shot putt (8.48m).
Jadie for breaking the year 7 girls 800m (2.47).
Italia for breaking the Year 8 girls 300m (46.41).
Mario for breaking the Year 9 javelin record (27.69m).
Emily smashed the Year 9 girls shot putt record (8.44m).
As the day warmed up, so did the atmosphere, as the relays got underway. The highlights of the afternoon included the 8x50m relays, where both the Year 7 Red House girls team (1.08) and the Year 9 boys Blue House relay team (57.33) achieved records. As the crowd tucked into their ice lollies, they were treated to some spectacular 4x100m races, with many relying on a photo finish. The track events were completed by the prestigious staff relay – a fiercely competitive race cheered on by the whole arena (and deservedly won by the PE team).
The early favourites for the trophy were current holders, Blue House. Despite a fantastic effort by the other three houses, it was not enough to beat Blue House, who won convincingly and are the 2015 schools athletics champions.
Mr Carter, Head of Physical Education, thanked all students and staff: " For now it's a hard earned rest for all staff and students involved. It was a day to remember."