Alumni

We like to keep in contact with students who have left us, to find out what they are doing now and to help them keep them in touch with other former students. We also like to share good news about Greenshaw and new developments at the school. For these reasons, we have launched the Greenshaw High School Alumni Association.
Throughout the year, we aim to host reunions and other events involving former students. We will promote these events through the website and our Alumni Facebook page, as well as by contacting alumni members directly.
We will be hosting an event to celebrate Greenshaw High School's 50th anniversary on Saturday 29th September 2018. The times and format for the day have yet to be decided, but we will keep everyone updated through our Future First alumni database. We have a personalised online link for former students and staff to sign up to Future First - please use this link, or email us at alumni@greenshaw.co.uk.
The latest issue of our alumni newsletter, Horizons, can be downloaded here.
Certificates evening
Our 2017 leavers were invited to attend Certificates Evening on Monday 18th December 2017. Our former students collected their A level certificates and watched a short presentation. Students and families then joined staff for refreshments. It was a great opportunity for them to catch up with their peers, many of whom had just completed their first term at university.
School reunion (1977-1984)
A group of former students who attended Greenshaw between the years of 1977 and 1984 took a trip down memory lane on Saturday 1st July, 2017.
The alumni were delighted to be joined by Mr Wagstaffe (Head of the English Department from 1973 to 1990) and Mrs Miller (a former Teacher of English). They all enjoyed a sunny afternoon at Greenshaw, where they had the opportunity to take a tour of the school and catch up with other students from their year group over a tasty barbecue and drinks provided by the Greenshaw catering team. One of the highlights was the dessert of butterscotch tart!
The school has changed a great deal over the years, with dramatic changes to the building in the past two years following the major expansion project at the school. The former students enjoyed finding their old tutor group rooms and the original 'woodwork' room, amongst others.
David Carman, one of the former students, welcomed the group and shared his memories of the school. He observed: "A lot of us grew up within a few hundred yards of Greenshaw and some still live close by. For many, this place will always be home, no matter how far away we roam. A part of that will be the friendships we made, the games we played and, of course, the school that we call our own."
Plans are now being made for a reunion event to celebrate Greenshaw's 50th birthday in 2018. If you are a former student or member of staff from Greenshaw High School, please register here to our alumni network (which is managed for us by Future First) and we will be in touch as soon as a date has been agreed.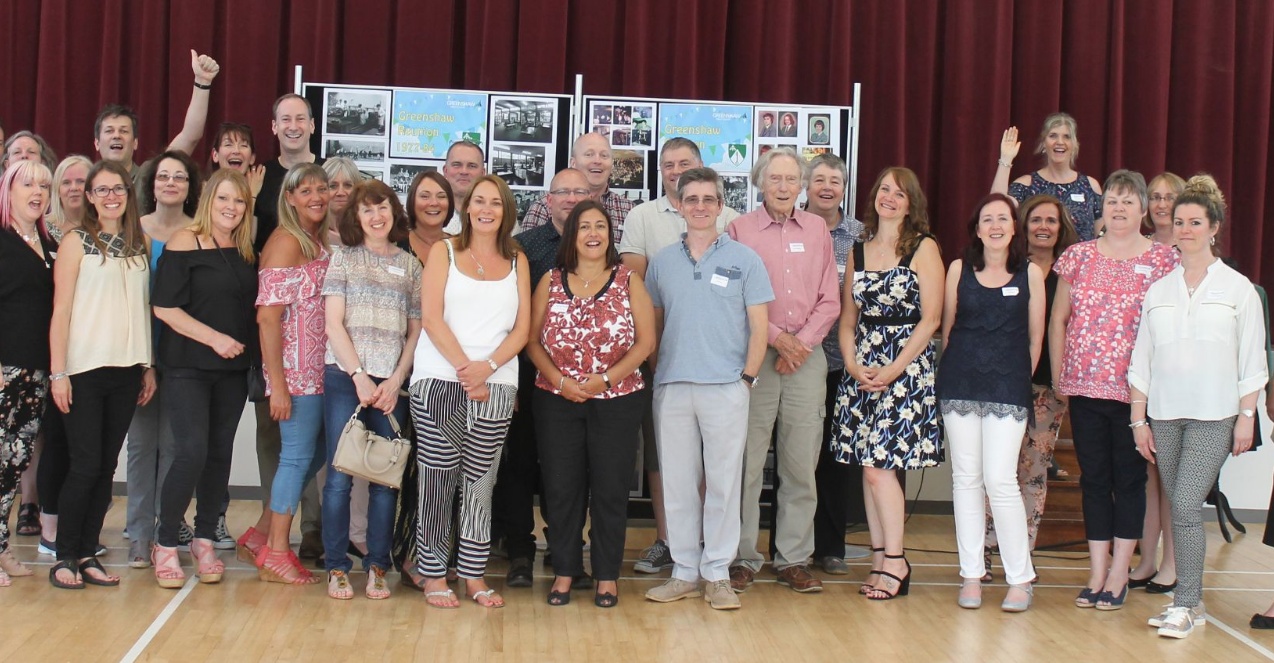 Join us
We are now working in partnership with a charity called Future First to keep in touch with all our leavers – and their progress – and also to reconnect with our former students who have left over the years. We have a personalised online link for former students to sign up so that they can keep in touch with the school and other students from their year group.
Students who left school in 2017 can use this link. Any former students who have lost touch with Greenshaw High School, or with former school friends, please use this link or email us at alumni@greenshaw.co.uk.
Train to teach
In recognition of our work as a leading member of the Sutton Secondary Teaching School Alliance, Greenshaw High School along with its partner schools has been awarded the status of a SCITT (School Centered Initial Teacher Training) institute. Our status means we are now able to train beginner teachers and recommend them for Qualified Teacher Status independently from universities. We view this as an extremely important strategy in securing the very best teachers not just for Greenshaw, but for all the secondary schools in Sutton. We are particularly keen to train people from the local area as we want to continue investing in our community. Furthermore, our experience is that ex-students who share our values and ethos have proven to make excellent trainees.
As an ex-student of Greenshaw High School, if you are interested in becoming a teacher we would very much welcome an application from you. Even if you haven't as yet considered teaching but would like to visit Greenshaw or one of our neighbouring schools to find out some more information, meet some of our teachers, observe lessons and find out about our training programme, we would also very much like to hear from you. In 2016/17 we are offering training in the following subjects; Science, Maths, English, History, Drama, PE, Design Technology, Modern Foreign Languages and Music.
Teaching is a fantastic profession which can offer you both career development and job satisfaction. Please visit the website (www.suttonteach.org.uk) or contact Pete Jemson if you would like more information or to arrange a visit.
The SCITT newsletter can be downloaded here.
Alumni news and profiles
As our alumni network and our Facebook and Twitter pages develop, we will be looking for stories about former students to include on the site and in our newsletter. If you are happy to have your profile included on the website, or have any old school photographs you wish to share, please email us at alumni@greenshaw.co.uk.
The latest issue of our alumni newsletter, Horizons, can be downloaded here.